Konami Digital Entertainment, Inc., revealed today the upcoming product release for the Yu-Gi-Oh! TRADING CARD GAME during July, which includes Legendary Duelists: Season 3 (7/22).
The Yu-Gi-Oh! team will also be at two major upcoming events – Anime Expo and San Diego Comic-Con – bringing a massive booth and tons of activities to the shows. Several stations for the various Yu-Gi-Oh! digital games will be onsite to try, alongside tutorial opportunities for Speed Duel rookies, a Duel the Master! series that lets experienced players take on pros, exclusive Game Mat and the ability to personalize a souvenir Token Card.
---

DUELING HEATS UP THIS SUMMER IN THE Yu-Gi-Oh! TRADING CARD GAME!
Hawthorne, Calif. (June 29, 2022) – The best thing about being a Duelist? There's always something new! Konami Digital Entertainment, Inc. (KONAMI) is ushering in the summer tournament season in the Yu-Gi-Oh! TRADING CARD GAME (TCG) with a new release and a slew of special events. Find signature cards from the anime alongside competitive powerhouses played by heroes like Yugi Muto and Jaden Yuki, as well as villains like Yami Bakura and Yuri, in Legendary Duelists: Season 3.
Ready to travel? KONAMI's bringing Dueling excitement to not one, but two of the world's leading fan conventions in July: Anime Expo and San Diego Comic-Con. And on top of that, the days are ticking down to one of the biggest tournaments of the year: the North America Yu-Gi-Oh! Championship!                            
Courageous heroes and sinister villains return! Legendary Duelists: Season 3 is your second chance to own the biggest hits from Legendary Duelists: Immortal Destiny and Legendary Duelists: Magical Hero. Like Legendary Duelists: Season 2, this new release celebrates key cards from the original sets as never-before-seen Secret Rares! And since Jaden Yuki's cards appeared in both original boosters, Ultra Rares in Legendary Duelists: Season 3 come in 3 versions, featuring foil-stamped card names in the colors of the Duel Academy dorms from Yu-Gi-Oh! GX. That means red Ultra Rares for Slifer Red, blue Ultra Rares for Obelisk Blue, and standard Ultra Rares for Ra Yellow!
If you like playing the bad guy, you'll find Bakura's Curse Necrofear and Destiny Board cards, plus Fusion powerhouses played by Yuri in Yu-Gi-Oh! ARC-V, like Predaplant Triphyoverutum, Starving Venom Fusion Dragon, and Predapractice! Fans of Yugi will want cards like The Dark Magicians, Magicians' Souls, Magicians' Combination, and Soul Servant. And if you want to be a real HERO, you can snag Jaden cards like Elemental HERO Sunrise and Elemental HERO Liquid Soldier, as well as Destiny HERO – Malicious and Evil HERO Adusted Gold! With over 100 cards in total, the power of legends is yours to command.
Legendary Duelists: Season 3 arrives July 22, and each box contains a total of: 1 Secret Rare, 2 standard Ultra Rares, 2 red Ultra Rares, 2 blue Ultra Rares, 30 commons, and 1 collectible die. MSRP: $15.99 per box.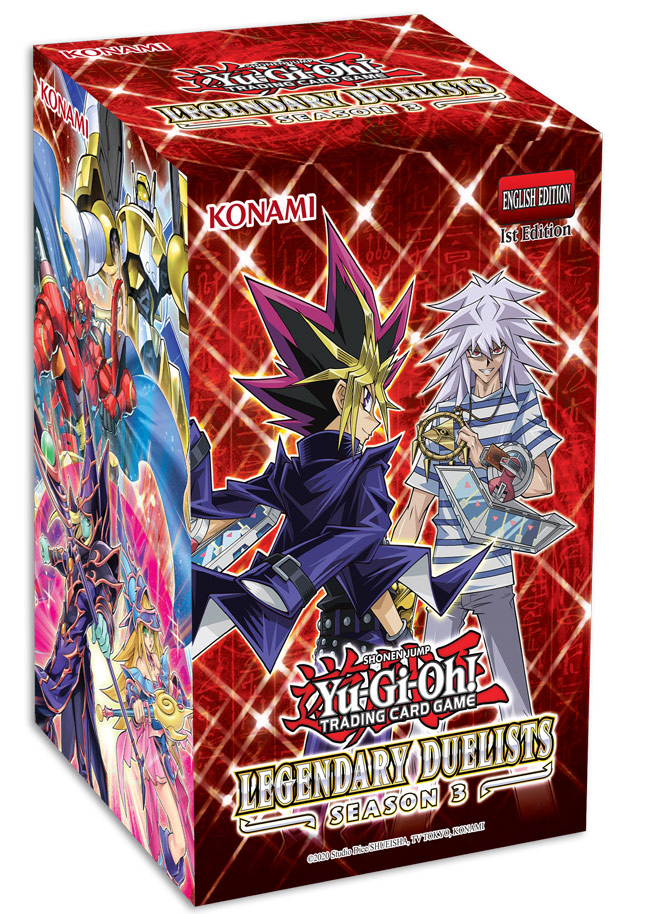 The Summer season is in full swing, and that means amazing opportunities to meet fellow fans of the Yu-Gi-Oh! TCG. First up, you're invited to visit the KONAMI booth (E-28) in the Entertainment Hall at Anime Expo, the largest celebration of Japanese pop culture in North America, at the Los Angeles Convention Center on July 1-4.  Then, come see the KONAMI booth (#3713) at San Diego Comic-Con, the premier comic book and pop culture convention in the world, at the San Diego Convention Center on July 21-24. New Duelists can demo the Yu-Gi-Oh! TCG and learn to Speed Duel, while experienced competitors can try their luck against the best of the best with Duel the Master! Try the latest in KONAMI's Yu-Gi-Oh! video games, make your very own personalized souvenir Token Card at the green screen Token Booth, and have a chance to purchase a limited edition Game Mat created exclusively for each event! Our booth at both events will also feature the chance to win various levels of unique Yu-Gi-Oh!-themed prize items.
Meanwhile, the 2022 competitive Dueling season is reaching its apex! Qualified competitors are invited to compete in the main event, at the North America Yu-Gi-Oh! Championship. The best Duelists from the region will gather at the Donald E. Stephens Convention Center in Rosemont, Illinois on July 15 to July 17. Once there, they'll Duel for the title of Yu-Gi-Oh! TCG North America Champion or partake in a wide range of Public Events all weekend long, with events for the Yu-Gi-Oh! TCG, Yu-Gi-Oh! DUEL LINKS, and Yu-Gi-Oh! MASTER DUEL.
The stage is set for 3 days of epic action and includes a special Yu-Gi-Oh! GX appearance by Matthew Labyorteaux, the voice actor for Jaden Yuki, and Oliver Wyman, the voice actor for Aster Phoenix, playing in a live Duel! Catch the live Duel and other featured matches all weekend live on the official Yu-Gi-Oh! TCG Twitch and YouTube channels. When all is said and done, we'll crown a brand-new North America Yu-Gi-Oh! TCG Champion! You can find more details about the North America Yu-Gi-Oh! Championship 2022 on the official event page at https://www.yugioh-card.com/en/events/ygo-championship-2022/.
For more information on KONAMI's extensive Organized Play programs, including opportunities for aspiring Duelists to learn how to play, go to www.yugioh-card.com/en/events.