We got our hands on the new "Golden Duelists Collection – 9-Pocket Portfolio" and figured we'd give you a quick review with a few photos. This will be hitting stores April 5th, 2019.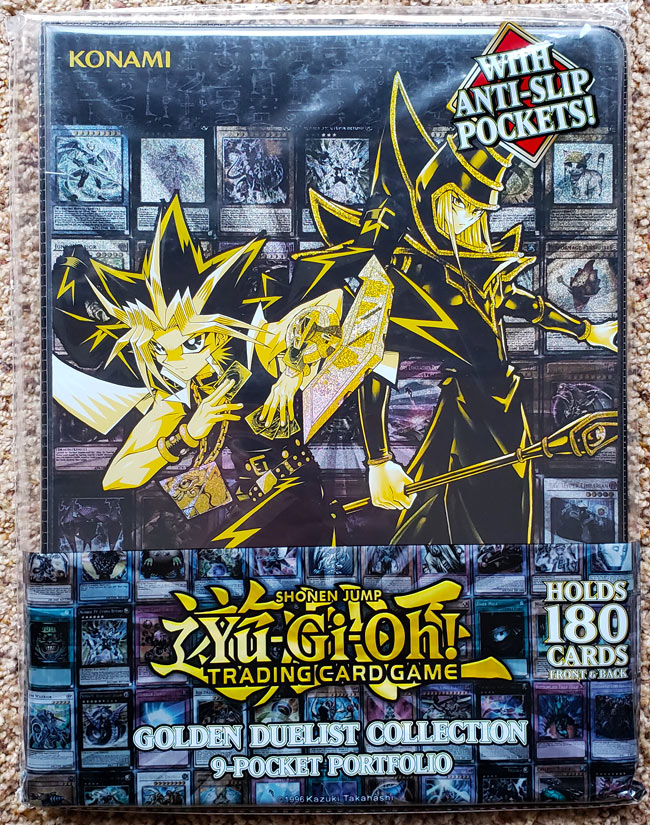 This card binder retails for $9.99 and seems solid and well-made.  It has 10 pages, and thus slots for 180 sleeved cards – front & back.  There is a black anti-slip meshy material behind each slot that keeps cards in places, and prevents the YGO cards from touching each other back to back.  The black background also makes your cards visually "pop" in the binder for a nice look.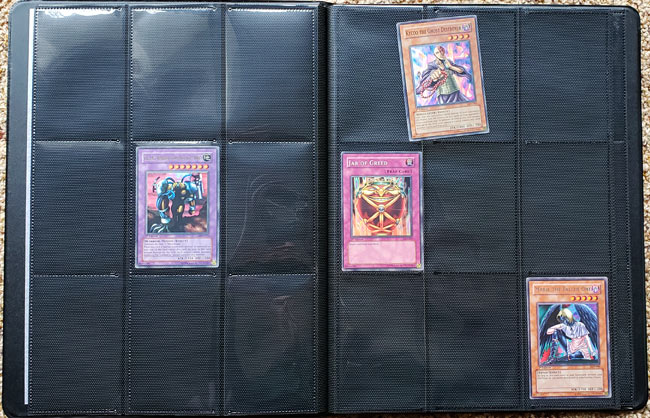 The front cover features a Gold-Glittered Foil Yugi and the Dark Magician.  The back cover features a variety of popular Yugioh Cards.  Our photos are not really doing the cover much justice, but the gold-glitter effects really do pop out and look great in real life.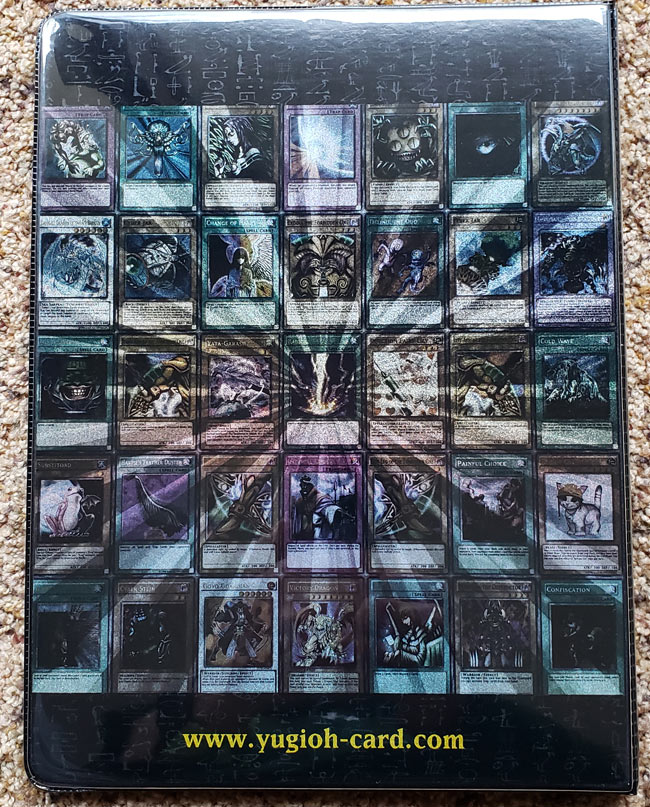 Cards are also side-loaded.  This keeps cards from accidentally flying out the top.  We like this a lot.  This portfolio is about 3/4″ thick, 11.75″ tall and 9″ wide.  All in all, for $10, it's easy to recommend this binder to YGO players.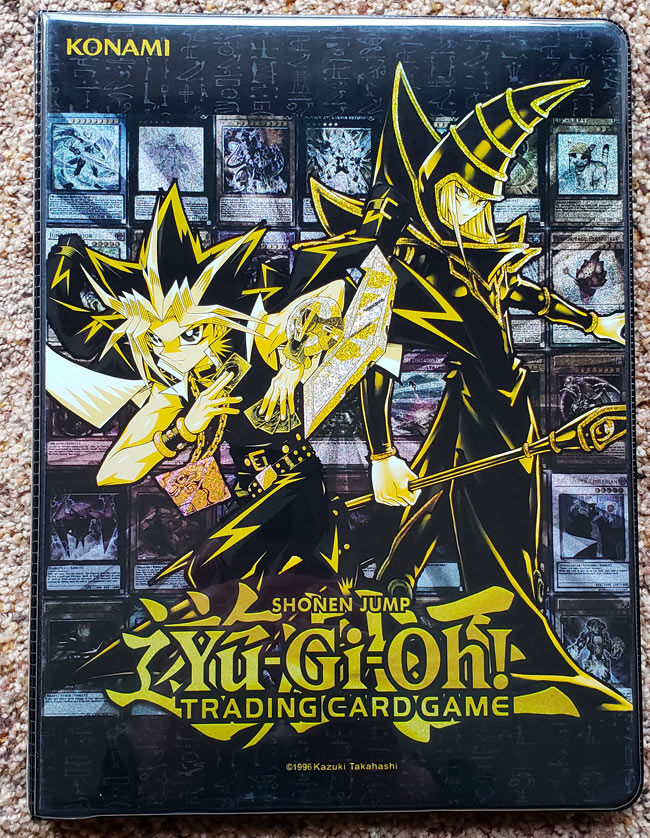 Product Details from Konami:
Golden Duelist Collection Duelist Portfolio
Product Title: Golden Duelist Collection Duelist Portfolio
Product Type: Accessories
Launch Date: 04/05/2019
MSRP: $9.99 per Portfolio
We have seen countless cards create tons of iconic moments across the history of the Yu-Gi-Oh! TCG. Whether it was classic ace monsters like Dark Magician, Blue-Eyes White Dragon, and Exodia the Forbidden One, or tournament-level cards like Rescue Cat, El Shaddoll Construct, and Nekroz of Trishula, or even forbidden cards like Yata-Garasu, Substitoad, and Number 16: Shock Master, everyone has their own personal favorites that symbolize their favorite Yu-Gi-Oh! moments. With so much awesome Dueling action, it's difficult to capture all of it in an accessory product… until now! The Golden Duelist Collection accessories showcase loads of iconic cards across each item, and to top it all off, the King of Games, Yugi Muto along with his ace monster Dark Magician in gleaming gold!
The Golden Duelist Collection Duelist Portfolio has a special glittering foil that is unique to the Golden Duelist Collection and matches the other accessories. Each Duelist Portfolio includes 10-pages with 9 pockets per page, allowing you to display up to a total of 180 cards! Built with a side loading design, you will also get an extra layer of protection for your cards. There's no better way to show off your collection!