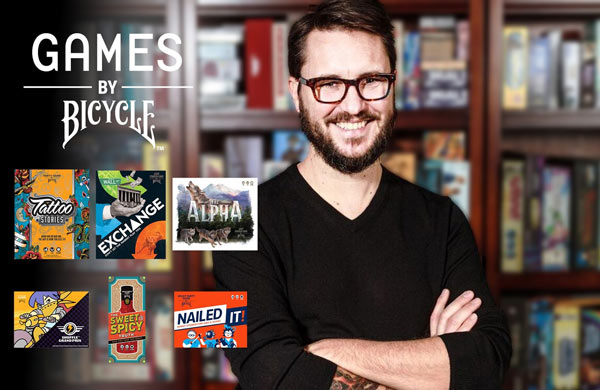 Wil Wheaton Announced As Games By Bicycle Global Board Game Ambassador
Bicycle® Expands Its Line Up Of Light Strategy Games: The Alpha and Exchange and Adult Party Games: The Sweet & Spicy Truth, and Nailed It.
NEW YORK, NY (June 30, 2020) Today, the Bicycle® brand is excited to announce the signing of actor, writer, and board game enthusiast Wil Wheaton as its first global board game ambassador.  In his role, Wil supports the new "Games By Bicycle" line of board and card games.  Bicycle is proud to be partnering with Wil, who for years has been an advocate for expanding the board game hobby to new audiences.
 As the creator, producer, and host of the wildly successful web series Tabletop, Wil is credited with reigniting an interest in board games.  Wil's career highlights include roles on the hit TV Series Star Trek: The Next Generation and more recently, as a fictionalized version of himself on CBS's The Big Bang Theory, one of the most highly rated and watched sitcoms of the last decade.
"My goal when we created Tabletop was to put more gamers into the world. We'd do that by showing how fun and social gaming is, by playing games that were quick to learn, quick to teach, and quick to play," said Wheaton.  "I am thrilled to be partnering with Bicycle to bring this collection of party and light strategy games to the world. These are exactly the games I would have chosen for Tabletop: accessible, uncomplicated, and so much fun to play."
"Wil Wheaton is the perfect person to lead our #EveryonesGotGame campaign for Games By Bicycle. He shares our passion for bringing people into the board game hobby and understands that by making great games that are fun and approachable, we can achieve this, says Kyle Nicholson, Brand Manager at The United States Playing Card Company.  "We know that cards and games can break the ice, help you get to know people even better, and can turn get-togethers into something epic. We are working with Wil to inspire more people to host game nights. We believe that no matter who you are, or how you play #EveryonesGotGame."
Like Wil, Bicycle continues to invite more people to the board game table.  This past year Bicycle launched multiple games including Tattoo Stories, a drawing party game where your art skills don't matter. The game was designed by schoolteacher Eric Slauson to inspire students to be more creative. Players compete in a series of quick-paced tattoo competitions. 
For people who want a little less party and a little more strategy, Games By Bicycle is bringing The Alpha, and Exchange to store shelves around the country.  In The Alpha, players lead a wolf pack on a hunt to become The Alpha pack. When multiple packs hunt the same prey, they must decide to fight or share bringing heart-pumping excitement to the game.  In Exchange, players must outwit opponents to corner the stock market and become the player with the highest net worth.
In addition, Bicycle will be launching Adult Party Games: The Sweet & Spicy Truth and Nailed It in July.
For more information please visit: BicycleCards.com, Instagram, and Facebook.
About The United States Playing Card Company: A Cartamundi Group Company
The United States Playing Card Company is the leader in the production and distribution of premier brands of playing cards, including BICYCLE® and BEE®.  BICYCLE cards have been the bestselling playing card brand for 135 years. Founded in 1867, the company manufactures and globally distributes a broad portfolio of traditional playing cards, card games, board games, accessories, and casino gaming products.  The United States Playing Card Company is a part of the Cartamundi Group, the world's leading game manufacturer and the market leader in playing cards and card games.