The first time I fought this Pokemon, in the underground ruins, I wasn't able to catch it in a Pokeball. Then, after a couple more steps I fought another that had the same number and looked DIFFERENT! By the time I found the exit, I'd come across at least 6 different versions of the same Pokemon!

At one point, I received a spotted egg from Professor Oak's aide. It didn't have any Hit Points or attacks, but after carrying him around for a while he seemed to hatch on his own. You guessed it… Togepi! His initial attacks were defensive only… until I taught him (what I believe is) the Swift!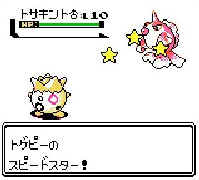 The buildings and townspeople are similar to those in the Red and Blue versions but it's so refreshing to be lost (again) on a whole new map. I have to admit I hope I find a bicycle shop soon! Another interesting note; the Cable Club is now located on the second floor of the Pokemon Centers and there are more booths. I think this means cartridges make use of the IR port as well as the game-link cable.
By now, I've made it through three or four of the towns, passed a few puzzle-levels, and even picked up my first badge. To earn it, I had to fight a trainer who used only bird Pokemon. The badge itself looks like a pair of wings.
At the end of the day I've caught about a dozen Pokemon, though I'm not quite brave enough to explore the computer terminals. I'd hate to accidentally let go of my electric sheep while trying to trade him for one of the Pokemon in my backpack!
Phew! That's a lot to pick up in one day.
- Ron