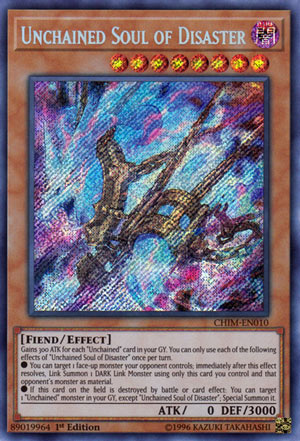 Unchained Soul of Disaster
– #CHIM-EN010
Gains 300 ATK for each "Unchained" card in your GY. You can only use each of the following effects of "Unchained Soul of Disaster" once per turn.
● You can target 1 face-up monster your opponent controls; immediately after this effect resolves, Link Summon 1 DARK Link Monster using only this card you control and that opponent's monster as material.
● If this card on the field is destroyed by battle or card effect: You can target 1 "Unchained" monster in your GY, except "Unchained Soul of Disaster"; Special Summon it.
Date Reviewed: 
February 18th, 2020
Rating: 3.83
Ratings are based on a 1 to 5 scale. 1 is awful. 3 is average. 5 is excellent.
Reviews Below:


King of
Lullaby
Hello Pojo Fans,
Unchained Soul of Disaster is one of the main focus points of the Unchained archetype playstyle.
Mystic Tomato target and Sangan target as well, USoD has a ton of DEF but 0ATK, you won't be using it for either of those purposes though, so the 300ATK boost effect for each Unchained isn't relevant. The replacement effect it has alongside other Unchained monsters is good, making it a 1-for-1 on destruction, but it's the out ability Unchained monsters like Soul of Disaster have, using their opponent's monster for their own Link Summoning that makes it a good card. Non-destruction removal from the field of any kind of monster for a DARK Link monster of your own is a great way of dealing with boss monsters. With Master Rule 5 coming, we'll be seeing more Fusion, Synchro and Xyz monsters, meaning this and one of those is an easy Link 2, which the archetype has. Not only that, but this card can start a link climbing in the turn depending on how many monsters your opponent has, leading you up to your boss monster of the archetype which we'll review later in the week. A Link 4 using your opponent's monsters while filling your graveyard with potential targets for later seems like a good effect to me, and it could all come from a single Mystic Tomato off your first turn…or from Rakea and Aruha, can't forget about them.
Advanced-3.5/5     Art-3.5/5
Until Next Time
KingofLullaby


Crunch$G
The next Unchained monster is one you probably want to get out ASAP and really don't want to draw, Unchained Soul of Disaster.
Disaster is a Level 8 DARK Fiend with 0 ATK and 3000 DEF. A very great DEF stat and an awful ATK stat, DARK Fiend goes well together, and Level 8 allows Trade-In in the case you did draw this. It gains 300 ATK for each Unchained card in your grave, which is useful in a self-destruction based archetype and I love how it doesn't require the same name, meaning this has a lot of room to get fairly strong in ATK. This card also has two hard once per turn effects where the first lets you target a face-up monster the opponent controls to Link Summon a DARK monster using this card and the targeted monster as Link Material. I like using your opponent's monsters as material, so this is great as it can target any monster as long as it's face-up. It allows for all the archetypal Links alongside Knightmare Unicorn. I wish it could summon the Borrels, but there's no way to use 3 monsters to Link Summon with this effect. That's fine since it can summon Topologics to make up for it. The second effect is where it's destroyed by battle or card effect to take an Unchained card in your grave and Special Summon it. Great to have some recovery, especially to get an Unchained Link back for its effect. It'll likely be destroyed by an effect since it'll be in Defense Position 9 times out of 10 and it's hard to get over 3000. Unchained Soul of Disaster helps get you to where you want to be in this archetype, just hope you don't draw it so you can summon it from the Deck.
Advanced Rating: 4/5
Art: 4.5/5 Again, some excellent art here. Appreciate the aesthetic of the chains attached to the monster.


Alex
Searcy
Unchained Soul of Disaster is a rather interesting Monster, to say the least.  Dark/Fiend, Level 8, with a big fat 0 attack but 3000 defense.  But we immediately see a power-up effect at 300x attack for each Unchained Monster in your Graveyard.  Dumping cards is easy enough these days, and we saw even just yesterday how to destroy within the theme, if necessary.  
The power-up probably isn't going to help him withstand a LOT, unless it's really late in the game, but that 3000 defense should hold its own for a while.  Next, are two effects, both of which can be used once per turn.  
*Targeting a face-up Monster your opponent controls lets you Link Summon a Dark Link Monster, using this card and that chosen Monster as Link Material.  A free Link Summon and only having to use one of your Monsters, while detracting a Monster from the opponent certainly isn't a bad thing.  Finally, if this card is destroyed by Battle or Card Effect, you get to Special Summon a theme Monster (other than this).
Said Monster must come from your Graveyard, which I think is really cool given the synergy this card all ready puts off with the Graveyard.  It's cool you have options in the effect as to how this card was destroyed, and you can even be the one to do it.  Not quite as important as yesterday's card, but this is a nice asset to the Deck as well.
Rating:  4/5
Art:  5/5 easily.  The art of the soul is very good, as is the color mixes in the background.  I like the chains here again, but I'm not sure physical chains would detain a soul.  Just a thought 
We would love more volunteers to help us with our YuGiOh Card of the Day reviews.  If you want to share your ideas on cards with other fans, feel free to drop us an email.  We'd be happy to link back to your blog / YouTube Channel / etc.   😉
Visit the Card of the Day Archive!  Click here to read over 4,000 more Yu-Gi-Oh! Cards of the Day!