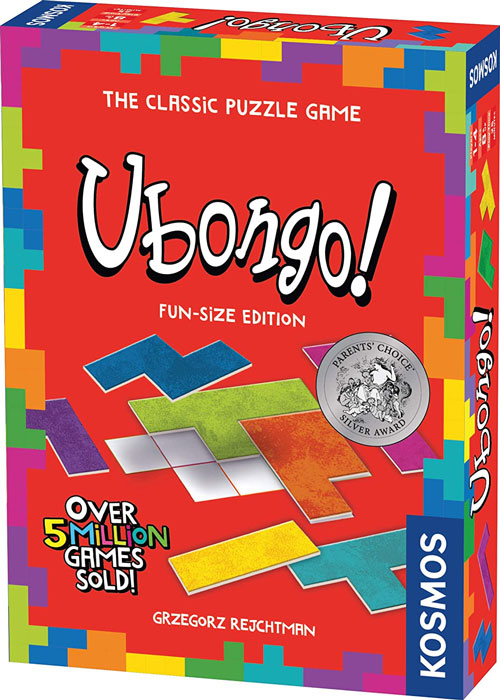 "Ubongo! Fun-Size Edition" is a new puzzle game from Thames and Kosmos.  The fun size edition is based on the extremely popular Ubongo! board game which has sold over 5,000,000 copies worldwide.  This version of Ubongo! is for 1-4 players, ages 7 & up.  
Ubongo! is like a competitive version of Tetris.  Players compete against each other to build certain shapes on theirs cards with the limited amount of polyomino playing pieces in front of them.  The fastest player each round gets a gemstone token.  The game is fast-paced, and easy-to-learn.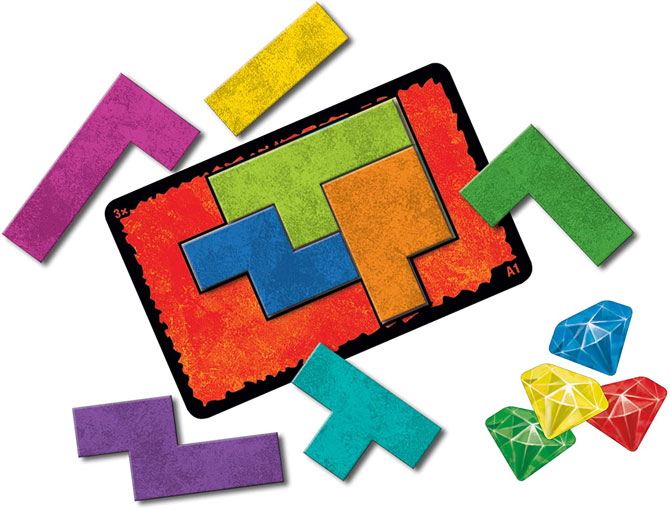 What's in the Box?
This version of Ubongo is packed into a small travel-sized box that is 7″ x 5″ x 1.5″.  
The box contains:
32 Puzzle cards
4 sets of 8 tiles (polyomino tiles)
8 Gemstone tokens
Rulebook
The 32 puzzle cards are  two sided with an A side and B side.  The A side requires 3 pieces to solve, and the B side requires 4 pieces to solve.
How does Ubongo! play?
A game of Ubongo! is played over 8 rounds. Each player receives a set of eight tiles. The tiles are polyominos — geometric (Tetris-like) shapes formed of equal-size squares joined edge to edge in different arrangements.  Every player has the exact same 8 tiles for each game.
At the start of each round, each player gets a new (random) puzzle board. Each player must perfectly fill the blank space on the puzzle board with tiles. Once the first player has solved the puzzle, the player shouts "Ubongo!" and the countdown is on: The other players must solve the puzzle within the time limit – (20 more seconds), or they will not earn any points. All players who solve the puzzle get a point, and the fastest player also gets a bonus gem worth one point.
After eight rounds, the player with the most points wins.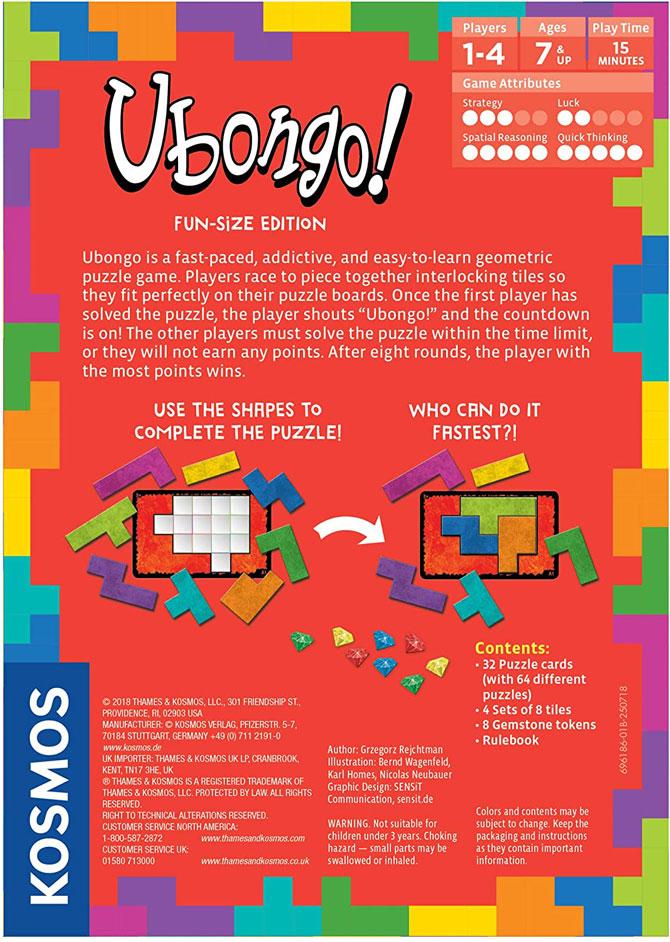 Likes, Dislikes and Final Thoughts
Likes: 
Easy to teach – This game is extremely easy to teach.  You can teach folks how to play this game in 1 to 2 minutes.  There are not too many board games you can do that with. Young family members and old family members will pick this up very quickly.  
Good quality – The pieces are all cardboard, but the paper stock of the polyominoes and the cards have the appropriate heft to them.  
Great filler game – There are times when you just want to fill 15 minutes of time between games, or you just want to play one more game before the night ends.  This is perfect for those occasions.
Travel friendly – As the game is only 5″ x 7″, it fits easily in travel bags.  It's perfect to take along on vacations
Works that brain of yours – There is very little luck involved in solving the puzzles.  Your brain must quickly figure out a way to insert, flip, rotate and connect pieces.  This usually starts with a quick glance at the board and trying to determine the best piece to start with. Many times you will paint yourself into a corner, and have to start over.  Usually this means someone else will beat you that round … but not always.
Great Family Game – This is a fantastic game for teaching younger family about board games.  It works the young ones' minds, and parents will still be having fun too.
Good Rulebook – The rulebook is 4 pages, in full color, and explains the game very well.  
Dislikes: 
There is not too much to dislike here, but I can nitpick.  😉
Different puzzles at the same time? – I guess to keep this game small, there are only 32 cards in the box.  Every card is different.  Each round, folks are competing against each other, but you are not solving the exact same puzzles.  I'm not sure how fair this is?  All the cards require the same amount of pieces to solve, but it seems that some cards are more difficult than others.  But then again, I imagine that this balances out over the course of 8 rounds.  
Only 4 players – There are only enough components here for a family of 4.  If you have a larger family, you might need to buy two boxes.  I don't see any reason why you can't combine two games for larger groups.  Ubongo! might actually be more fun that way.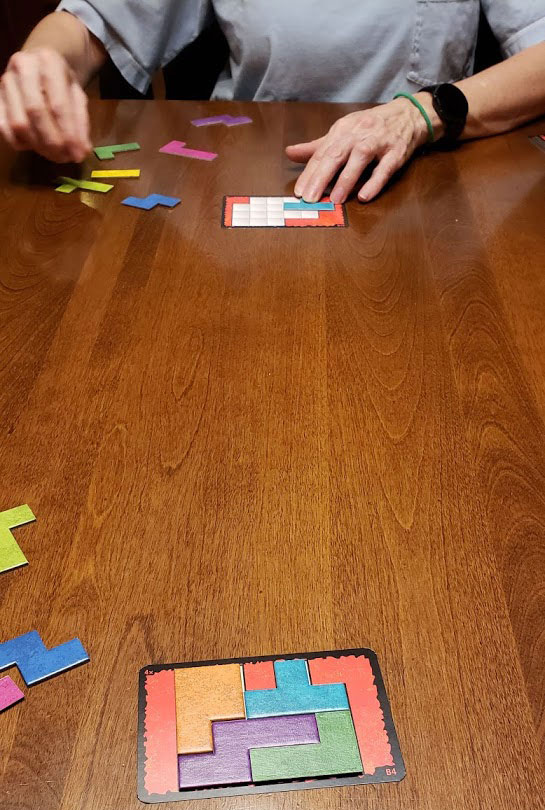 Final Thoughts 
Ubongo! Fun-Size edition is an easy game to recommend, and it is fairly easy on the pocket book as well.  The game retails for $14.95 which is fair for a travel friendly game.  This seems like a perfect game for a family of 4 with children 7 or older.  Have fun, and work your brain noodles a little bit.
Games that are easy to teach are some of my favorites for travel games.  You just want to play, and not bogged down in rules.