I spent a lot of time walking around Gen Con 2019 this past weekend in Indianapolis, IN meeting with dozens of gaming companies, and playtesting dozens of new games.  There were over 70,000 attendees this year.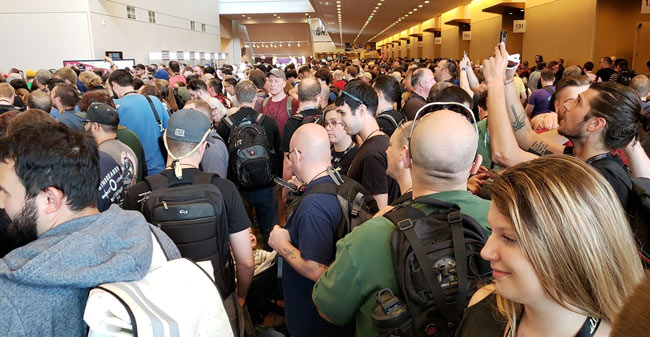 After a few days of walking and fighting crowds, your legs and brain can turn to jelly.  So it was nice to actually sit down with Drew Nolosco and Scott Van Essen of Wizards of the Coast and chat about the Transformers Trading Card Game.  Drew is the Brand Manager for the Transformers TCG, and Scott is on the Design Team for the Transformers TCG.
I spoke with Drew and Scott for a few minutes, just before the Top 32 played at the Gen Con 2019 Transformers $10,000 Open.  There was a $10,000 prize pool – split among the Top 32 players, and over 200 people signed up for the tournament. This Gen Con event took place just 1 month after the release of "Wave 3 – War For Cybertron Siege I", and those cards were legal for the tournament. So some new decks and new cards were showing up in the metagame.  
I snapped a few photos of the Top 32, and spectacted a few matches.  Congrats to all you guys who cashed at the event!
Here are a few photos from the Top 32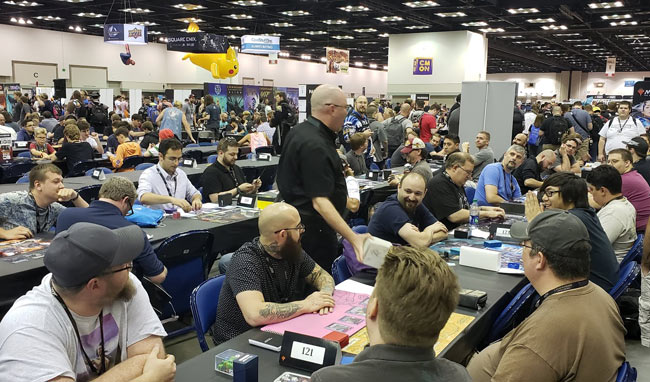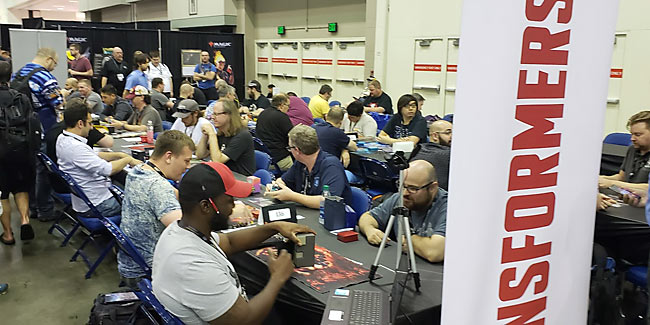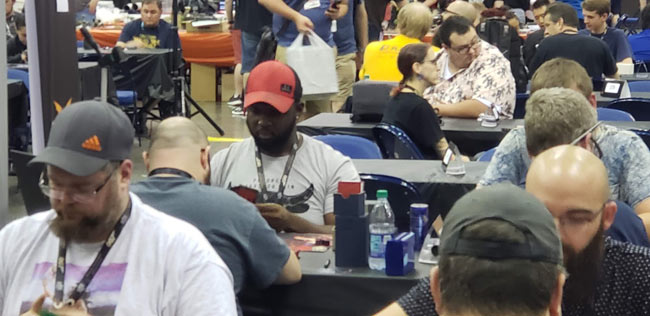 Congrats goes out to Kevin Allen who took first place at Gen Con 2019!  Kevin took home $1500 and a sweet lead-crystal Transformers Trophy!  Kevin was playing a "4 Wide Cars" Deck.  The deck features: Cliffjumper (SRT T01), Red Alert (Starter Box), Arcee (RT01), and Prowl (UT31).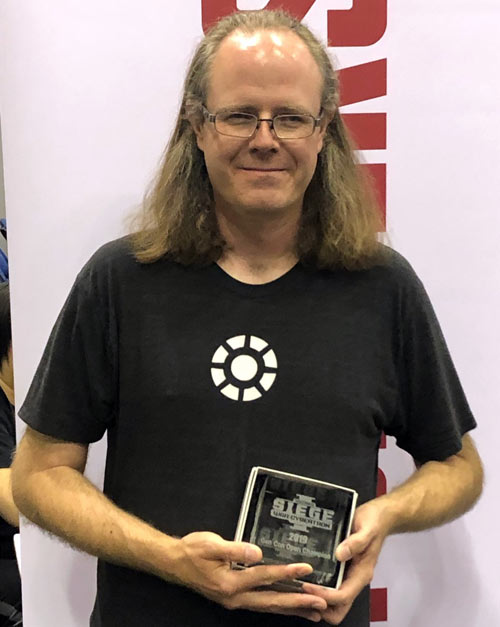 I love that Kevin was able to incorporate Red Alert from the Autobots Starter Set into his deck.  Red Alert has no Special Abilities whatsoever!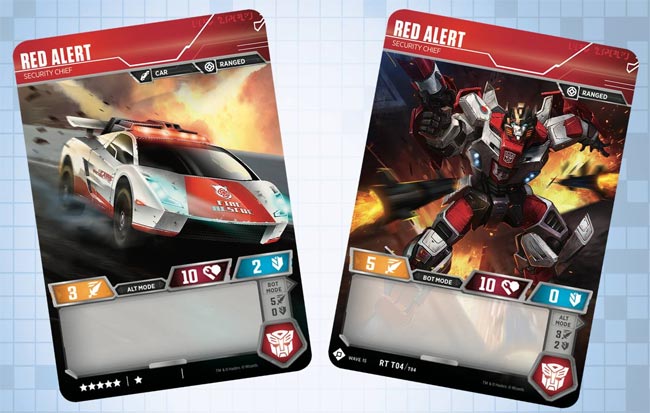 One thing I found interesting about the Top 32 was that there were no kids or teenagers in the Top 32.  The Top 32 were all adults.  Parents might be playing this game at the dining room table with their kids back home, but it's the adults who are taking down all the prize money.  I wonder if the game would benefit from a "12 and under division" like Yu-Gi-Oh! has?  
Oh, sorry … I got a little sidetracked … Let me get back to my Gen Con interview with Drew and Scott.  First off, Drew and Scott are wonderful guys, and they can't tell you too much about what's around the corner, but they are able to tease some information about the future of the Transformers TCG.  
The next couple of sets will obviously continue the "Transformers: War for Cybertron Trilogy" to correspond with the animated series and the toyline.  
One tidbit of interest was how Booster Boxes of "Wave 4 – War for Cybertron: Siege II" are going to be packaged.  We already know that each Booster box includes 30 booster packs and a TRYPTICON pack. The TRYPTICON pack contains one Titan-sized TRYPTICON character card and 3 large character cards as his minions: BRUNT, FULL-TILT and WIPE-OUT!  This TRYPTICON pack will be laid flat in the bottom of the sealed box, and have some special packaging to protect it from the card packs above.  Also, if I understand things correctly, big box retail stores like Target, will not have TRYPTICON packs in their booster boxes.  
Scott and Drew also teased that Wizards and Hasbro are working diligently behind the scenes on new ideas for Transformers cards for the future.  We've seen Combiners, Battle Masters, Micro Masters, and Titan Cards … and we can continue to expect to see more of these cards in future sets.  But, what do these Wizards have up their sleeves for the future? 
Scott had mentioned be me that he thought about 6 Combiner Decks reached the Field of 64 in the Gen Con 2019 tournament.  I'm not sure how these decks finished up the tournament, but I really do enjoy playing Combiner Decks casually, and hope to see more of Combiner cards in the future.