We got our hands on a Transformers 2 Player Starter Set, and opened it so you could see inside.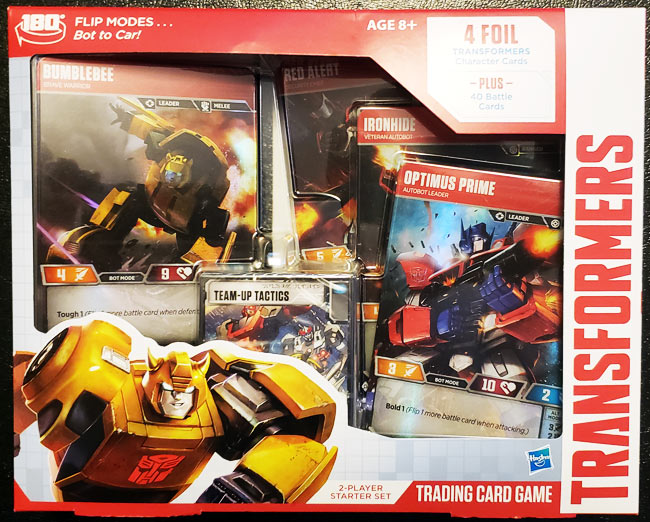 The box is approximately 10″ x 8″ x 1-3/4″, with a large see-through plastic panel on the front, and a small see-through plastic panel on the back.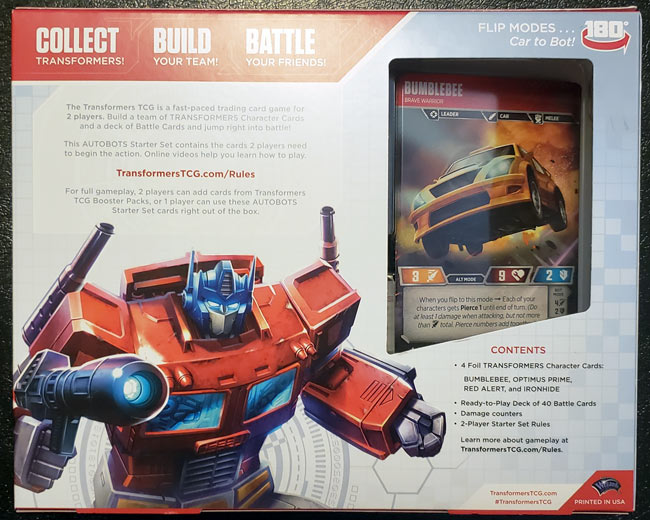 The box contains:
4 Foil Transformer Character Cards
and 40 Battle Cards
Here's a look at the 4 Character Cards you get inside: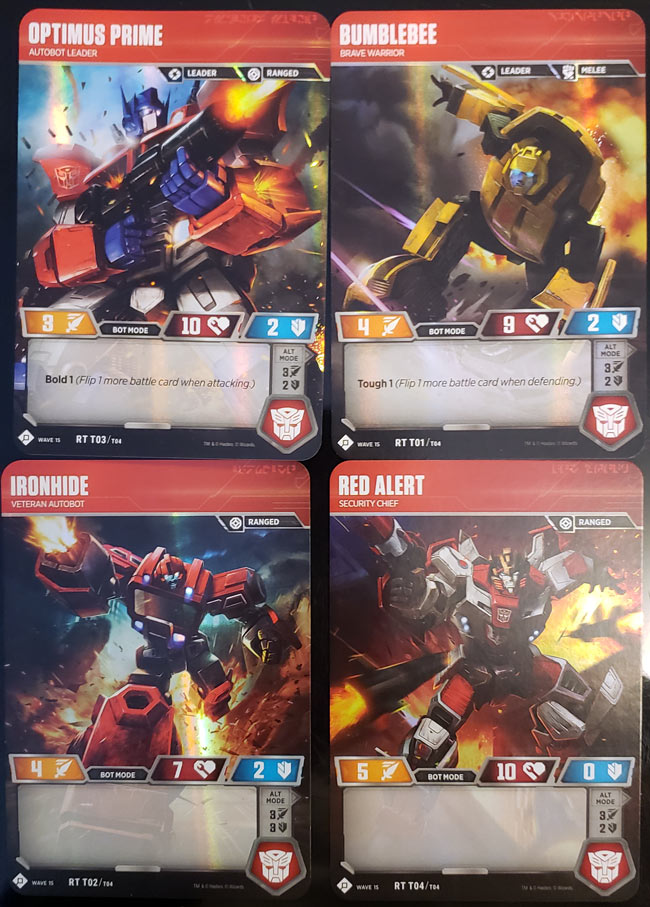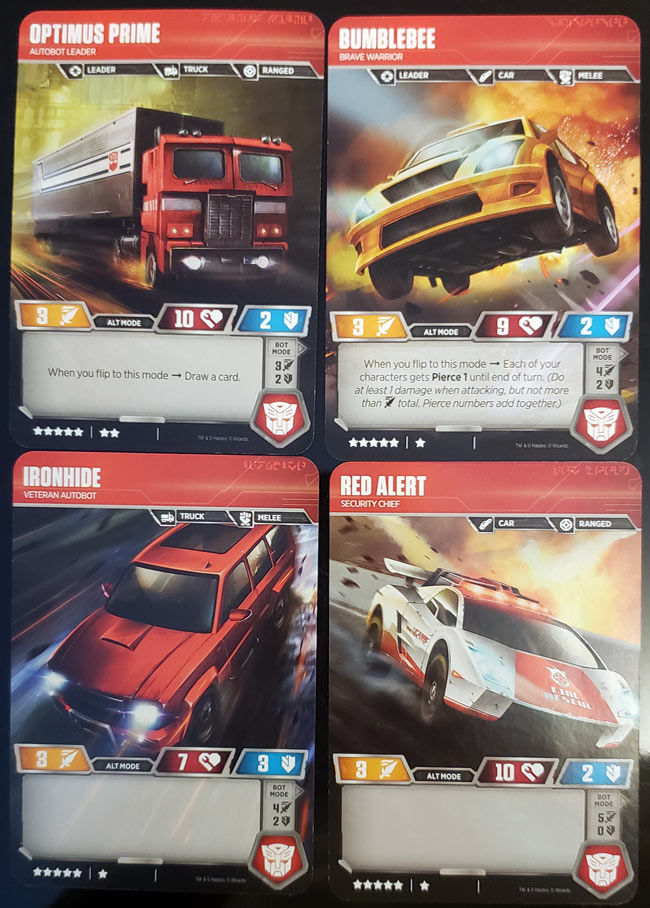 These 4 Character Cards are exclusive to this Starter Set!
You also get a package of 40 Battle cards: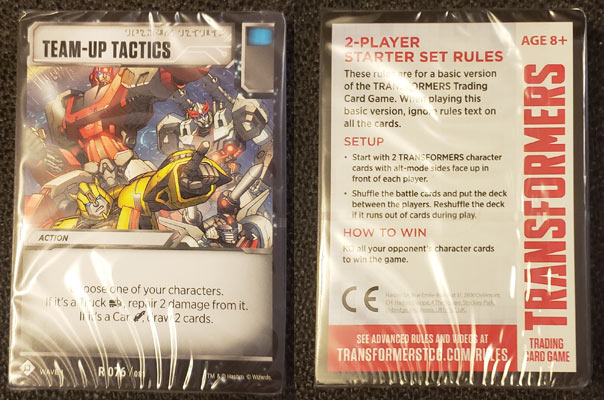 Here is a list of all the cards you actually get inside this box: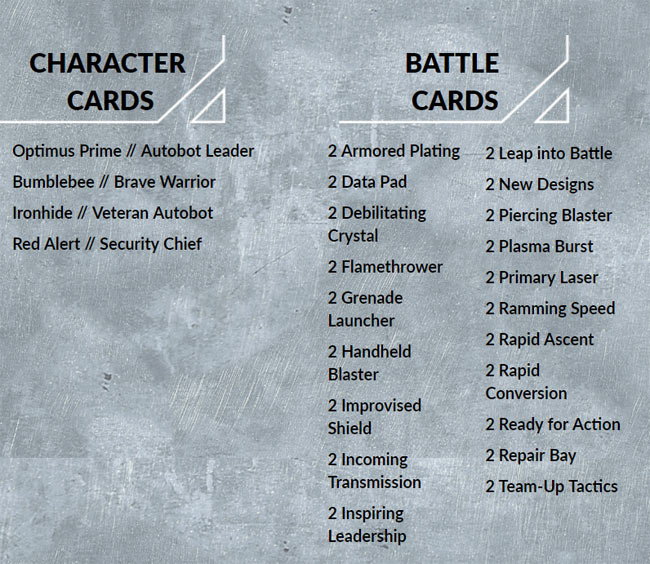 So you are getting 40 Battle cards, but "two-of" 20 different battle cards.  This allows you to play this is a simple training Starter Set.  Each player takes 2 Character Cards and 20 Battle Cards (1 of each) and goes at each other.  
In an "official" Transformers TCG game, each player would start with 25 points worth of Transformers Character and 40 cards.  In this Starter Set, you will only be playing with 1/2 of that – 12/13 points of character cards and 20 cards.  This might not make some people too happy.  
So, Should you buy the Transformers TCG Autobots Starter Set?
The List Price for this set is $14.99.  That's pretty good for 4 exclusive Character Cards.  Bumblebee is a good card.  Optimus Prime is pretty good too.  Ironhide and Red Alert are just okay cards.  But any of these cards might fit the bill in your 25 point build.
Regarding the Battle cards.  Your battle deck can have cards in multiples of 3's.  Some of these battle cards are actually pretty good.  Some of the better cards are: Data Pad, Debilitating Crystal, Grenade Launcher, Leap Into Battle, Rapid Conversion, and Ready for Action.  
All in all, this is a pretty good set for $15.  We recommend picking one up if you're a player or a Card Collector.  It's a good way for new player to start a collection. The only drawbacks are:
It's lacking is a good rule book.  You'll have to watch the online tutorials if you want to learn how to play.  
And you only get one Official Deck here.  To play as two players, you have to split all Character Cards and Battle Cards into half decks.