Today we're looking at the Top 10 most expensive Pokemon card sales in recent months on eBay.  These are the actual Top 10 most valuable cards based on actual "Sold" prices on eBay.  All prices are based on U.S. Currency.  
#1 – 1999 Pokemon Base Set 1st Edition Shadowless Holo Charizard #4 PSA 10 GEM MINT – Sold in April 2021 for $349,995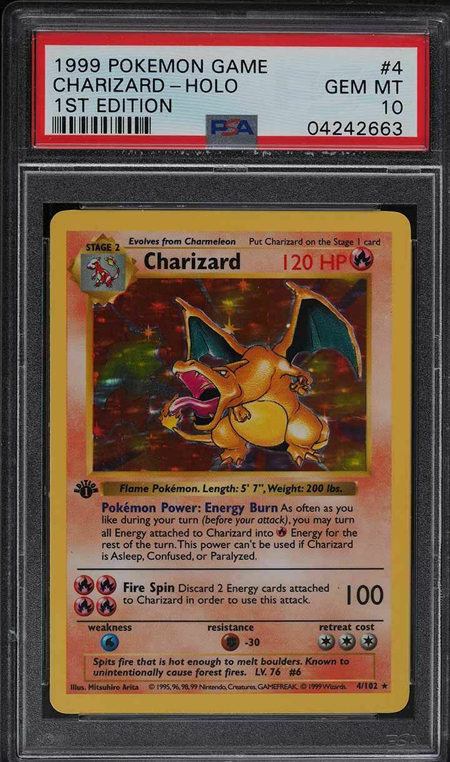 You were probably expecting to see Charizard top the list.  And you were right. First Edition PSA 9's are selling in the $61,000 range as well.  Get all those Base Set Charizards graded if you can!
I have two more Charizards to look at before we move on to #2:
#1A – 1999 Pokemon Base Set 1st Edition Shadowless Holo Charizard #4 PSA 10 GEM MINT – Sold in March 2021 for $311,800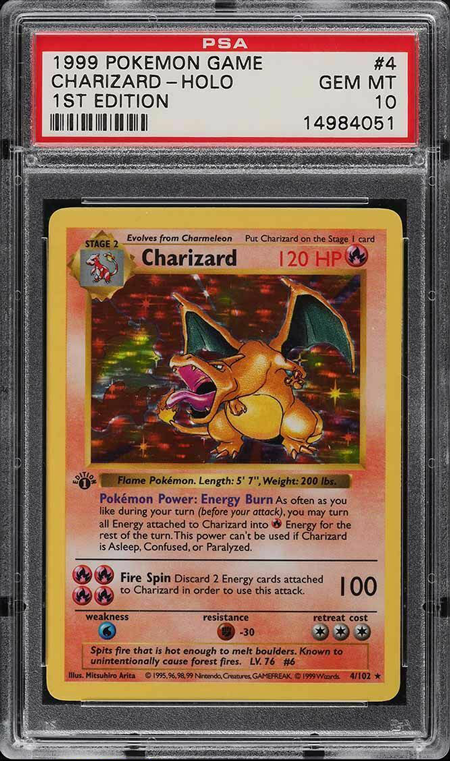 This Charizard card sold 1 month earlier than #1, and also sold for more than $300,000!
#1B – 1999 Pokemon Base Set 1st Edition German Holo Charizard Glurak #4 PSA 10 – Sold in May 2021 for US $94,000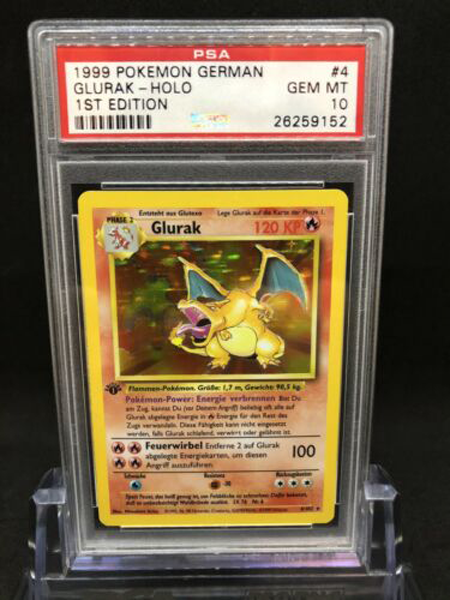 I thought it was interesting to see this Glurak selling for almost $100,000!  Another Glurak also sold for about $70,000.  This is not a Shadowless First Edition card.  Meaning that it came out after shadowless Charizards were released in the U.S.  So … would you rather have: a first edition Glurak with a shadow?; Or a shadowless non-first edition U.S. Charizard?
#2 – 2000 Pokemon Neo Genesis 1st Edition Holo Lugia #9 BGS 10 PRISTINE – Sold in May 2021 for US $144,300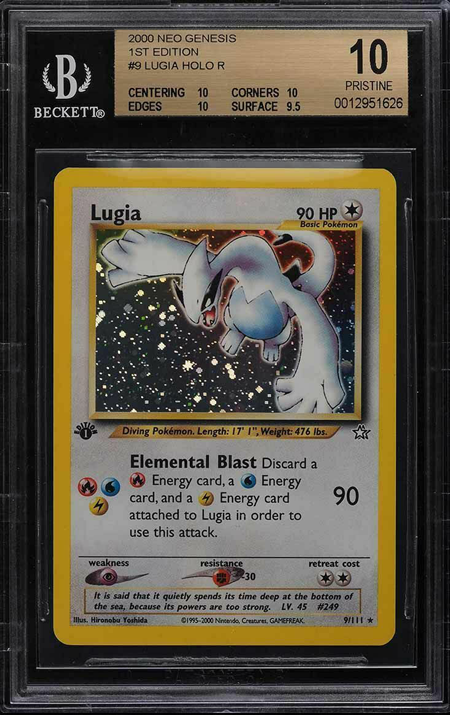 We saw a PSA 10 Lugia sell for over $100,000 in 2020.  We knew an uptick in pricing was coming in 2021.  This is probably most collectors' choice for the 2nd most valuable Pokemon card these days.
#3 – 2001 Pokemon Neo Revelation 1st Edition Holo Blissey #2 PSA 10 GEM MINT – Sold in April 2021 for US $90,000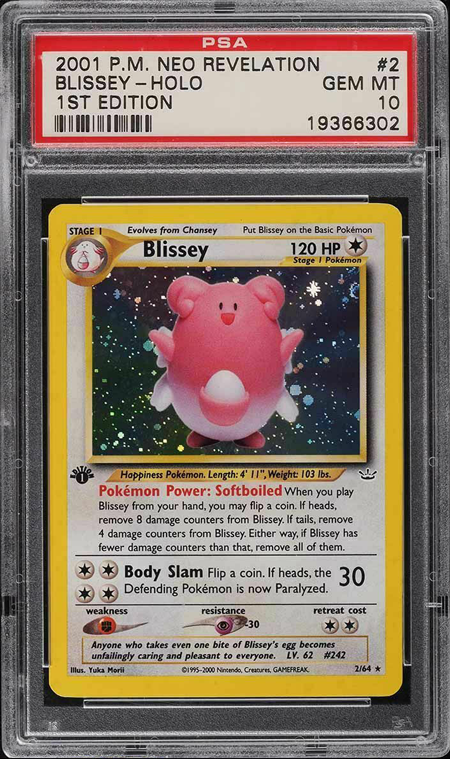 I'll be honest.  I did not expect to see Blissey here in the Top 10.  I was expecting Base Set cards, or a rare promo, but not Blissey.  According to the PSA Population Report, there are only ten PSA 10 Blisseys, so it is definitely a rare card!
#4 – Pokemon PSA 10 Alakazam 1st edition Shadowless Base Set 1/102 Gem Mint Holo – Sold in March 2021 for US US $79,999
All PSA 10 Holofoil first edition cards from Base Set command high prices.
#5 – Pokemon PSA9 MINT Tropical Wind Tropical Mega Battle Promo Trophy Card – Sold in March 2021 for US US $70,000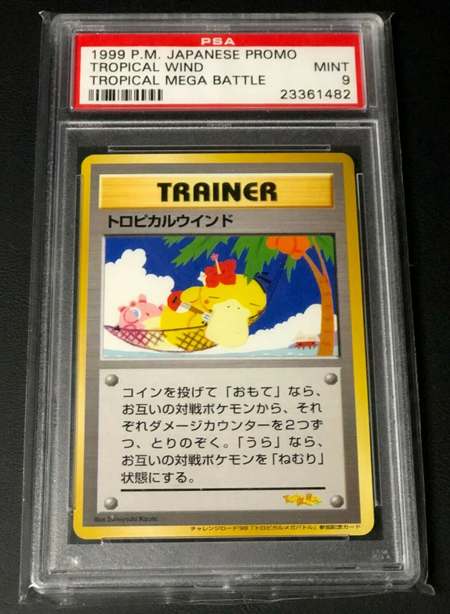 The Tropical Mega Battle took place in 1999 at the Hilton Hawaiian Village in Honolulu, Hawaii. This event was an invite only and was a battle between the best 50 players from Canada, Latin America, Europe, the United States, and Japan. During the event, there were a handful of various trophy cards that could be obtained. And this was one of them.  A total of 61 of these cards have been graded by PSA.  There are sixteen 9's and three 10's.  
#6 – PSA 10 Venusaur 1999 Pokemon Base 1st Ed Shadowless 15/102 GEM MINT – Sold April 2021 for $60,000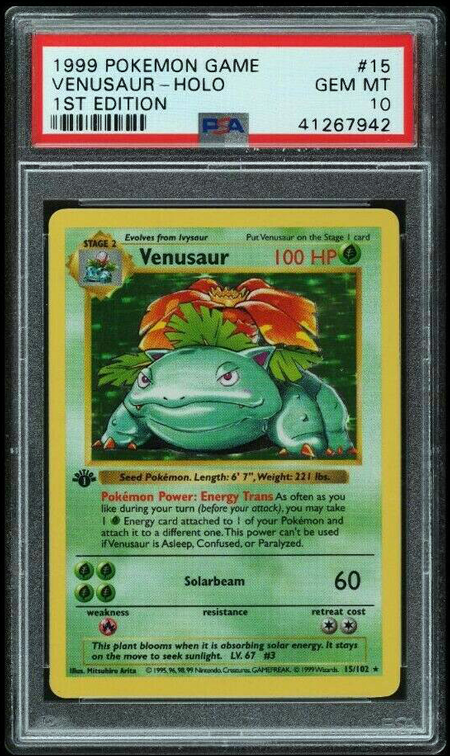 There are a total of 137 PSA 10 1st Edition Venusaurs in the PSA Census.
#7 – 2017 Pokemon Japanese S&M Promo Shining Legends The Masked Royal #085 PSA 10 GEM – Sold April 2021 for $50,000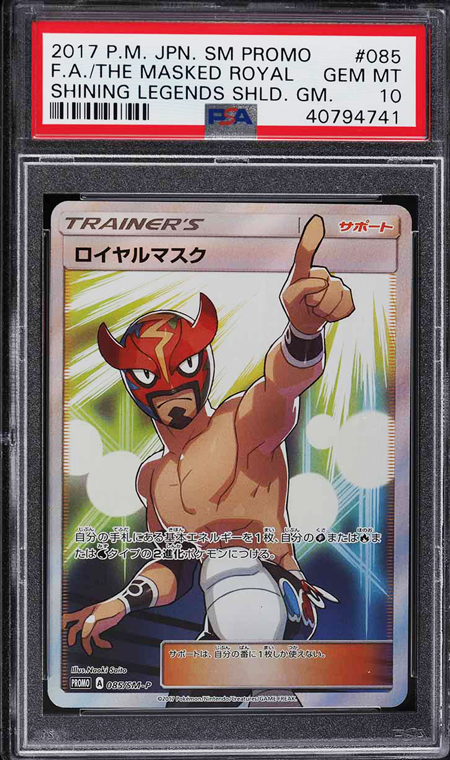 Wow! This is a relatively new card to be seen selling at such a high price.  The Full Art print of this card was limited to 100 copies, and given to various tournament winners in the Japan.
#8 – 2017 2005 Pokemon EX Deoxys Holo Rayquaza Gold Star #107 PSA 10 GEM MINT – Sold April 2021 for $40,400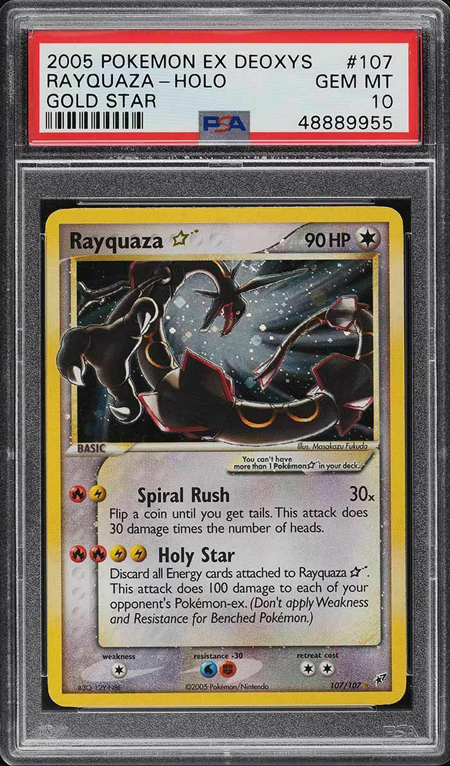 Gold Star Pokemon cards were very tough to pull from booster packs and boxes.  And then having it grade a PSA 10 is even rarer.  There are 47 PSA 10's in the PSA Population Report.  
#9 – Pokémon Charizard HR Winner PSA 10 Charizard VMAX 104/S-P GEM MT Trophy – Sold April 2021 for $37,500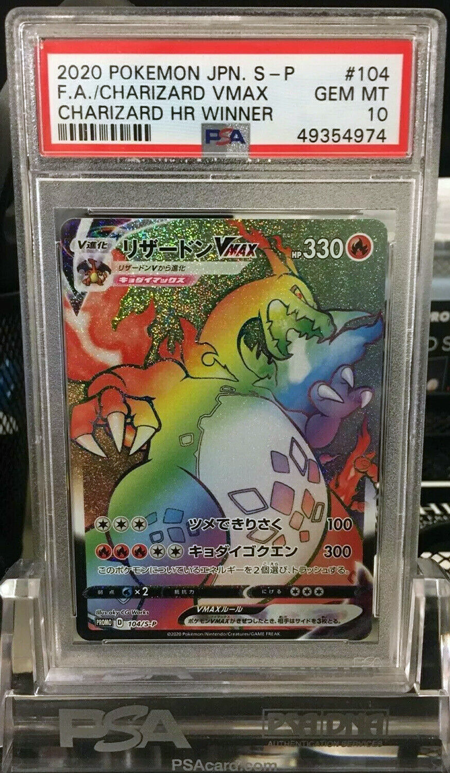 I believe a total of 600 of these Charizard HR cards were printed as prizes in Japan.  These were distributed during the COVID 19 lockdown period.  They were distributed by a lottery to people who held a sealed tournament at home with friends & family, and sent their results and proof of purchase by mail.
#10 – 2010 Pokemon Japanese Promo Daisuki Club 8,600 Holo Masters Scroll #055 PSA 10 – Sold March 2021 for $35,200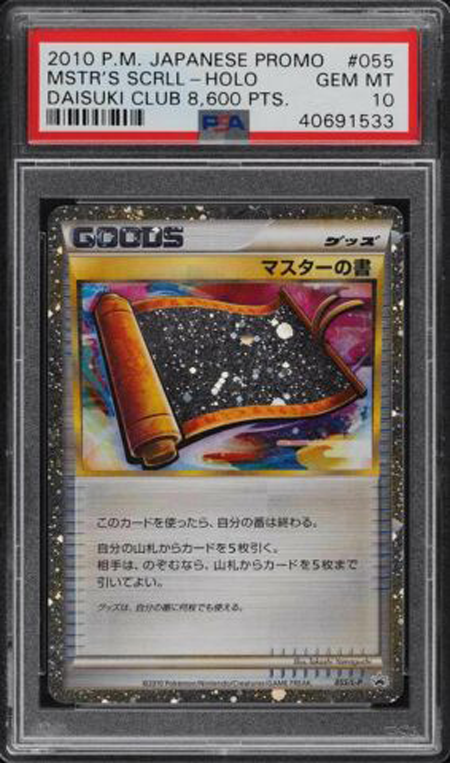 Notes from the eBay auction: "In June, 2010, this card was available to all Daisuki Club members (fan club) as a Master Rank prize. In order to obtains this final prize you had obtain 8,600 Action Points. Members were able to accrue Action Points by completing certain tasks and can then trade them in for such cards. It's unknown exactly how many members were able to accrue the 8,600 points needed to obtain the Master's Scroll card, but there are only 26 PSA 10 copies in existence."
Honorable Mention
#11 – 2002 Pokemon Trophy Card Neo Summer Battle Road Number 2 Trainer BGS 7.5 NRMT+ – Sold March 2021 for $34,100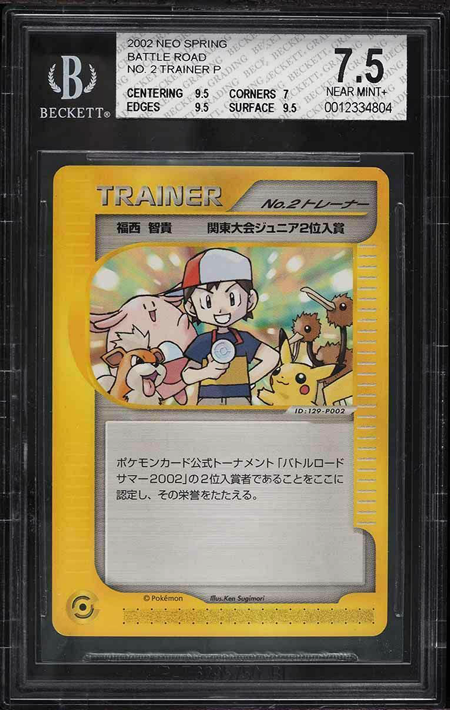 From the eBay auction: "This card was given to Fukunishi Tomoki as their prize for winning 2nd place in the Junior Division of the Kanto Summer Battle Road tournament in the summer of 2002. Noteworthy for being not only the last prize card to feature both the names of the region and winner, it was also the last prize card to feature both male and female variants."
Final Thoughts
To be honest, I was not expecting to see so many Japanese cards on this list.  I guess investors are looking for unique cards over better known rare English language cards? 
Where is Base Set Blastoise? Neo Genesis Pichu?  Other chase cards?
A PSA 10 Blastoise 1st edition sold in April 2021 for $31,334.00
A 2007 Pokemon Pop Series 5 Gold Star Umbreon #17 sold in May 2021 for $27,500
A 1999 Pokemon Base Set Shadowless 1st Edition Holo Chansey sold in April 2021 for $27,412
A 1999 1st Edition Base Set Ninetales sold in April for $27,000 – PSA 10
A 1999 1st Edition Base Set Hitmonchan sold in April for $25,000 – PSA 10
A 2002 Expedition PSA 10 Charizard sold in March 2021 for $21,443
A PSA 10 Neo Genesis Pichu sold for $12,500 in March 2021
Other notable Pokemon Sales:
A 1st Ed. Neo Genesis Booster Box sold for $34,299 in March
A 1st Ed. Neo Discovery Booster Box sold for $25,100 in May
A 1st Ed. Team Rocket Booster sold for $24,500 in April
A 1st Ed. Jungle Booster Box sold for $22,500 in April
A 1st Ed. Fossil Booster Box sold for $20,100 in April
An EX Dragon Frontiers Booster Box sold for $18,422 in May
A 1st Ed. Gym Heroes Booster Box sold for $15,600 in April