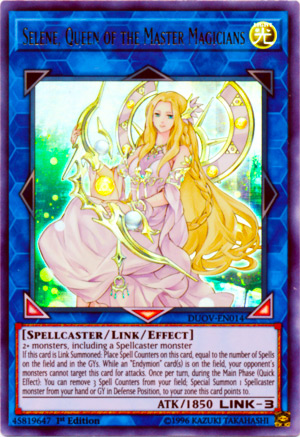 Selene, Queen of the Master Magicians
– #DUOV-EN014
2+ monsters, including a Spellcaster monster If this card is Link Summoned: Place Spell Counters on this card, equal to the number of Spells on the field and in the GYs. While an "Endymion" card(s) is on the field, your opponent's monsters cannot target this card for attacks. Once per turn, during the Main Phase (Quick Effect): You can remove 3 Spell Counters from your field; Special Summon 1 Spellcaster monster from your hand or GY in Defense Position, to your zone this card points to.
Date Reviewed: December 25, 2020
Rating: 4.25
Ratings are based on a 1 to 5 scale. 1 is bad. 3 is average.  5 is great.
Reviews Below:
---


King of
Lullaby
Hello Pojo Fans,
Merry Christmas and Happy Holidays to everyone out there. If you don't celebrate any of the holidays, I hope you get to see friends and family responsibly and get to enjoy the holiday season in your own way.
Selene, Queen of the Master Magicians comes in at #7, and I must admit, she wasn't on my list or in honorable mentions. As a Spellcaster player and someone who has her, I am ashamed.
Selene is a Link 3, and you'll need a Spellcaster for her Link Summon, which limits her from being splashed everywhere like all the cards so far on this list. 1850ATK is reminiscent of the Familiar-Possessed archetype, but she is not part of that archetype. Selene gets Spell Counters equal to Spells on the field and in the graveyards upon Link Summon, making her a mid-game card unless a good amount of spells are unloaded early. With an Endymion card on the field Selene is protected from attacks (and that includes any spell/trap cards that are Endymion). She can work naturally well in Spellbooks and Endymion for their ability to plow through spells and fill the graveyard with them. During either Main Phase she can trade three counters from anywhere on your field for any Spellcaster in the grave or hand. Defense Position is rough to be summoned in, and it has to be in a zone Selene points to, but this gives you an instant Link 4. She can give you an extra body during your opponents turn or give you another monster during yours. Trading three Spell Counters for Red Eyes Dark Dragoon seems pretty busted to me guys, and that would be. Her Spell Counters can power Spellbook, Endymion, and Mythical Beast cards, making her a staple in those decks easily.
Selene can be splashed into any Extra Deck where in the Main Deck they run a Spellcaster or two and wanted to bring back said Spellcaster or an even bigger one (Dragoon). It's a shame Pendulum Decks are falling out of favor. Endymion saw some success while Mythical Beasts never really saw their time.
Advanced-4/5     Art-5/5
Until Next Time
KingofLullaby
---


Crunch$G
2020 has had some great artwork with cards like Teardrop the Rikka Queen and the new Apollousa artwork, but number 6 gives us another example of great artwork, and on a great card as well. From Duel Overload we have Selene, Queen of the Master Magicians.
Selene is a Link-3 LIGHT Spellcaster with 1850 ATK and arrows pointing Bottom Left, Bottom, and Bottom Right. ATK is a little on the low side, but it has a great Type and Attribute combination, and the arrows are just pefect. The summoning requirements are any 2+ Monsters, including a Spellcaster, so you can be a little more versatile with this, though it could of been great for Pendulums if the TCG still had Electrumite legal like the OCG. Upon being Link Summoned, you can have this gain Spell Counters equal to the number of Spells on the field and in the graveyards, meaning this should gain a good amount of Counters if you don't rush into this card and use some Spells first, which is prime for something like Pendulum. While an Endymion card is on the field, the opponent cannot target this card for attacks, which works since this has ATK that's easy to get over and you want to keep its Spell Counters. It has a soft once per turn effect as a Quick Effect to remove 3 Spell Counters from itself to revive a Spellcaster from your graveyard in Defense Position to a zone this points to. Great to revive any Spellcaster in the game, whether for Pendulums, Dark Magician, or anything else using Spellcasters. It being MR5 and you not having to summon all Extra Deck Monsters to zones it points to leaves you easily being able to leave zones open to revive something. A good target could be El Shaddoll Winda you summoned off an Instant Fusion to get that Special Summon lock without worrying about Instant Fusion destroying it, but Instant Fusion is at 1, so that isn't consistent. It being a soft once per turn and no hard once per turns anywhere means you could summon a 2nd copy of this for revival, but you'd have to use Selene as material to get it out of the EMZ to get another one in it. Selene is a great Spellcaster support card and a staple for the Type.
Advanced Rating: 4.25/5
Art: 5/5 Just stunning.
My #6: Triple Tactics Talent
---


Alex
Searcy
Alex goes 2-for-5 this week, as this (as well as Monday's card made my list).  
#6:  Selene, Queen of the Master Magicians
Position on my List:  #2 (I am the Spellcaster guy, remember?)
My #6:  Dragonmaid Sheou
For a third Link in a row, and to close out the bottom half of our countdown, is the darling Selene, Queen of the Master Magicians.  Light/Spellcaster, Link 3, 1850 attack, and arrows pointing to all 3 bottom slots.  Link Summon requires 2+ Monsters, one of which must be a Spellcaster.  When Link Summoned, you place a Magic Counter on Selene equal to the number of Magics on the Field AND in the respective Graveyards.  If an Endymion card(s) is(are) on the Field, this card can't be Targeted for attack.  The 1850 is a bit low (even for Link 3) but any Battle protection is always welcome.  A Quick Effect, once per turn, lets you remove 3 Magic Counters from Selene to Special Summon a Spellcaster from your Hand or Grave (we appreciate versatile resources) in defense position, to a Zone this card points to.  3 counters may seem like a lot, but given how easily this card, and an Endymion Theme can build Counters, it's really not.  Any Spellcaster, so your window is WIDE open, as she should fit in about any and all build, which makes her all the better.  It's simple, but resourceful, and effective, and a great asset to a Spellcaster player.
Rating:  4.5/5
Art:  5/5  So beautiful.  She looks like royalty, maybe even a Fairy in this outfit and all the bright colors in the background surrounding her.
---
We would love more volunteers to help us with our YuGiOh Card of the Day reviews.  If you want to share your ideas on cards with other fans, feel free to drop us an email.  We'd be happy to link back to your blog / YouTube Channel / etc.   😉
Visit the Card of the Day Archive!  Click here to read over 4,000 more Yu-Gi-Oh! Cards of the Day!