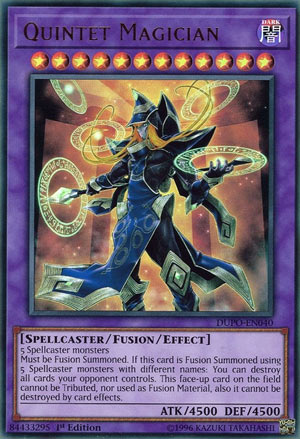 Quintet Magician
– #DUPO-EN040
5 Spellcaster monsters
Must be Fusion Summoned. If this card is Fusion Summoned using 5 Spellcaster monsters with different names: You can destroy all cards your opponent controls. This face-up card on the field cannot be Tributed, nor used as Fusion Material, also it cannot be destroyed by card effects.
Date Reviewed: 
June 28, 2019
Rating: 4.5
Ratings are based on a 1 to 5 scale. 1 is awful. 3 is average. 5 is excellent.
Reviews Below:


Crunch$G
We end the week with a card that is kinda Dark Magician support but at the same time supports literally any Spellcaster deck under the sun, and basically it's a Five-Headed Dragon for Spellcasters, here's Quintet Magician.
Quintet Magician is a Level 12 DARK Spellcaster Fusion with 4500 ATK and DEF. Stats aren't something to scoff at ever, even if it isn't Five-Headed Dragon's 5000 ATK and DEF, and I still like a DARK Spellcaster combination. The summoning requirements are any 5 Spellcasters and with stats and an effect it has, anything less might be making this too good. It must be Fusion Summoned, so no cheating. If this card is Fusion Summoned using 5 Spellcaster monsters with different names, you can destroy all your opponent's cards that they control, which is insane enough to warrant that restriction with all monsters needing different names, no matter how many are needed. That effect is a blowout. This face-up card on the field cannot be tributed, used as Fusion Material, nor destroyed by card effects. Not being able to tribute this means you can't Kaiju it, which is nice, but you also can't use it for a Tribute Summon, which there isn't much I can imagine you'd want to use this as tribute for a Tribute Summon for. It not being able to be a Fusion Material makes this immune to Super Polymerization, which is nice, but you can't use it on the field for another Quintet Magician, which is fine. It can't be destroyed by card effects, which is great even though it can be targeted still. It doesn't have any unnecessary battle protection like Five-Headed Dragon because that's not needed when you got 4500 ATK and DEF, but Borreload can steal this from your and Borrelsword kills this still, which doesn't make this any worse since a lot of great cards fall to the both of them along with many others that this falls to as well. Now, if I'm being honest, you likely won't get Polymerization and fuse 5 Spellcasters in your hand or field, but Magicalized Fusion is a card in the Dark Neostorm: Special Edition that we will review soon, and it's a great way to Fusion Summon this, which is going to be your preferred way. It's a boss monster with summoning requirements, effect, and stats, so it isn't something that'll come out that often, but it can change the momentum of a game when it's summoned.
Advanced Rating: 3.5/5
Art: 4/5 Seeing a Five-Headed Magician would of been funny, but this artwork is basically an upgraded Dark Magician, which makes sense and I'm fine with.


Alex
Searcy
Quintet Magician is one hell of a card.  This guy is just a behemoth.  Level 12, Dark, Spellcaster, and a colossal 4500 attack and defense.  Requiring 5 Spellcaster Monsters for a Fusion Summon, but you get a big Bonus if you use 5 Spellcaster with different names.  Note, for starters, this card must be Fusion Summoned, but when you're this powerful, a limitation of sorts is a necessity.
If you use 5 differently named Spellcasters for the Fusion Summon of this card, you get to destroy all cards your opponent controls.  You can't Tribute this card, nor use it as Fusion Material, and it's immune to destruction via card effect.  Not immune to card effects, just destruction by them.  Battle immunity would be an asinine effect here given the 4500 attack.
So, let's see…you very likely aren't going to do this normally…perhaps Future Fusion, the new Magicalize Fusion, are a couple of prudent options for a Fusion Summon (and all the easier for the 5 different named Spellcaster aspect of this card).  This guy certainly has some OTK potential too.  I'd slap a Megamorph on this card when you're behind, a 9000 attack shot, that's game.  Just a thought.  
This is one of those cards that certainly has potential to bust ass and break some games open, and while my score (and fondness) of Magicians plays in here, he's still damn good.
Rating:  5/5
Art:  5/5  Looks kinda video game-esque…great suit, love the colors, and I see 5 Magical seals here, so Quintet works.  Not the most inspired name, but no art knock from that.  Fantastic picture.


King of
Lullaby
Coming Soon


WarlockBlitz

I'm really glad I didn't miss today. Quintet Magician is a Level 12 Dark Spellcaster-type Fusion Monster with 4500 Atk and 4500 Def. Those are wowza stats. He can only be Fusion Summoned so get out those 5 Spellcaster monsters. Pendulums will probably prevail at this, but Dark Magician can do it as well. The bonus for using 5 Spellcasters with different names is destroying all cards your opponent controls. A very good effect on a big monster that can win with big damage. Quintet Magician also has protection from destruction, protection from tributing, and protection from being used as Fusion Material. That just leaves targeting protection, but then he might be too good. This and Super Polymerization are a good side deck choice against Pendulums and Altergeist, and a main deck option in either. Honestly it's the protection from Kaijus that makes this boss monster worthy of a high score even though I love saying that defense doesn't win games. The offense is in the stats and the first effect. 5 for Friday for Quintet Magician? Why not? Happy Friday!
Score: 5/5     Art: 5/5
We would love more volunteers to help us with our YuGiOh Card of the Day reviews.  If you want to share your ideas on cards with other fans, feel free to drop us an email.  We'd be happy to link back to your blog / YouTube Channel / etc.   😉
Visit the Card of the Day Archive!  Click here to read over 4,000 more Yu-Gi-Oh! Cards of the Day!