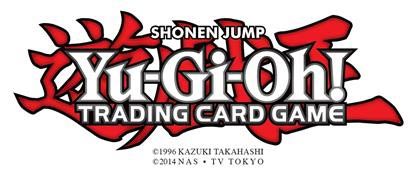 A POWERFUL LINK UNITES THE LIGHT AND THE DARKNESS IN THE Yu-Gi-Oh! TRADING CARD GAME!
 El Segundo, Calif. (January 26, 2018) – An old light is rekindled, a familiar darkness emerges, and new forces arise to Link the two together! Three new releases from Konami Digital Entertainment, Inc. (KONAMI) test the balance of goodness and corruption this Winter in the Yu-Gi-Oh! TRADING CARD GAME (TCG) – Structure Deck: Wave of Light, Extreme Force, and Legendary Duelists: Ancient Millennium.
The New Year is off to a bright start with Structure Deck: Wave of Light, heralding the return of the Counter Trap Fairy strategy! The new Sacred Arch-Airknight Parshath leads the charge, piercing your enemies with its radiant spear to search "Parshath" monsters and Counter Traps from your Deck. If your opponent defeats it, this retrained Airknight is reborn the next time you counter your opponent's move. Meanwhile the ground forces of the Sanctuary rally! Minerva, Scholar of the Sky and Power Angel Valkyria both use strong search abilities to find you the cards you need.
Structure Deck: Wave of Light also brings new Spells and Traps!  Rebirth of Parshath negates anything your opponent activates and unleashes a "Parshath" monster from your Deck.  The Sanctuary in the Sky has been rebuilt as The Sanctum of Parshath, boosting your Fairy monsters, protecting your Set Spells and Traps, and recycling your best cards.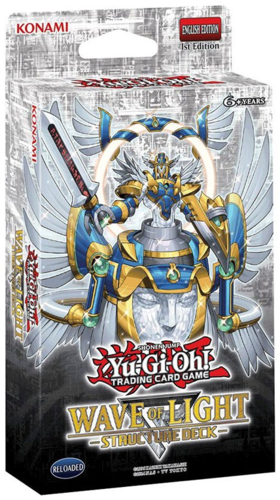 Now available in stores, each Structure Deck: Wave of Light includes a Beginner's Guide, a Double-sided Deluxe Game Mat/Dueling Guide, 1 Token Card and 41 cards: 36 Commons, 3 Super Rares, and 2 Ultra Rares. MSRP: $9.99 per box.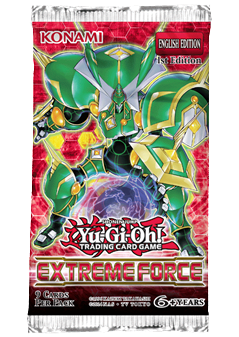 The first booster pack of 2018 makes its debut in February, as Extreme Force brings new strategies and unprecedented support for fan-favorite Decks! Akira's "Tindangle" monsters are DARK Fiend-Types focused on powerful Flip Effects, and the new Mekk-Knights are an elite group of high-powered Psychics that you can Special Summon to any column with 2 or more cards.  Meanwhile the classic Mythical Beast Cerberus has spawned a new generation of Mythical Beasts, a deadly tribe of Pendulum Monsters powered by Spell Counters, and Circuit Break's Rokkets and Altergeists are back and stronger than ever.
Link Monsters like Curious, the Lightsworn Dominion, Isolde, Two Tales of the Noble Knights, and the mighty Heavymetalfoes Electrumite appear to bring old-school strategies into current competition.  Hey, Trunade! harnesses the power of the long-Forbidden Giant Trunade; Contact "C" is a new monster that hampers your opponent's Extra Deck Summons; and Saryuja Skull Dread is a massive Link-4 that boosts Attack and Defense Points, Special Summons monsters from your hand, and draws 4 new cards to replace 3 cards from your hand! With 3 downward Link Arrows and no special Link Materials, it's the gold standard for generic Link Monsters.
 Extreme Force explodes into stores on February 2 with 100 cards: 48 Commons, 20 Rares, 14 Super Rares, 10 Ultra Rares, and 8 Secret Rares. MSRP: $3.99 per 9-card pack.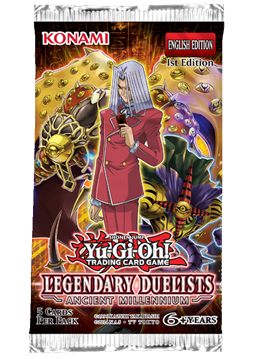 And finally, Dueling's greatest villains creep from the shadows in Legendary Duelists: Ancient Millennium, a booster pack devoted to Bandit Keith, Weevil Underwood, and the creator of Duel Monsters himself, Maximillion Pegasus, from the original Yu-Gi-Oh! animated series. Classic cards like Thousand-Eyes Restrict, Insect Queen, and Barrel Dragon are back in their original forms.  But times have changed, and Ancient Millennium includes powered-up versions of those monsters and many more.
Fans of the Yu-Gi-Oh! GX manga and animated series will also find new cards for Chazz Princeton's Ojamas and Armed Dragons, plus new Ancient Gears from the library of Professor Crowler, and long-awaited new additions to Jesse Anderson's Crystal Beast Deck.
Legendary Duelists: Ancient Millennium awakens February 23 with 53 cards: 27 Commons, 10 Rares, 8 Super Rares, and 8 Ultra Rares. MSRP: $1.99 per 5-card pack.