IT'S "BACK TO DUEL" SEASON THIS FALL,
IN THE Yu-Gi-Oh! TRADING CARD GAME!
Hawthorne, Calif. (September 29, 2021) – School is back in session, and for Duelists everywhere it's time for some higher learning! This Fall, Konami Digital Entertainment, Inc. (KONAMI) is revisiting classic eras of the Yu-Gi-Oh! TRADING CARD GAME (TCG) before ramping up into the future of Dueling! The 2021 Tin of Ancient Battles is the perfect chance to get caught up on cards you've missed. Return to the halls of Duel Academy and Yu-Gi-Oh! GX with Structure Deck: Cyber Strike, and once you're ready to graduate, prepare for a brand-new Ghost Rare in the latest Legendary Duelists set! And if you're top of your class? You could even score some amazing prizes with the next tournament reward booster, OTS Tournament Pack 17.
The time has come! Every year, Duelists across the globe prepare for one of the Yu-Gi-Oh! TCG's most celebrated annual releases, and this year is no exception: the 2021 Tin of Ancient Battles is almost upon us. Building from last year's 2020 Tin of Lost Memories, the Tin of Ancient Battles continues building the Pharaonic tablet; stack them together to continue the epic story of the battle between Dark Magician and Blue-Eyes White Dragon. The Tin of Ancient Battles will feature three new World Premiere cards that unlock new powers for these legendary monsters!
Every 2021 Tin of Ancient Battles holds 3 extra-large Mega-Packs, each with 12 Commons, 1 Rare, 2 Super Rares, 2 Ultra Rares, and 1 Prismatic Secret Rare. The mega-set draws popular cards and tournament powerhouses from sets released in 2020, like Ignition Assault, Eternity Code, Rise of the Duelist, Phantom Rage, and more. So, if you missed out, now's your chance to get caught up with some of the hottest cards needed to compete with top-tier Decks. Supercharge your strategies, foil up your favorites in new rarities, and get ready to level the playing field!
The 2021 Tin of Ancient Battles is unleashed on October 1 containing 3 Mega-Packs each with 18 cards. That means each Tin has a total of 36 Commons, 3 Rares, 6 Super Rares, 6 Ultra Rares, and 3 Prismatic Secret Rares. MSRP: $19.99 per tin.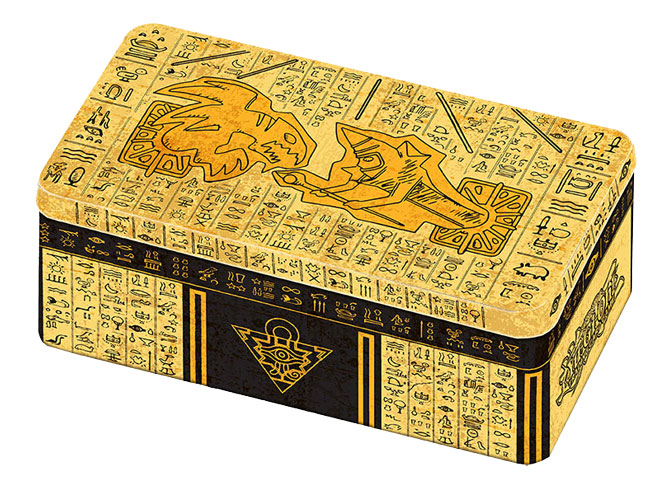 2021 Tin of Ancient Battles
Get ready for the return of Cyber style! Cyber Dragon defined an entire era of tournament Dueling, and now it's back as one half of the most customizable Structure Deck yet. Structure Deck: Cyber Strike unites both of Zane Truesdale's signature strategies from the Yu-Gi-Oh! GX anime, redefining the Cyber Dragon and Cyberdark themes with new cards for both! Play them separately or combine them for a mash-up of Machines and Dragons.
Structure Deck: Cyber Strike introduces two new Effect Monsters: one that adds Power Bond from your Deck to your hand, and lets you fuse with Fusion Materials from your Graveyard; and another that attaches to your monsters and revives a "Cyber" monster from your Graveyard. New Spell Cards help you search your Deck for "Cyber" cards so you can assemble your best combos with ease, steal monsters from your opponent's Graveyard, and call your mightiest "Cyber" Fusion Monsters back to the field when your opponent least expects it! A new Cyberdark Trap Card helps you power up your Cyberdark monsters with more Equip Cards, and lets you spend them for raw destruction. And finally, Duelists bold enough to unite Cyber End Dragon and Cyberdark Dragon can harness the power of the new Cyberdark End Dragon, a 5000 ATK leviathan that shrugs off your opponent's answers and attacks again and again!
You'll also find plenty of powerful reprints in Structure Deck: Cyber Strike, from Cyber Dragon, Cyber End Dragon, and Overload Fusion, to Jizukiru, the Star Destroying Kaiju, Gizmek Orochi, the Serpentron Sky Slasher, Fusion Deployment, and Infinite Impermanence! It's an amazing collection of Yu-Gi-Oh! GX classics, powerful new themed cards, and popular tournament reprints.
Structure Deck: Cyber Strike hits stores October 15. Each Structure Deck comes with a Deluxe Game Mat/Dueling Guide, a 43-card Main Deck, and a 5-card Extra Deck for a total of 48 cards: 40 Commons, 3 Super Rares, and 5 Ultra Rares. MSRP: $9.99 per box.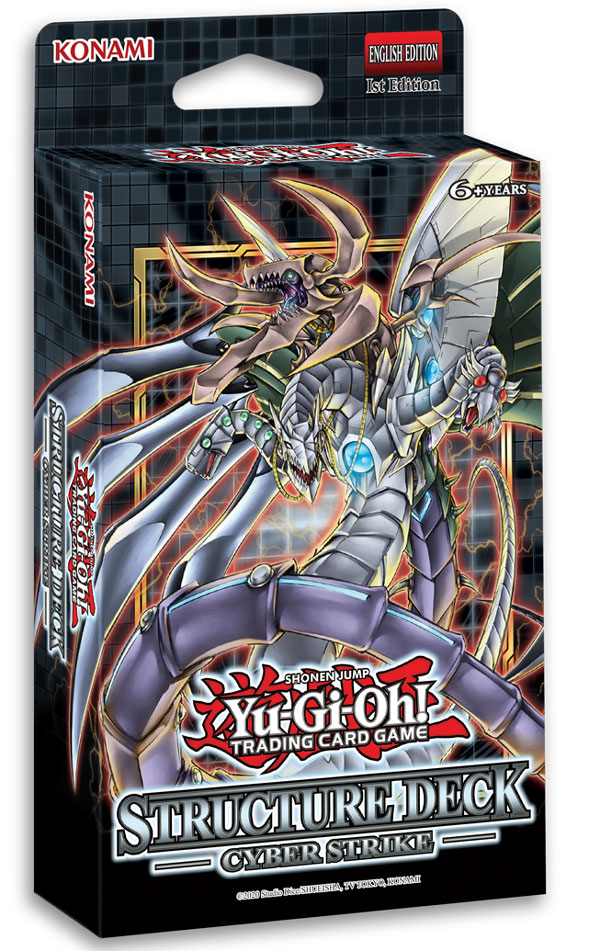 Structure Deck: Cyber Strike
For limited edition prizes including a brand-new Game Mat first available at this event, visit an Official Tournament Store (OTS) hosting a Structure Deck Release Celebration on the weekend of October 16 and 17 or the weekend of October 23 and 24.
Embrace the winds of change! Legendary Duelists: Synchro Storm is the first Yu-Gi-Oh! TCG release to focus entirely on WIND Monsters, with new cards for some of the fiercest, most competitive WIND themes. From Yu-Gi-Oh! ARC-V, Yugo's "Speedroid" monsters are back, ready to blow through your Deck and Graveyard so you can add them to your hand and Special Summon whatever you need! New Speedroids excavate cards from your Deck, load your Graveyard, shift your monsters' Levels, and banish cards for powerful Special Summons. Pair them with a new Spell Card that's like a double Emergency Teleport for Speedroids, and a new Trap Card that returns a card back to your opponent's hand, before emerging from the Graveyard as a Tuner Monster! They all work to support two amazing new Synchro Monsters: the first is a "Hi-Speedroid" that demolishes your opponent's cards to gain Attack Points, then Tributes to Special Summon up to two Level 7 WIND Synchro Monsters and the second is the newest version of Crystal Wing Synchro Dragon, with an even better negation effect to rule your Duel!
From Yu-Gi-Oh 5D's, Sherry LeBlanc's strategy is better than ever before! Expanding on the powerful negation effect of Chevalier de Fleur, Sherry's new Level 10 Synchro Monster trades the spell and trap negation of her original ace monster for a control effect that can negate almost anything. It packs two more abilities too, destroying a card on the field for free, and returning itself to the Extra Deck to Special Summon almost anything from your Graveyard. And finally, fans of the Lyrilusc theme will find two new Effect Monsters and two new Xyz Monsters: one that blows Spell and Trap Cards right back to your opponent's Deck, and another that sends away their Special Summons! New Lyrilusc support cards help you add a flurry of feathered friends to your hand and Summon them onto the field, buffing their plumage with extra Xyz Materials and protecting them from attacks.
And if that wasn't enough, one card in Legendary Duelists: Synchro Storm will also appear as a tremendously scarce Ghost Rare! After the massive response to April's Ghosts From the Past release, this is your next chance to add another spectacular chase card to your collection.
Legendary Duelists: Synchro Storm breezes into stores on October 29, with 57 cards: 29 Commons, 10 Rares, 8 Super Rares, 9 Ultra Rares, and 1 Ghost Rare. MSRP: $1.99 per 5-card pack.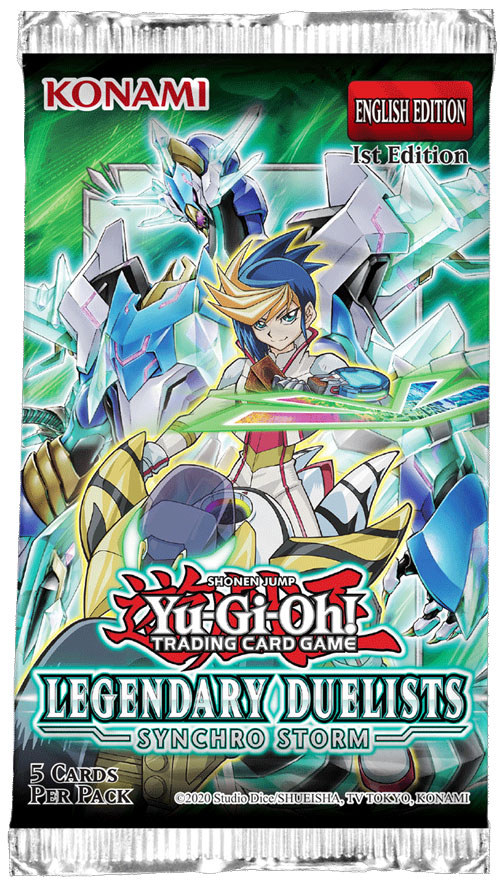 Legendary Duelists: Synchro Storm
Collect the cards, build your Deck, and you can win some awesome rewards! Beginning in October, compete at Official Tournament Stores to earn packs of OTS Tournament Pack 17. These exclusive booster packs are the only place you'll find Ultimate Rare cards, including Ultimate Rare Infinite Impermanence, and Ultimate Rare Black Luster Soldier – Soldier of Chaos!  With 3 Ultimate Rares and 10 Super Rares to discover, OTS Tournament Pack 17 can add some flash and foil to your favorite Deck, and score you some exclusive, highly collectible cards.
OTS Tournament Pack 17 debuts only at Official Tournament Stores on October 13, with a total of 26 cards: 13 Commons, 10 Super Rares, and 3 Ultimate Rares. OTS Tournament Packs are exclusively offered as a tournament prize or participation pack.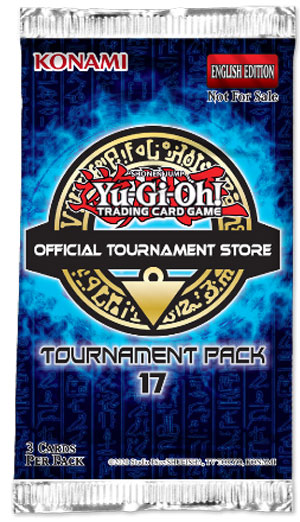 OTS Tournament Pack 17
October will see loads of exciting events online, and in-store! Kick off the festivities with a Remote Duel Extravaganza the weekend of October 9-10. A special weekend of Dueling will include a virtual Token Booth where you can create a unique digital Yu-Gi-Oh! TCG keepsake and even have the chance to win a physical copy of your Token Card mailed to you. Also, an exclusive Yu-Gi-Oh! TCG Game Mat will be for sale featuring a fan-favorite Synchro Monster!
The Yu-Gi-Oh! DUEL LINKS Remote Duel Invitational is set for October 23-24, fresh off the introduction of the Yu-Gi-Oh! ARC-V World. See some of your favorite content creators Duel it out on Saturday and see the best in North America and Latin America compete on Sunday for exclusive prizes. Then, one week later, on October 30-31, the next North America Yu-Gi-Oh! TCG Remote Duel Invitational will feature 16 Duelists, sleeved up and ready for more edge-of-your-seat competition. You can watch both events on the official live streams, on Twitch and YouTube.
Want to join in the action yourself? Duelists across North and Latin America are invited to get a first look at the next 100-card booster set, at Burst of Destiny Premiere! Events on October 30-31. Get your hands on the hottest new cards at an Official Tournament Store near you, then settle in at home to watch the best of the best throw down on the Remote Duel Invitational livestream!
For more information on KONAMI's extensive Organized Play programs, including opportunities for aspiring Duelists to learn how to play, go to www.yugioh-card.com/en/events.