Konami Press Release:
FOR IMMEDIATE RELEASE – DARKNESS DESCENDS AND FLAMES ARISE IN THE Yu-Gi-Oh! TRADING CARD GAME!
 El Segundo, Calif. (April 3, 2018) – Forces of shadow and fire are set to strike the Yu-Gi-Oh! TRADING CARD GAME (TCG), as Konami Digital Entertainment, Inc. (KONAMI) launches three new releases this Spring!  Structure Deck: Lair of Darkness and the Dark Saviors special booster pack work together for a conspiracy of dark Dueling forces, but a purging blaze and a brilliant new light erupts in Flames of Destruction!
January's Structure Deck: Wave of Light delivered a shining era of Dueling radiance, but wicked forces were lying in wait. Structure Deck: Lair of Darkness ushers in an army of fiends, demons, and legendary lords of the underworld, all united in a pact of subterfuge and sacrifice. New masters of malevolence like Darkest Diabolos, Lord of the Lair and Lilith, Lady of Lament work with the Lair of Darkness Field Spell to Tribute monsters and unleash twisted effects.  The catch? You don't always have to Tribute your own monsters…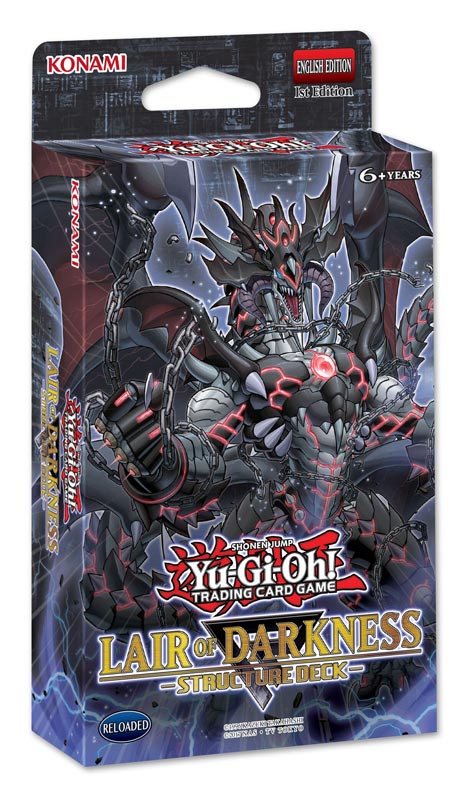 Packed with support for the DARK Attribute and brandishing a mix of classic ghouls and new tricks that can rend your opponent's hand and Deck asunder, Structure Deck: Lair of Darkness engulfs the Dueling world in shadow on April 20.  Each Structure Deck contains 2 Ultra Rare Cards, 3 Super Rare Cards, 36 Common Cards, a Token Card, a Beginner's Guide, and a Double-Sided Deluxe Game Mat/Dueling Guide.  MSRP: $9.99 per box.
Defying the darkness, a spark explodes to a shining blaze!  Flames of Destruction is the latest 100-card booster pack in the Yu-Gi-Oh! VRAINS era, featuring new support for established Decks, the return of the fan-favorite Elemental Lords, and a new tribe of Link Monsters that elevate Link Summoning entirely.
The new Link Monsters fit in almost any Deck thanks to their flexible Link Materials, and they offer tremendous rewards in return for careful planning: co-link them with other Link Monsters to cut the costs of their effects, and upgrade their abilities in the process! The co-link mechanic has never been better, as these monsters give Duelists more reason to think about where and how they build their fields.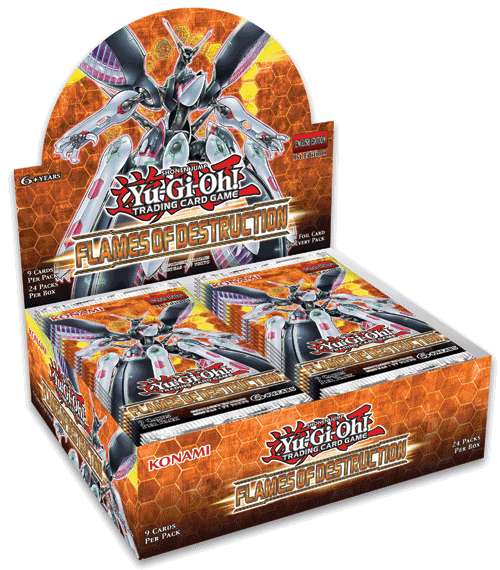 The four Elemental Lords have long stood as some of the most powerful monsters in all of Dueling, but Flames of Destruction brings a new Lord to the fight: Summon it when you have exactly 5 LIGHT monsters in your Graveyard and you'll wield the power of Raigeki, destroying all opposing monsters in one vengeful blast.  Lightworn and Fairy Duelists take note – reinforcements are on the way!
Speaking of reinforcements, the Elemental Lords have gained a following: a new monster theme that live to serve, they search your "Elemental Lord" monsters from your Deck, block your opponent's plays, and adjust your Graveyard to make Summoning the Elemental Lords even easier.  Combined with new cards bearing the "Trickstar," "Vampire," "Topologic," and "Trap Hole" names, as well as tricky new Trap Cards to suppress your rivals, Flames of Destruction is set to sear its brand onto the tournament scene.
Duelists can get a preview of Flames of Destruction at Sneak Peeks scheduled for April 28 and/or April 29 at participating Official Tournament Stores (OTS). Duelists can find more information and a list of locations here. The Flames of Destruction booster pack is available May 4 with 100 cards total: 8 Secret Rares, 10 Ultra Rares, 14 Super Rares, 20 Rares, and 48 Commons. MSRP: $3.99 per 9-card pack.
Finally, May closes out with another booster pack release … and another dose of darkness!  Dark Saviors is a 60-card all-foil set with themes that can stand on their own, but that also form powerful strategies with cards from Extreme Force and beyond. Fans of the longstanding Vampire theme from the early days of Dueling will find new cards to enslave your opponent's monsters, building on releases from Structure Deck: Lair of Darkness and Flames of Destruction.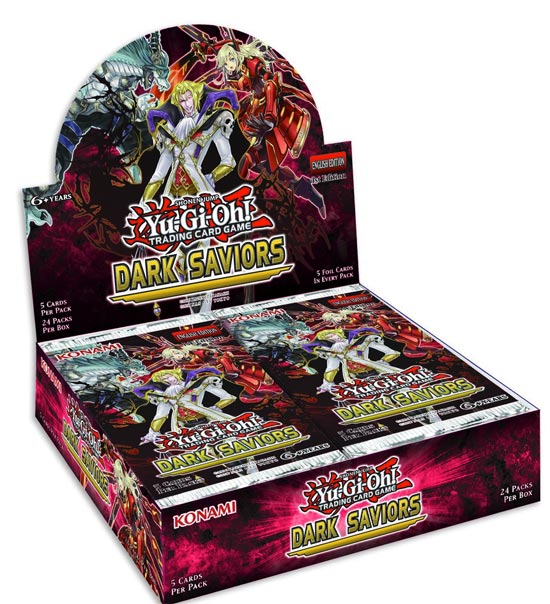 Who will fend off the darkness? How about some heroes Fur Hire!  A swashbuckling team of tagalong troublemakers that always travel together, the "Fur Hire" monsters overcome the odds with sheer numbers.  Easy to play but powerful on the battlefield, their teamwork makes the dream work for novice Duelists and seasoned competitors alike. Or look to the sky!  Soaring high above, the cloud faring heroine known as Sky Striker Ace is armed with an arsenal of high-velocity tech tricks.  Each of her weapon modules let her adapt to the situation at hand, and the more modules you play the more powerful they get.
Dark Saviors creeps from the shadows on May 25, a 60-card release with 20 Secret Rares and 40 Super Rares. MSRP: $3.99 per 5-card pack.