THE MIGHTIEST MONSTERS MAKE THEIR RETURN, IN THE Yu-Gi-Oh! TRADING CARD GAME!
Hawthorne, Calif. (September 13, 2022) – September's a season of second chances in the Yu-Gi-Oh! TRADING CARD GAME (TCG)! Tremendous tournament cards are available again, Duel Monster icons get new looks with new artwork, and a brand-new Structure Deck arrives for a fan-favorite theme!  Konami Digital Entertainment, Inc. (KONAMI) is proud to present two new products sure to please competitive Duelists as well as fans of the original Yu-Gi-Oh! series and Yu-Gi-Oh! GX.
First, it's the always-anticipated annual Collectible Tin release, the 2022 Tin of the Pharaoh's Gods. Then, one of the most asked-for releases of all time is finally here: Structure Deck: Legend of the Crystal Beasts. Get ready for amazing monsters plucked from the past of Duel Academy, like Crystal Beast Sapphire Pegasus and Crystal Beast Ruby Carbuncle, plus new recruits to the Rainbow Ruins ranks, powerful new cards you've never seen before!
The Yu-Gi-Oh! TCG's annual Tin release always blows away expectations, and this year it's better than ever. The stunning 2022 Tin of the Pharaoh's Gods recreates the top segment of the Tablet of Lost Memories, featuring Slifer the Sky Dragon, Obelisk the Tormentor, The Winged Dragon of Ra, and the Pharaoh's Millennium Puzzle. Stack it with the 2020 Tin of Lost Memories and the 2021 Tin of Ancient Battles to build the entire tablet for display!
The real treasure awaits inside the 2022 Tin of the Pharaoh's Gods. Every Tin contains 3 extra-large Mega-Packs, each with 1 Prismatic Secret Rare, 2 Ultra Rares, 2 Super Rares, 1 Rare, and 12 Commons from a massive mega-set. This year's Mega-Pack features incredible cards from 2021, including top picks from booster sets like Blazing Vortex, Lightning Overdrive, Dawn of Majesty, and Burst of Destiny. Fans of the first Yu-Gi-Oh! series will find new variant art versions of Blue-Eyes White Dragon, Red-Eyes Black Dragon, and Dark Magician Girl! And for tournament-going Duelists, this new mega-set also has amazing competitive reprints like Ash Blossom & Joyous Spring, Ghost Ogre & Snow Rabbit, Nibiru, the Primal Being, Lightning Storm, Forbidden Droplet, and Red-Eyes Dark Dragoon!
Want to build some of the best Decks to Duel with? Find cards from themes like, Floowandereeze, Despia, Beetrooper, Tri-Brigade, and Drytron, in all-new rarities they've never appeared in before! Assemble the Deck of your dreams, build yourself some back-up strategies, or upgrade your favorites with flashy new foils.
Complete the legacy of the Tablet of Lost Memories with the 2022 Tin of the Pharaoh's Gods on September 16! Each Tin contains a total of 36 Commons, 3 Rares, 6 Super Rares, 6 Ultra Rares, and 3 Prismatic Secret Rares. MSRP: $21.99 per Tin.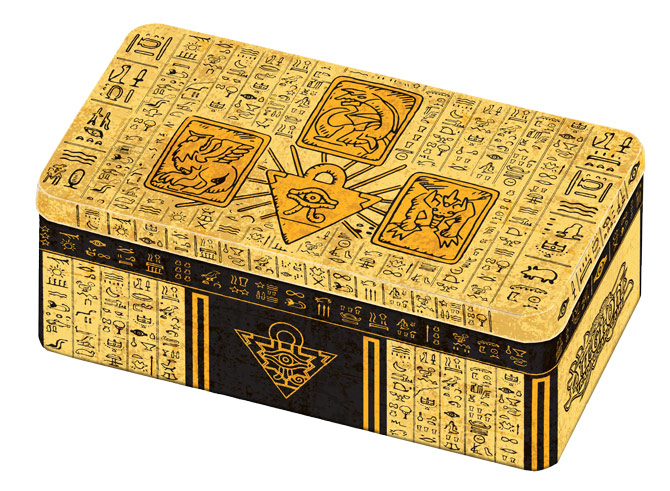 2022 Tin of the Pharaoh's Gods
Jesse Anderson's Crystal Beasts are back! New Spell and Trap Cards make it easier to unleash Jesse's signature ace monster, Rainbow Dragon. Activate them on the field to claim powerful effects or use them from the Graveyard. A new Spell lets you destroy a Crystal Beast monster and turn it into a Continuous Spell to Special Summon a Crystal Beast Token, offering another "Crystal Beast" name to fuel your Summons. Then, banish that Spell Card from your Graveyard when one of your monsters is turned into a Continuous Spell to make another Special Summon! The first new Trap Card Special Summons 2 Crystal Beasts from your Spell & Trap Zone and gains you Life Points equal to their combined ATK. You can also banish it from your Graveyard to check the top card of your Deck, adding it to your hand or Special Summoning it if it's a Crystal Beast!
Even better, a new Counter Trap can negate the effect of any Spell, Trap, or monster effect and destroy the negated card! Crystallize one of your monsters to control the Duel, and when this Counter Trap's in your Graveyard, you can use it to turn another Crystal Beast from your hand, Deck, or Graveyard into a Continuous Spell. Structure Deck: Legend of the Crystal Beasts also introduces a new form of Rainbow Dragon, one that can have as much as 11000 Attack Points and can wipe the entire field to Special Summon back your banished Crystal Beasts! Combined with the power of Crystal Beast Rainbow Dragon in Ghosts From the Past: The 2nd Haunting, Crystal Beasts are more powerful than they've ever been. And Structure Deck: Legend of the Crystal Beasts is packed with fan-favorite cards from Yu-Gi-Oh! GX, awesome reprints of popular tournament cards, and three special Token Cards you won't find anywhere else.
Structure Deck: Legend of the Crystal Beasts arrives September 30, and each comes with 5 Ultra Rares, 1 Super Rare, 40 Commons, 3 Token Cards in various rarities, and 1 Double-sided Deluxe Game Mat/Dueling Guide. MSRP: $10.99 per box.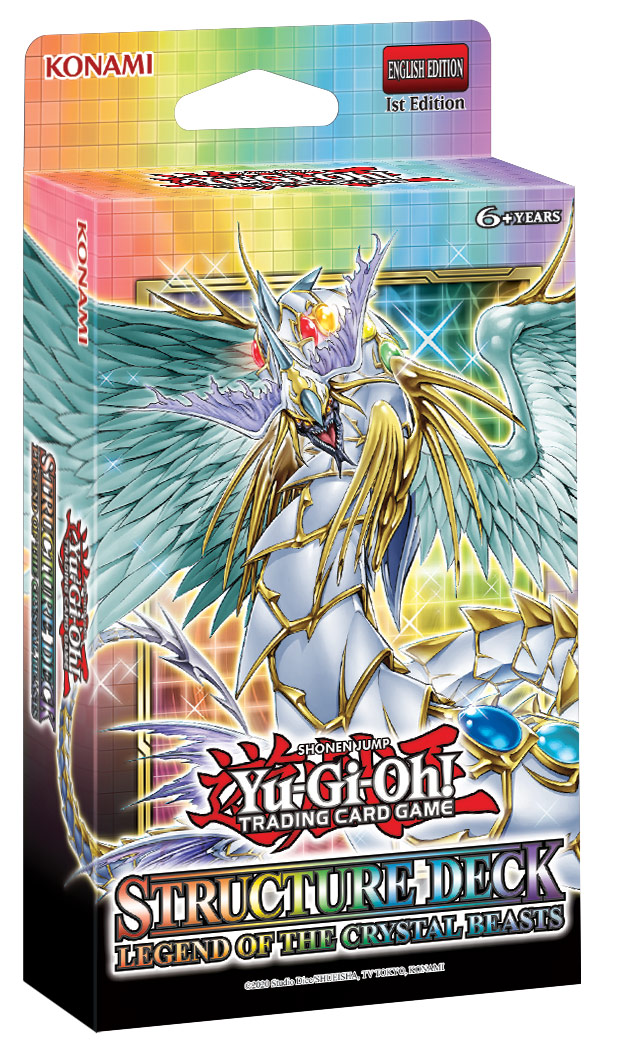 Structure Deck: Legend of the Crystal Beasts
If you're looking to upgrade your Speed Duel Deck, look no further than Speed Duel Tournament Pack 4! Filled to the brim with foil upgrades to popular Speed Duel powerhouses, you can find Yugi's signature Breaker the Magical Warrior and blow away your opponent's backrow in Super Rare fashion alongside deceptively powerful monsters like Newdoria, also as a Super Rare. Even the iconic Mind Crush makes its return reaching the heights of Ultra Rare, ready to rip apart your opponent's strategy before it even hits the field!
If you're Speed Dueling at an Official Tournament Store, competing in Remote Speed Duel tournaments, or even at a largescale Organized Play Event, you'll have the opportunity to earn boosters of Speed Duel Tournament Pack 4. These exclusive tournament rewards are not only a great place to find upgrades, but also important tournament mainstays like Nobleman of Crossout are accessible as Common!
Speed Duel Tournament Pack 4 is available only through Speed Duel Organized Play tournaments beginning September 28. The set contains a total of 35 cards: 20 Commons, 10 Super Rares, and 5 Ultra Rares. Speed Duel Tournament Packs are exclusively offered as a tournament prize or participation pack.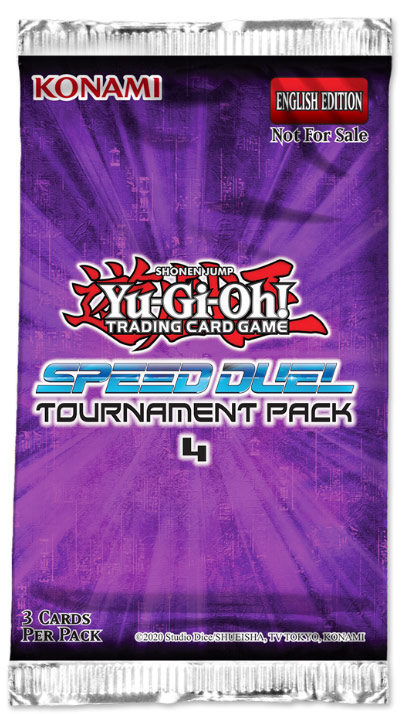 For more information on KONAMI's extensive Organized Play programs, including opportunities for aspiring Duelists to learn how to play, go to www.yugioh-card.com/en/events.