Konami Digital Entertainment, Inc. is excited to share some more information about four upcoming product releases for the Yu-Gi-Oh! TRADING CARD GAME during January and February 2022, which include:  The Grand Creators (1/28), Battle of Chaos (2/11), Hidden Arsenal: Chapter 1 (2/25) and three Kuriboh Kollection accessories (2/11).
+++
FACT SHEET

GET READY FOR A BRAND-NEW YEAR OF DUELING WITH THE Yu-Gi-Oh! TRADING CARD GAME!                                                                                                                  
Hawthorne, Calif. (January 26, 2022) – 2021 is over, and a new year of Dueling has begun! Konami Digital Entertainment, Inc. (KONAMI) is ringing in 2022 in a big way, bringing all-new strategies to your table in The Grand Creators, taking tournament-tested Decks to new heights with Battle of Chaos, and inviting you to relive the days of Duel Terminal with Hidden Arsenal: Chapter 1. And that's not all! Known for keeping your Life Points safe, the new Kuriboh Kollection accessories will protect your cards just as well. And once your cards are all decked out to compete, you can Duel in official tournaments to earn boosters of the new OTS Tournament Pack 18. The Yu-Gi-Oh! TRADING CARD GAME (TCG) hits the ground running this January!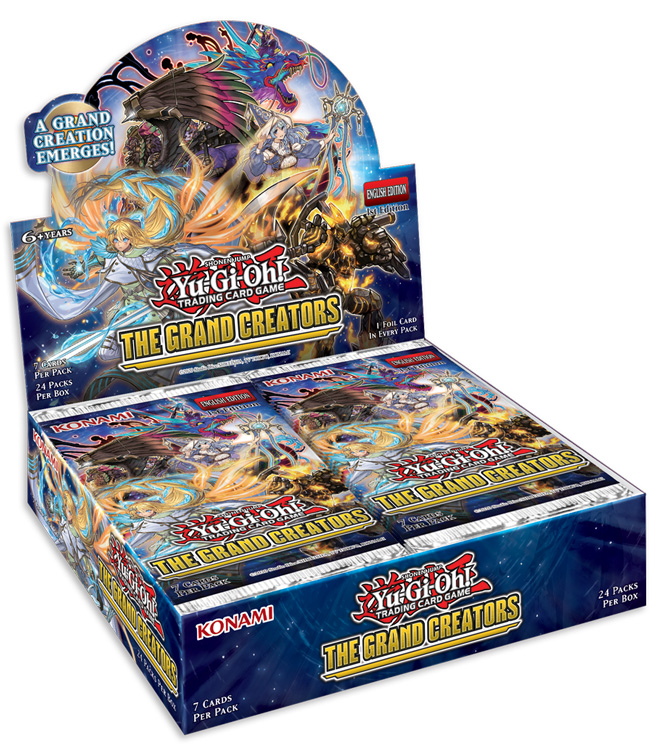 The Grand Creators booster set introduces 3 new themes, 15 new Collector's Rares, and a brand-new World Premiere Spell Card for Inzektors, selected by the Yu-Gi-Oh! community in the 2020 Create-A-Card Project! Tournament Duelists take note: the first new theme in The Grand Creators lets you star in your own adventure, Summoning an adventurer to the field in Monster Token form. Party up with powerful allies and prepare for adventure, because this theme will make an epic impact on Dueling worldwide!
And that's just the beginning. A brand-new collective of cyberpunk artists literally pour their life into their work, in a new Psychic theme that lets you pay Life Points for powerful effects. Level 3 Tuners assemble to gather the supplies and materials you need, and then bring their creations to life as Level 8 monsters. Unite them to Synchro Summon an amazing Dragon-type boss monster with 3000 ATK, an effect that can return 3 cards from the field to the hand, and a powerful revival effect to keep your combos going.
While that theme creates life, the final theme in The Grand Creators saves souls! A new band of Spellcaster sisters fight to guard the Graveyard, calling each other out of the Deck and to the field, and transforming into powerful Xyz Monsters whenever your opponent dares to remove a card from the Graveyard. Invulnerable to attacks and effects from monsters that were pushed back into battle from the great beyond, this order of dutiful Xyz Monsters punish Duelists who would bend the laws of life and death.
Meet The Grand Creators on January 28! The set contains 60 different cards: 35 Rares, 15 Super Rares, and 10 Ultra Rares, and 15 are also available as stunning Collector's Rare variants. MSRP: $3.99 per 7-card pack.
Battle of Chaos is the first 100-card core booster set of 2022, introducing debut themes, lending more support for Decks from last year's Burst of Destiny, and bringing brand-new cards for spooky strategies! Swordsoul and Floowandereeze Decks have seen plenty of success in tournaments, and Battle of Chaos delivers new support for both. A Level 10 Synchro Monster takes Swordsouls to the next level, offering draw power and effects that banish your opponent's cards whenever they play them! A new Continuous Trap lets you banish your own cards too, so you can trigger their effects. Meanwhile Floowandereeze get a Quick-Play Spell that lets your Winged Beasts dodge incoming threats, banishing them so you can add Floowandereeze monsters or Spell Cards from your Deck. It even gains you 500 LP!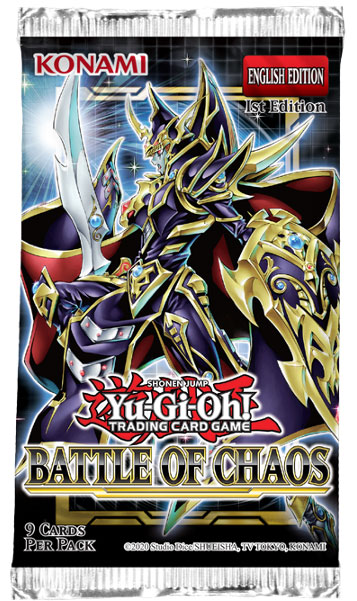 You'll also find 5 new cards for Icejade, from battle-freezing boss monsters to a new Field Spell. Add the cards you need from your Deck to your hand by Summoning their new Level 3; Special Summon a Level 9 powerhouse that blasts an opposing monster back to your opponent's hand; then follow up with a Level 10 that puts your opponent's monster effects on ice! The new Icejade Field Spell recovers Icejade monsters you've already played and throws cold water on your opponent's monsters by dropping their ATK. Meanwhile a new Continuous Trap offers more ways to interrupt your opponent's strategies and enhance yours!
Fans of old-school Duel Monsters will find new cards to expand the legacy of Kuriboh, Dark Magician, and Blue-Eyes White Dragon, including an homage to the Blue-Eyes White Dragon Jet from Yu-Gi-Oh! The Movie: Pyramid of Light. With 3000 ATK, this new take on the Kaiba classic has effects that let you Special Summon it for free, return your opponent's cards to their hand, and protect your other cards from being destroyed by card effects. You'll even find a new take on Sacred Phoenix of Nephthys, erupting from your hand or Graveyard to banish 3 of your opponent's cards at once!
Watch out for a new Fusion Monster that fits into almost any strategy: fuse 3 of your monsters with different names, at least one from your hand and field, to Fusion Summon a behemoth with 3300 ATK and 3300 DEF. Then you get to draw cards and destroy opposing cards to replace your Fusion Materials! To add to the sheer advantage, your opponent can't target this DARK Beast with card effects as long as Polymerization is in your Graveyard. The Link Monster version of Dharc the Dark Charmer finally arrives too, as well as new support for Vampires and Ghostricks, as well as the "Nordic" Aesir monsters.
Join the fight with Battle of Chaos on February 11! The set contains 100 new cards: 50 Commons, 26 Super Rares, and 14 Ultra Rares, and 10 Secret Rares. MSRP: $4.19 per 9-card pack.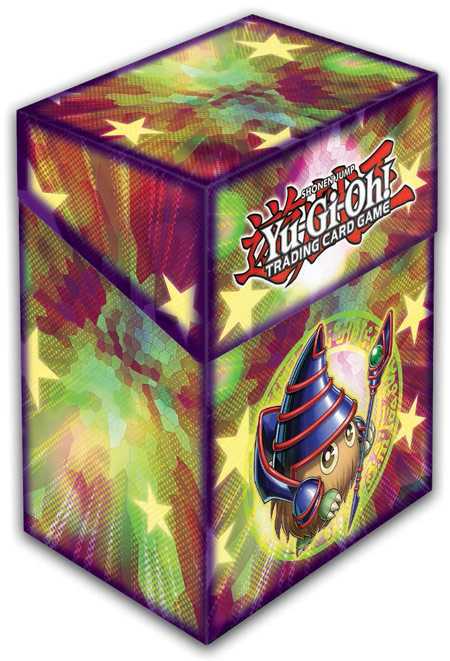 Arriving on store shelves the same day, collect four new accessories featuring fan-favorite Fiends, Kuriboh and Magikuriboh! They don't just protect your Life Points anymore: keep your Main, Side and Extra Deck safe with the Kuriboh Kollection Card Case, holding a total of 70 sleeved cards and a themed Deck divider! Then Multiply your defenses with the Kuriboh Kollection Card Sleeves. Each pack comes with 50 tournament regulation card sleeves featuring Magikuriboh. The Kuriboh Kollection Game Mat is adorned with dozens of Yugi's signature Fiend and offers a Dueling surface as soft as a Kuriboh. And if you want to show off your collection or display your trades, get your paws on the Kuriboh Kollection 9-Pocket Duelist Portfolio. It's a 10-page side-loading folio that lets you store, carry, and protect up to 180 cards!
The Kuriboh Kollection Card Case, MSRP $4.99; Kuriboh Kollection 9-Pocket Duelist Portfolio, MSRP $9.99; and the Kuriboh Kollection Game Mat, MSRP $14.99 arrive February 11 alongside Battle of Chaos. The Kuriboh Kollection Card Sleeves, MSRP $3.99 per pack of 50 sleeves arrive in March.
It's time to Duel…Duel Terminal style! It's been 8 years since the last instalment of the Hidden Arsenal series, and now you can relive the complete story from the very beginning with Hidden Arsenal: Chapter 1. After the return of the Fabled monsters in Blazing Vortex, the original Fabled are back with their fearsome familiars! Unleash the legends of the Ice Barrier tribe and their mighty Dragons and harness the Synchro Summoning strength of the Dragunity!
If you missed out on the world of Hidden Arsenal the first time, now's your chance to collect classic cards appearing in new rarities. Some cards in Hidden Arsenal: Chapter 1 will even come as Commons or Ultra Rares featuring the original Duel Terminal prismatic technology, a unique finish that's been buried in the vaults for nearly a decade! In addition, every box of Hidden Arsenal: Chapter 1 comes with an insert telling part of the story of the Hidden Arsenal world, officially available in English for the first time. And if that's not enough, each set will also include an exclusive, collectible dice you won't find anywhere else!
Unlock Hidden Arsenal: Chapter 1 on February 25. Each box contains a total of 28 standard Commons, 2 Duel Terminal Technology Commons, 6 Duel Terminal Technology Ultra Rares, 1 Secret Rare, 1 Hidden Arsenal Storyline Insert, and 1 Collectible Dice. MSRP: $14.99 per set.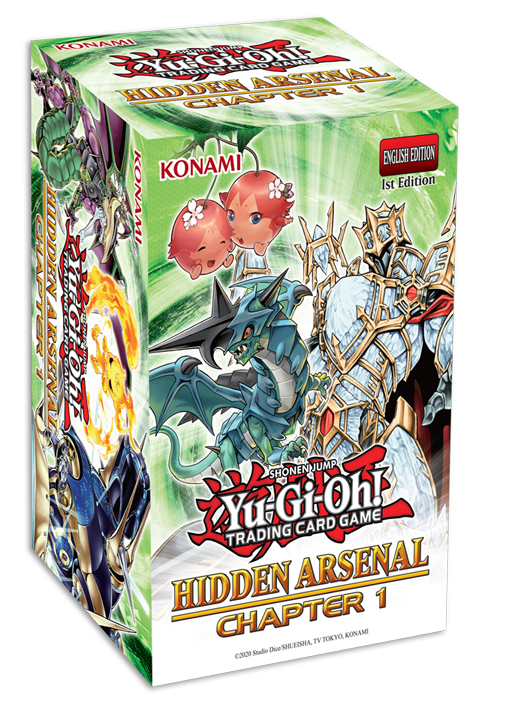 With so many new cards to collect and strategies to explore, it's time to Duel! But what are you playing for? If you're Dueling at an Official Tournament Store or competing in Remote Duel tournaments, you'll have the opportunity to earn boosters of OTS Tournament Pack 18. These exclusive tournament reward boosters are the only place you'll find Ultimate Rare cards, like the tournament-defining Fusion Destiny. It's the Ultimate way to summon Destiny HERO – Destroyer Phoenix Enforcer!
OTS Tournament Pack 18 is available only through in-person or Remote Duel events at Official Tournament Stores starting February 23, with a total of 26 cards: 13 Commons, 10 Super Rares, and 3 Ultimate Rares. OTS Tournament Packs are exclusively offered as a tournament prize or participation pack.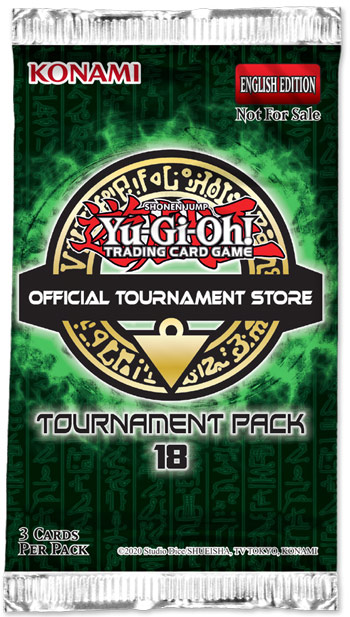 For more information on KONAMI's extensive Organized Play programs, including opportunities for aspiring Duelists to learn how to play, go to www.yugioh-card.com/en/events.