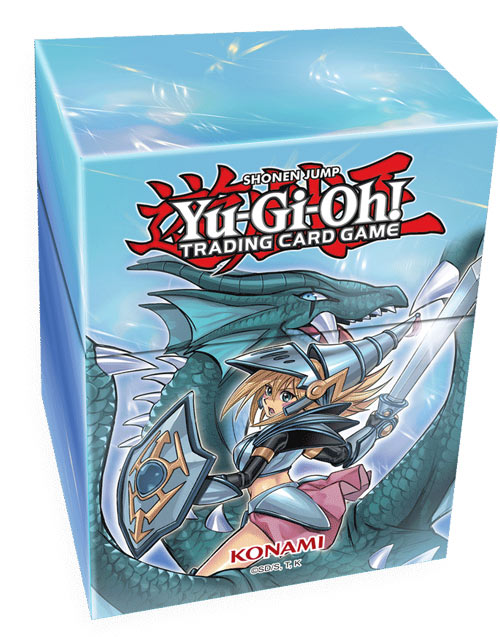 FIRE AND ICE COLLIDE THIS WINTER IN THE
Yu-Gi-Oh! TRADING CARD GAME       
Hawthorne, Calif. (January 27, 2021) – As the new year ramps up and winter continues to cool, Konami Digital Entertainment, Inc. (KONAMI) is pleased to present 3 new releases for fans of the Yu-Gi-Oh! TRADING CARD GAME (TCG). From booster sets to Structure Decks, veteran Duelists will get to see fresh takes on countless classics this February, and if you're a newer competitor it's your chance to check out some of the game's greatest strategies, back and better than ever! Topping it all off, a brand-new line of accessories features the leading lady of Duel Monsters come March, and competitors across the continents will have more chances to compete in Remote Duels. Here's how it all breaks down. 
First up, February's coming in hot with Blazing Vortex. The first quarterly core booster of 2021 introduces three monster themes and offers stellar new support for dozens of fan-favorite Decks! Discover cards for time-honored archetypes like Windwitches, Fabled, Metalfoes, Machina, Skull Servants, Ojamas and Dragunity, as well as modern strategies like Tri-Brigade, Ancient Warriors, Dogmatika, Live☆Twins and Eldlich. Fans of Yu-Gi-Oh GX will find a new spin on Chazz Princeton's Armed Dragon strategy too, including an all-new version of Chazz's Armed Dragon LV10 that you can power up to 10,000 ATK!
November's Phantom Rage set had a whopping 17 World Premieres, cards that were never available anywhere else. But Blazing Vortex ups the ante with a stunning 19 World Premieres! The new cards include a Continuous Trap that interferes with monster effects, a World Premiere that reinvents a classic Spell Card, and the debut of the never-before-seen "War Rock" monsters.
Blazing Vortex also introduces a tremendously powerful Spell Card, the latest in the tradition of Pot of Greed, Pot of Duality, and Pot of Desires. Choose to banish 3 or 6 cards from your Extra Deck, and the new "Pot" Spell Card will let you excavate the same number of cards from the top of your Deck, and choose 1 to add to your hand. It's an incredible tool to find the card you need the most, and there's no restriction on what you take so grab whatever you want! This brand-new powerful Spell Card is sure to be a huge hit for tournament Duelists.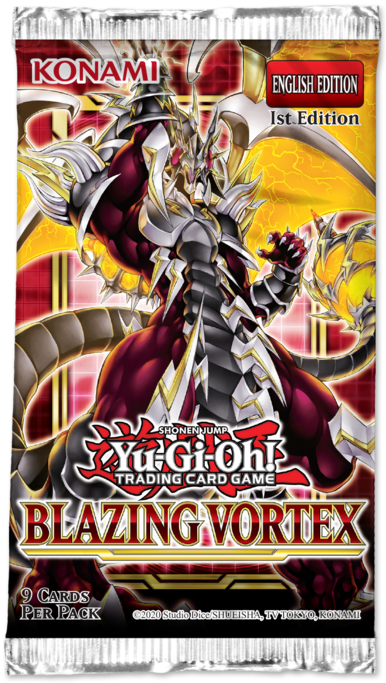 Blazing Vortex arrives on February 5, with 10 Secret Rares, 14 Ultra Rares, 26 Super Rares, and 50 Commons for a total of 100 new cards. Each pack contains 9 cards: 1 foil card and 8 Commons. MSRP: $3.99 per pack.
Then get ready for one of the coolest releases this year: Structure Deck: Freezing Chains! For years, Duelists have held Brionac, Dragon of the Ice Barrier and Trishula, Dragon of the Ice Barrier in the highest regard, each a stunningly powerful monster for combo Decks and Synchro strategies. But now, the Ice Barrier theme returns from the chilled abyss of obscurity with additions to their arsenal! New Ice Barrier monsters freeze your opponent in their tracks; when you control two or more Ice Barrier monsters, each of them gains a control effect to do things like stop attacks, ward off Spell Cards, and forbid Tribute Summons. Build your field and your opponent will never overcome your frozen defenses.
The Ice Barrier revamp arrives just in time, because a new incarnation of Trishula is ready to cast off its freezing chains! The new Synchro Monster banishes up to 3 opposing cards, and if your opponent destroys it, you'll Special Summon the original Trishula to take its place! You'll find all of the "Ice Barrier" Synchro Monsters in the Structure Deck, helping you build your Extra Deck and prepare for battle. You'll also find plenty of rereleases to strengthen any strategy, from Appointer of the Red Lotus and Fiendish Chain, to Heavy Storm Duster and Crackdown.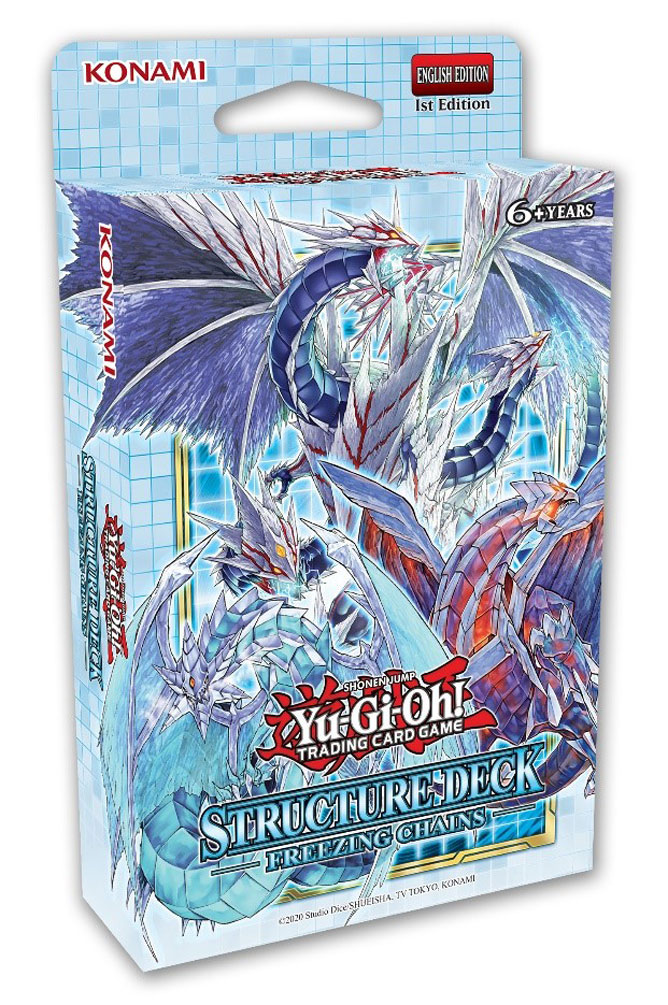 Structure Deck: Freezing Chains is available February 19. Each box includes a Deluxe Game Mat/Dueling Guide and 46 cards: a 41-card Main Deck and a 5-card Extra Deck, with 6 Ultra Rares, 3 Super Rares, and 37 Commons. MSRP: $9.99 per box.
Launching in March, Dark Magician Girl the Dragon Knight arrives in style with her very own collection of Dueling accessories! Whether it's on the table or in your binder, Dark Magician Girl the Dragon Knight Card Sleeves will keep your cards safe. Store your Deck in the Dark Magician Girl the Dragon Knight Card Case; with enough room for 70 sleeved cards, it can hold your full Main, Side, and Extra Deck, and it comes with a matching divider to keep your Deck organized. When it's time to throw down, play your Duels on the Dark Magician Girl the Dragon Knight Card Game Mat to cushion your cards and protect your sleeves from dirt and dings. And finally, display your favorites in the Dark Magician Girl the Dragon Knight 9-Pocket Duelist Portfolio. Each Portfolio has 10 pages with 9 pockets per page, for a total capacity of 180 cards. The pockets load from the side, keeping your cards from tumbling out the top. All four accessories feature the new artwork of Dark Magician Girl the Dragon Knight, from Dragons of Legend: The Complete Series.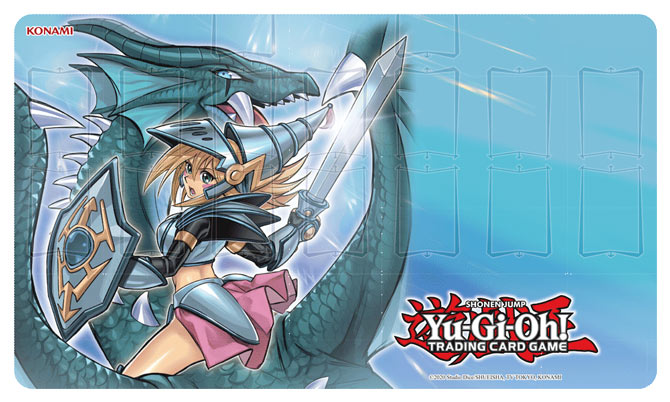 The entire Dark Magician Girl the Dragon Knight collection arrives March 5, with four different accessories: Dark Magician Girl the Dragon Knight Card Sleeves (MSRP: $3.99), Dark Magician Girl the Dragon Knight Card Game Mat (MSRP: $14.99), Dark Magician Girl the Dragon Knight Card Case (MSRP: $4.99), and the Dark Magician Girl the Dragon Knight 9-Pocket Duelist Portfolio (MSRP: $9.99).
In January, top Duelists competed to earn their spots in the next Remote Duel Invitationals! Sixteen Duelists from the United States and Canada will compete in the North American Remote Duel Invitational, a star-studded showdown set to take place the weekend of February 13 and 14. One week later, sixteen more Duelists from all over Central and South America will compete in the Latin American Remote Duel Invitational, the weekend of February 20 and 21. These will be amongst the first Remote Duel tournaments with Genesis Impact and Blazing Vortex, giving us a strong look at their impact on competitive Dueling.
For more information on KONAMI's Organized Play programs, including opportunities for aspiring Duelists to learn how to play, go to www.yugioh-card.com/en/events.