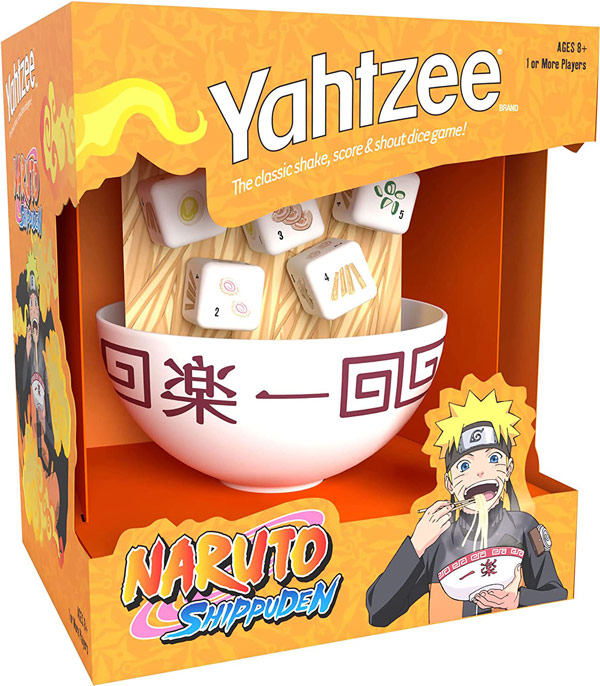 "YAHTZEE: Naruto Shippuden" is a new Yahtzee product from USAOPOLY, Viz Media and Hasbro.  Yahtzee is the most popular dice game in the world, with around 50 million Yahtzee games sold each year.
I am a huge Naruto fan.  I have read all the Naruto manga volumes, and I have watched Naruto and Naruto Shippuden.  So, I was looking forward to reviewing this mish-mash of Yahtzee and Naruto.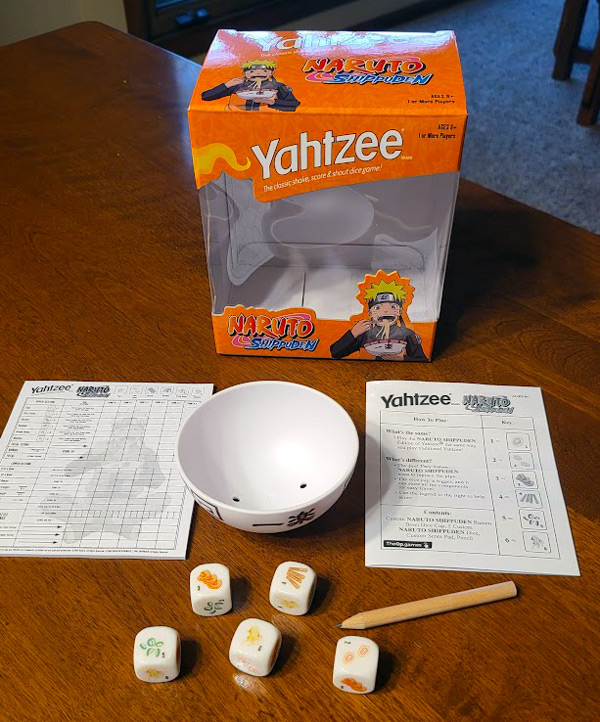 What's in the Box?
This is a specialized Naruto themed version of Yahtzee.  
The box contains:
1 Custom Ramen Bowl Dice Cup
5 Ramen themed dice
1 pad of Naruto themed Scoresheets (25 two-sided sheets)
1 Rulebook
1 small pencil
The ramen bowl is about 3-1/2 inches wide, and about 1-1/2 inches tall.  It actually works quite well as a slam-able dice cup on the table.  You can slam the dice on the table and peek under it quite well.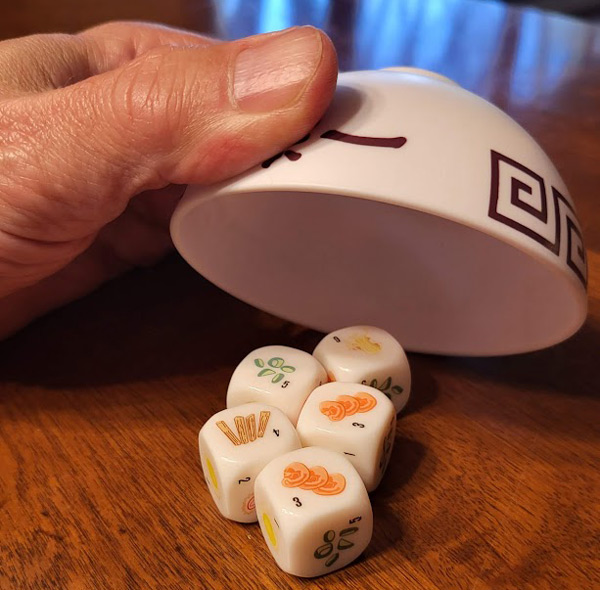 The Ramen Dice are standard six-sided dice and feature the following artwork:

1 is an Egg
2 is Fish Cakes (also called narutomaki)
3 is Chashu (braised pork)
4 is Bamboo
5 is Green Onion
6 is Noodles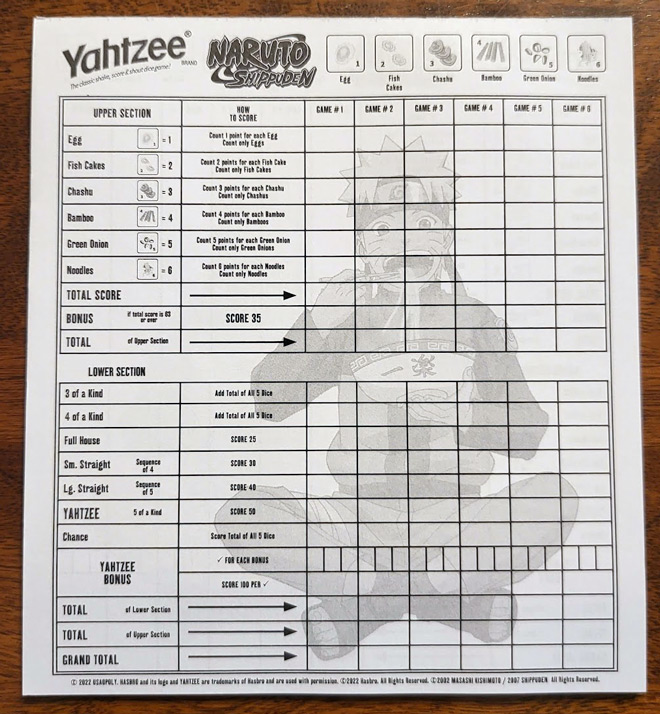 How does YAHTZEE: Naruto play?
This version of Yahtzee plays like the original version of Yahtzee.  There are no rule changes whatsoever.  So if you know how to play Yahtzee, you know how to play Naruto Yahtzee.  
For those that don't know how to play Yahtzee, it's a game you should have in your repertoire.  One, because it is a classic game, that many other popular games are based on.  And two, because it's still fun!
Here are the simple rules of Yahtzee.  Yahtzee is played over 13 rounds of dice rolling.  Each player gets one turn per round to roll the dice up to three times and score a category.  You have to fill in one empty box in the column under your name each turn.  Highest total score wins.  
YOUR 1ST ROLL – Roll all 5 dice. If you get the exact combo you want, mark your score card right away. Otherwise, continue with your 2nd roll.
YOUR 2ND ROLL – Set aside any 'keepers' and re-roll the rest. Hate them all? Re-roll them all!  If you get the exact combo you need, mark your score card. Otherwise, continue with your 3rd roll.
YOUR 3RD AND FINAL ROLL – If you still haven't nailed a combo, or just want to maximize your score: Roll some or all of your dice (as above), even any 'keepers' you might have set aside from the first roll.  You must enter a score at the end of this roll, whether or not you like your dice.  If your roll doesn't suit any of your empty boxes, you have to enter a ZERO somewhere.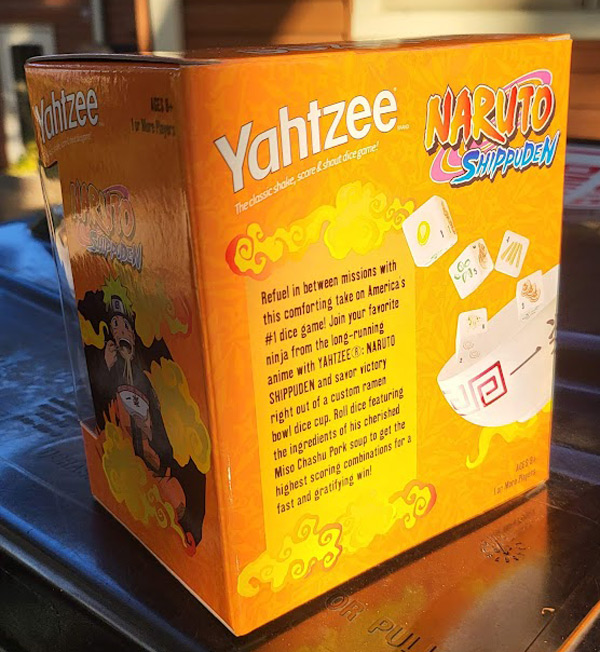 Likes, Dislikes and Final Thoughts for "YAHTZEE: Naruto Shippuden"
Likes: 
Easy to learn – Yahtzee is extremely easy to learn.  Young and old family members alike will pick up the gist of the game very quickly.
Travel friendly – The box for this game is only 4″ x 5″ x 6″, so it can be packed up quickly.  And if you want, you can put the dice, dice cup, and scorepad into a sandwich-sized Ziploc bag and easily toss the game in a travel bag.  Everything you need is in the box, even a golf pencil.  
Great Rulebook – Yahtzee was trademarked in the 1950's.  The makers have had over 50 years to fine-tune the rulebook, and it explains the game thoroughly.  
Themed Dice – The dice have a fun Naruto theme to them.  The dice are well-made with rounded-corners.
Themed Scoresheets – The Scoresheets show both the numbers on the dice and ingredients on the dice.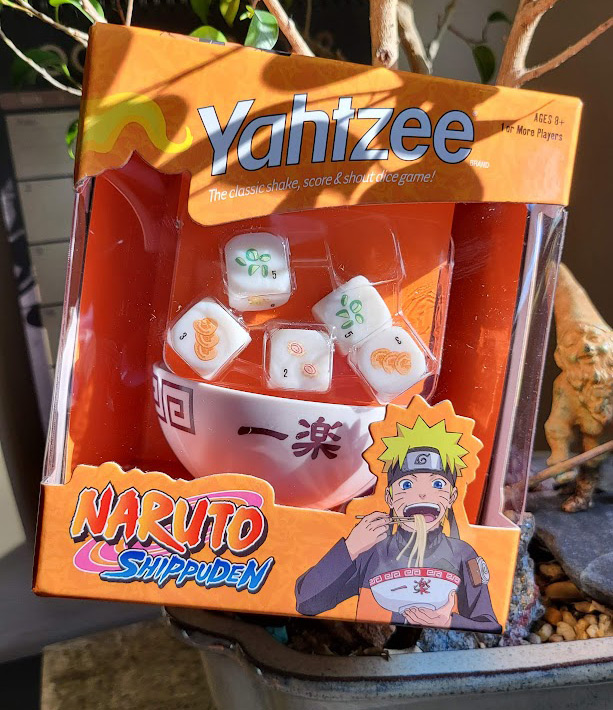 Dislikes: 
The ramen dice have small numbers on them.  For old timers like me, it can take an extra bit of time to determine the difference between and 3 and a 5.  But then again, this version of Yahtzee was designed for a much younger person than me.
I'm not sure why they put a white egg on white dice, and light color ramen on white dice.  Those images are a bit difficult to see.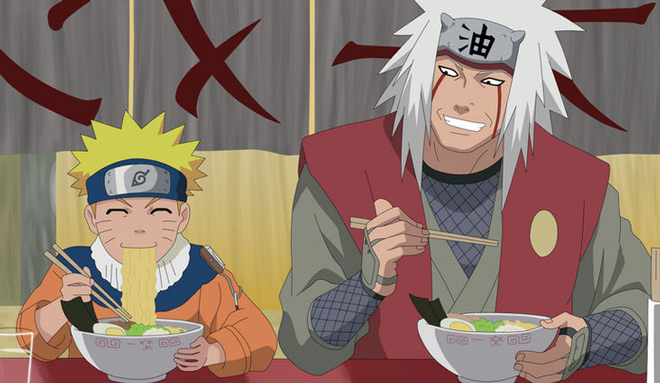 Final Thoughts 
I think this package is wonderful for anyone looking for a Naruto-themed gift for a Naruto fan. For a retail price of around $23, you get a full version of Yahtzee, unique ramen-ingredient dice, and a fun little ramen-bowl dice-cup.  
USAOpoly has several themed versions of Yahtzee available on their website if you want to check them out, including: Dungeons & Dragons, Spam, Cup O Noodles, and National Parks.