Biography
Name:
DeQuan Watson
Many readers have gathered a lot of information about me through my writings. For those of you that haven't though, this should tell you a little more.

I'm 25 years old and I own my own business. Well, more accurately I own a game store. The Game Closet, my store, is one of the premiere places to play in the Texas. I play Magic on a pretty regular basis. I help people build decks and teach the game to people multiple times a week. Owning a store is neat, because it gives me another perspective to write my articles from. I can usually tell what the average player likes and can judge some of the tendencies of the average player a little better. Of course, owning a store means I have knowledge of a lot of games and not just Magic. I also find out my fair share of insider information on the industry. But having other resources to pull from makes for more informative writings.

However, I know a decent bit about pro level play as well. I myself have
played on the Pro Tour. I have multiple Top 8 finishes at Pro Tour Qualifiers. I also have made Day Two at two Grand Prix tournaments. I have also been invited to the Event horizons Invitational. These are not stellar achievements, but high enough to let you know I have my head on straight when talking about the game. I also spend lots of time each week talking to, e-mailing, or chatting with top level players. I get to see their perspective on a lot of things as well. Between the two, I think I get a good sense of balance of the game.

Most importantly, I still enjoy the game for the sake of the game itself. I like the time, the competition, and the general interaction of players. I plan to be playing it until it fades away...if it ever does.
This Space
For Rent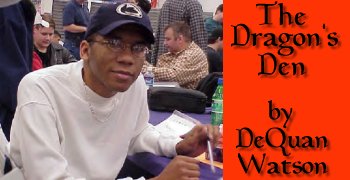 Want to give DeQuan a write? Great! E-mail him at .
2005
2003
2002
2001


Pojo's MTG
MTG Home
Message Board
News & Archives
Deck Garage
BMoor Dolf BeJoSe

Columnists
Paul's Perspective
Jeff Zandi
DeQuan Watson
Jordon Kronick
IQ
Aburame Shino
Rare Hunter
Tim Stoltzfus
WiCkEd
Judge Bill's Corner

Trading Card
Game
Card of the Day
Guide for Newbies
Decks to Beat
Featured Articles
Peasant Magic
Fan Tips
Tourney Reports

Other
Color Chart
Book Reviews
Online Play
MTG Links
Staff




Copyrightę 1998-2006 pojo.com
This site is not sponsored, endorsed, or otherwise affiliated with any of the companies or products featured on this site. This is not an Official Site.