Pojo.com's Magic: The Gathering News
Pojo's Unofficial Total Magic: The Gathering
Book - How to Play

Our first Magic: The Gathering Book is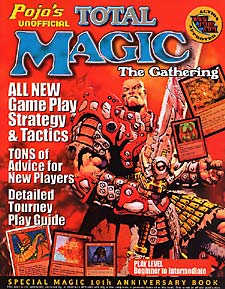 now in stores and you it's less than $10. That's essentially what monthly magazines are charging these days, and this has no ads! You can order it right now from Amazon.com! It's 96 pages, and jam-packed with the goods!
This Book is essentially for Beginner's, but we think everyone will get something out of it.
Scott Gerhardt explains all the different card types in the game, even old ones like Interrupts and Mana Sources.
Then Scott moves on to explain the Nature of the Colors in the game.
A sample game is complete played through using two 7th Edition Preconstructed Decks. And you get to see a play by play from both player's standpoints. This can really help beginner's understand how to play each turn.
Scott Sager has a brief History of Magic.
Christine Gerhardt Reviews the 7th Edition Starter set and CD-Rom. She also tells beginner's good ways to get started in this game.
DeQuan Watson explains the Type 2 format in detail.
Jason Chapman explains the Extended format in detail.
Alexander Kwan explains the Type 1 format in detail, and looks at the Power 10 cards.
DeQuan Watson explains the Sealed Deck format in detail.
Andy Van Zandt explains the Booster Draft format in detail.
Scott Gerhardt explains the Rochester Draft format in detail.
Danny Tatro looks at Other Drafts including Solomon Drafts.
John Hornberg explains the 5 Color Magic format.
Jason Chapman discusses Peasant Magic in detail.
Bill Guerin has a Guide to Magic The Gathering Online.
DeQuan Watson has an article on the Art of Trading Cards.
DeQuan also has an article on Caring for your Magic Cards.
And, Jason Chapman has a Parent's Guide, for Parents of Young Magic Players.
Phew ... that's a lot of stuff covered in one book!!!