The Dragon's Den
Get Out There And Play
By DeQuan Watson - 2.17.05
OK, for those of you that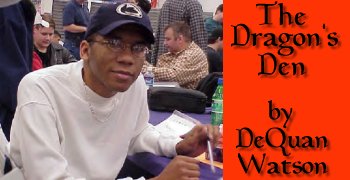 don't go out and play competitively, I have one thing to say; You don't know what you're missing. Well, at least right now. The extended format is one of the best tournament formats that there have been in a while. There is nearly perfect parody among the decks in the format. There is also room for creativity. This is always a bonus.
The other thing to remember is that Extended is the format that allows the most cards/sets to be played among Pro Tour Qualifier formats. So this is the one time you will have to play cards from Tempest to present and earn yourself a spot on the Pro Tour. For those of you that are unaware though, let me give you a quick rundown of what the Extended format looks like:
The following card sets are permitted in Extended tournaments:
Classic (Sixth Edition)
Seventh Edition
Eighth Edition
Tempest
Stronghold
Exodus
Urza's Saga
Urza's Legacy
Urza's Destiny
Mercadian Masques
Nemesis
Prophecy
Invasion
Planeshift
Apocalypse
Odyssey
Torment
Judgment
Onslaught
Legions
Scourge
Mirrodin
Darksteel
Fifth Dawn
Champions of Kamigawa
Betrayers of Kamigawa -- effective February 20, 2005
The following cards are banned in Extended tournaments:
Ancient Tomb
Dark Ritual
Dream Halls
Earthcraft
Entomb
Frantic Search
Goblin Lackey
Goblin Recruiter
Grim Monolith
Hermit Druid
Lotus Petal
Memory Jar
Metalworker
Mind Over Matter
Oath of Druids
Replenish
Survival of the Fittest
Skullclamp
Time Spiral
Tinker
Tolarian Academy
Windfall
Yawgmoth's Bargain
Yawgmoth's Will
Check out that lists. That's a TON of cards that you can play and very few that you can't play. Other than what's available, the format as a whole is great right now. Everyone is excited about it. Players always turn up for Extended events that you may not see at any other major event all year.
And it doesn't stop there. Wizards of the Coast has taken a full step further and started posting the top 8 decks from every qualifier on their website. The link is at:
Even better, is that you aren't too late. We are barely reaching the halfway point in the season. So it is very likely that there are still one or two Pro Tour Qualifiers within driving distance of where you live. The season runs all the way to March 26th.
OK, so maybe I still don't have you convinced. I'm going to help you out, and hopefully motivate you just a LITTLE bit more. I'm going to give a crash course on the decks in the formats. I will be showing decks that have done well across the nation this qualifier season. So here they are (in no particular order):
This deck is pretty straight forward in what it does. It wants to keep making more and more guys with the use of Kiki-Jiki. Also, creature that sacrifice themselves and have "comes into play" abilities work great in this deck. However, when Opposition hits, things can become a big problem. The good news is that this deck doesn't run a lot of spell counters, so it can be dealt with. The bad news is that it's hard to sneak out of a Opposition lock if they have any backup.
This deck is based around flat out abusing cards. There are a lot of ways to get your creatures into the graveyard in this deck. Then it makes use of cheap reanimation spells such as Reanimate and Exhume. It is possible to be staring a turn two Akroma attacking you. It doesn't spell the end of the game for you. It just means that you need to be in a hurry.
This deck is summed up in one word: Efficiency. It's got creatures with great abilities. It's able to hit hard. It has a lot of removal. And it's got potential for some huge damage out of the sideboard with cards such as Blood Oath. The down side is that it's creatures are a little fragile. So against cards like Soul of Night's Betrayal, you will likely have to get your damage in early and finish them with burn. It's a fun deck to play too.

Every time I see a Rock build, it simply looks like a best of the best card list. And honestly, it just might be. The creatures are great and the spells are great. The deck has a lot of versatility and can go the distance with slow decks. The downside is that many people playtest against this deck. So your opponent usually knows the matchup better than you. However, it's still a strong deck.
There were rumors of the Goblins' demise. Those rumors are obviously false. These guys are still viable. The trick is that this deck needs the black mana. The discard is so important in Extended. I would cut some of the sideboard Wrench Mind for Soul of Night's Betrayal. Red Deck Wins is an awful matchup for this deck.
Honestly, this deck is interesting. It revolves around Quirion Dryad. They play a ton of spells to make a giant creature and bash you about the head and neck with it. And if things go bad, they will try to finish you with Psychatog.
Yeah, and speaking of Psychatog, here is featured in his own deck. There aren't a lot of tricks here. They try to stop everything you do. Then they try to land a Psychatog to finish you off. Nothing special, but it's still highly effective.

This deck is probably one of the easiest to build in the format. Lots of players still have the bulk of these cards from when they played the deck in Standard. It's highly effective and has some interesting tricks. If you are looking for a deck to play, this one isn't a bad choice.
OK, so review those above. That's a strong list of decks. And that's not nearly everything. There's still Blue/White control, Enchantress, Scepter Chant, Aluren, and even Affinity.
Now is the best time to play Extended.
Do some testing. Get some friends together. Put in a road trip. Enjoy Magic.
Until next time,
DeQuan Watson
a.k.a. PowrDragn
at Pojo dot com