FOR IMMEDIATE RELEASE
LEGENDARY GAMES ANNOUNCES ULTIMATE KINGDOMS KICKSTARTER FOR DnD 5E AND PATHFINDER!
Seattle, WA, (June 7th 2019) – Legendary Games announces a crowdfunding project that expands the rules for kingdom building. The project will include expanded hardcover compilation over 400 pages of their Ultimate Line for Pathfinder First Edition and DnD 5th Edition including: Kingdoms, Ultimate Rulership, Ultimate Battle, Ultimate War, Ultimate Factions, Ultimate Relationships, Ultimate Strongholds, Ultimate Ships, Ultimate Commander, and Ultimate Armies.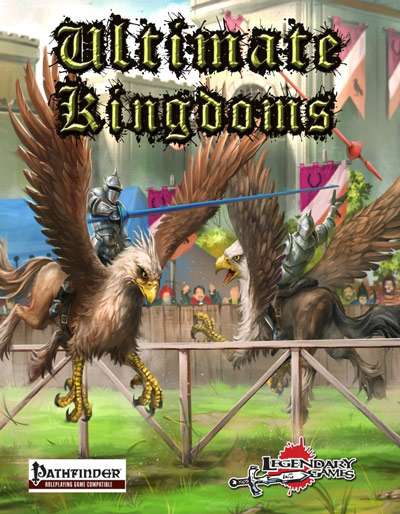 Jason Nelson, Publisher, says "heroes find fame and fortune in their adventures, but why just be rich as a king when you can actually BE A KING? Carving out a domain of your own has been a part of the game since the beginning, and Ultimate Kingdoms is an ideal supplement to cover what your character can do when you get home from that epic journey or drag your loot out of the dungeon."
With the project funding in the first day, fans can now unlock stretch goals for more extended content, new art, and celebrity authors like: Jonathan tweet, Ari Marmell, Chris A. Jackson, Alyssa Faden, Nicolas Logue, Jaym Gates, Ed Greenwood, Robert Schwalb, Sean K Reynolds, Karyn Willow Logan, Stephen Radney-MacFaraland, Owen Stephens, Allen Hammack, Richard Pett, Elisa Teague, and Tim Beach to name a few.
The campaign will end on July 3rd at midnight.
This supplement ties in perfectly with Paizo's Kingmaker Campaign. "We were excited to see over 2000 backers jump on board for the Kingmaker 10th Anniversary adventure compendium. With nearly a thousand pages of incredible adventure, amazing companions, all-new content, expanded kingdom-building and mass combat rules, you'll be well on your way to running an epic campaign in Pathfinder 2nd edition. The Ultimate Kingdoms expands your campaign further into Pathfinder or 5E," said Rachel Ventura, Business Director.
Go to https://bit.ly/2KyFCoC to learn more.
About Legendary Games
Legendary Games is an all-star team of authors and designers, coordinated by award-winning game designer Jason Nelson. We publish support materials for the Pathfinder Roleplaying Game and 5th Edition and more, with a wide variety of products including adventures; rules expansions for core game mechanics like spells, feats, and magic items; themed monster books; character class options for heroes and villains; and an array of innovative rules subsystems and campaign supplements for every kind of campaign.
The Legendary Beginnings series from Legendary Games is designed to create exciting adventures suitable for all ages, but specially designed for those new to roleplaying and those on the younger side. The Legendary Games tradition is to combine rich story and background, innovative layout, beautiful aesthetics, and excellence in design that is second to none, allowing you to enliven and enrich your campaign in amazing and exciting ways.