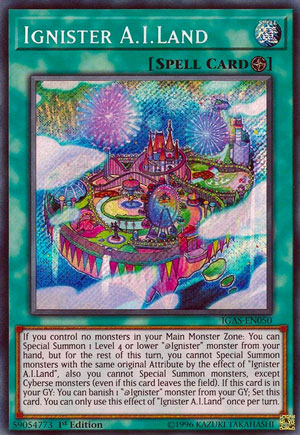 Ignister A.I.Land
– #IGAS-EN050
If you control no monsters in your Main Monster Zone: You can Special Summon 1 Level 4 or lower "@Ignister" monster from your hand, but for the rest of this turn, you cannot Special Summon monsters with the same original Attribute by the effect of "Ignister A.I.Land", also you cannot Special Summon monsters, except Cyberse monsters (even if this card leaves the field). If this card is in your GY: You can banish 1 "@Ignister" monster from your GY; Set this card. You can only use this effect of "Ignister A.I.Land" once per turn.
Date Reviewed: 
April 21st, 2020
Rating: 4.43
Ratings are based on a 1 to 5 scale. 1 is awful. 3 is average. 5 is excellent.
Reviews Below:


King of
Lullaby
Hello Pojo Fans,
Ignister A.I.Land is the money card of the Ignister archetype and helps their deck get to where it wants to go.
A free Level 4 or lower Special Summon MULTIPLE times a turn as long as you don't have a Main Monster Zone monster…ban worthy in many archetypes if they had this kind of a Field Spell. Sure, can't Special Summon using that Attribute again using the Island, but with each of the Main Deck monsters being a different archetype, you could just go through one round of each and be sorted. Locking you into the Cyberse archetype also doesn't hurt when the archetype is just that, Cyberse. You can continuously make Link Monsters to climb and continue to plus off their effects until you get to Dark Templar and use its effect in conjunction with the final Attribute Cyberse you are using with Ignister A.I.Land, activating its effect and Special Summoning all your Cyberse in the grave to its link points, going into more Cyberse Extra Deck monsters and swarm for game. The island can even reset itself to the field by banishing just one Cyberse, completely balanced (sarcasm intensifies). You have a Link 1 Cyberse, you have a Link 2, and Tri-Gate could be your Link 3, but once you get to Link 3 you are going for the archetypes Dark Templar to finish with a swarm of Extra Deck summons.
This card you want to draw in your opening hand. If not, you need yellow (Pikari) to search it out and get you to it, it is your win condition (or at least one of your two parts of a win condition). I can't see any meta archetype having a card like this and have it not be banned or limited to one (unless the archetype was Attribute specific). You keep recruiting your smaller Cyberse through their effects and other search cards, link climb to keep activating Ignister A.I.Land, and get the payoff with Dark Templar at the end. If you don't, you likely lose.
Advanced-4/5     Art-4/5
Until Next Time
KingofLullaby


Crunch$G
Next up for @Ignisters is the Field Spell that keeps the archetype going, Ignister A.I.Land.
A.I.Land is a Field Spell that if you control no monsters in the Main Monster Zone, you can Special Summon a Level 4 or lower @Ignister from your hand, but for the rest of the turn you cannot Special Summon monsters with the same original Attribute with Ignister A.I.Land and you can only Special Summon Cyberse monsters. It not being a hard once per turn would need a restriction, so limiting the Attributes you can summon as you summon them is fair enough. It's easy to keep the Main Monster Zone empty while you're trying to get to your Link-3 that really gets plays going. Locking to Cyberse was also very necessary to prevent degenerate Link Spam with other Links. The second effect while this card is in the graveyard lets you banish an @Ignister monster from the grave to set this back on the field. Nice that the important Field Spell recovers itself, and your grave should be full of @Ignister monsters. This effect is a hard once per turn, so I'd just hope the opponent doesn't have a lot more removal. A.I.Land is the main card helping @Ignisters make plays. It's an easy 3 of as well to see it ASAP.
Advanced Rating: 4.5/5
Art: 4/5 I wouldn't mind going there.


Alex
Searcy
Logically to play off an effect from yesterday, here's an A.I. Magic card, specifically a Field one, in A.I. Land. What a delicious pun.  So controlling no Monsters in your Main Monster Zone lets you Special Summon an @Ignister that's Level 4 or lower from your Hand.
Then for the rest of the Turn, you can't Special Summon non Cyberese Monsters or ones that have the same original Attribute from this cards effect.  This seems a bit overkill and worth noting this isn't once per turn.  So I guess they felt they had to keep this from being too abusable.  
If this card is in the Graveyard, you can remove an @Ignister Monster from your Grave from play to Set this card back on the Field.  A bit odd to set a Field Magic, but it still comes back.  This effect is once per turn.  This is one of those cards making a speedy Deck even faster.  
Rating:  4.25/5
Art:  4.5/5. Very futuristic looking as I would expect.  I like it. 


Solember
YouTube
Ignister A.I.Land
   This card is straightforward and reasonably powerful. I would say that this card is crucial to the Ignister and A.I. archetypes. It can be easily searched, has synergy with their effects and allows for multiple Special Summons every turn.
    This card makes some killer plays. The most obvious use is to Special Summon a Monster via the first effect, Normal summon a Monster after that, use both to summon from the Extra Deck into the Extra Zone, then Special Summon another @Ignister with a different Attribute via this card's effect. In the process, you will be searching and doing other shenanigans with the Monsters you have summoned to maintain momentum. That is an excellent effect.
   This card is pretty well balanced, though I am not a fan of open ended Summoning. You could, in theory, gain up to six Special Summons with this card in the same turn if you ladder and search properly, though that is unlikely. I do like the restriction on one Summon per Attribute per turn. That is pretty original. I also appreciate that this card limits you to Cyberse Monsters after using its effect.
   The art is probably one of the better pieces in the recent Ignister support. I was fortunate enough to have a physical copy, and it is a rare case of the Secret Rare foil working perfectly on a card. The name pun works well also.
Versatility – 3
– This card, like others in the Archetypes, can work well in Cyberse decks or standalone @Ignister decks.
Rogue Plays – 5
– This card is a central playmaker.
Art – 5
– It seems a lot of thought was given to this card.
Balance – 4
– It definitely restricts itself, but it sets a precedent I don't think any other archetype should get.
Uniqueness – 5
– Definitely a fun card that adds a nice touch to Special Summoning multiple cards.
I will give this card a 5/5. If you play Ignisters, play this card. It will always have a place in them.
We would love more volunteers to help us with our YuGiOh Card of the Day reviews.  If you want to share your ideas on cards with other fans, feel free to drop us an email.  We'd be happy to link back to your blog / YouTube Channel / etc.   😉
Visit the Card of the Day Archive!  Click here to read over 4,000 more Yu-Gi-Oh! Cards of the Day!