Today we're looking at the Google WiFi System (Google Whole Home WiFi Coverage)
Pojo Note: May 2020 – Google has upgraded their WiFi System since I originally wrote this review.  There is now a 2nd Generation "Google Nest WiFi Router".  So, what has changed? The 2nd Generation Wifi Router has a 4×4 radio to provide more coverage than Generation 1.  There is also a faster processing speed. Other than that, the information in our review below still applies.  The new Google Nest Wifi Router gets great reviews from buyers.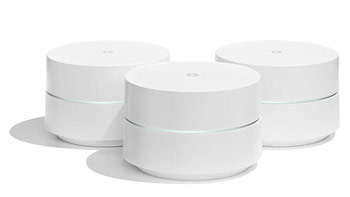 I was looking to improve my home WiFi.  Boy have things changed! 
The Wi-Fi Alliance
I didn't realise that WiFi had improved quite a bit since I originally bought an Asus gaming router in 2013.  I learned there is actually a Wi-Fi Alliance, and the Wi-Fi Alliance recently started using a WiFi Naming System to identify WiFi generations:
Wi-Fi 6 to identify devices that support 802.11ax technology 2019)
Wi-Fi 5 to identify devices that support 802.11ac technology (2013)
Wi-Fi 4 to identify devices that support 802.11n technology (2007)
All the newer WiFi systems are backwards compatible.  So if you decide to upgrade to WiFi 6, your older existing devices (PS4, Cell Phone, Smart Thermostats) should all still connect just fine.  
I guess WiFi 1, 2 and 3 were for Wireless A (1999), Wireless B (2000) and Wireless G (2003)?  My Asus Wireless N Gaming Router was identified as WiFi 4.  
At first, I started shopping for Wi-Fi 6 Routers.  A lot of reviewers and users really like the Netgear Nighthawk (link above), but I wasn't sure if that Single Router Wifi point would work well in my split-level (tri-level) house.  I'm sure it would have been a nice improvement over my WiFi 4 router!  After researching various reviews about networking in multi-level houses, many people suggested upgrading to a Mesh Network.  
Mesh Networks
A mesh network is a group of routers that communicate wirelessly with each other to create a single WiFi network that provides an umbrella of network connectivity. This allows you to have multiple sources of strong WiFi throughout your home, instead of just a solo router.
Since I have a multi-story house, I decided to buy a mesh network.  However, at the time I was looking to purchase, there weren't really any WiFi 6 Mesh Networks.  And many people think that WiFi 6 Routers are currently overkill and overpriced.  I decided I would buy a WiFi 5 Mesh Network as a good balance of speed, whole-house coverage, and cost consciousness. 
Google WiFi 
There are a several popular WiFi 5 Mesh Networks available on the market.  I opted to purchase the Google WiFi system – a 3-Pack Mesh Network.  The reviews were great, the pucks were small and my wife liked the looks of the Google WiFi System the best.  Each puck is only about 4″ wide and only about 2-1/2 inch tall.  
Set up is very easy.  You plug one Puck Router into an electrical outlet.  You also connect to your Internet Source.  For me, this is my Comcast modem.  You Download and Open the "Google WiFi" app and follow some simple steps and … Wallah … your WiFi is live very quickly. 
Then I placed my 2 other pucks on the other 2 levels of my house, so I had one puck on each of the 3 levels of my split level house.  The entire set up was done in less than 15 minutes, and it was painless.  
I had no problem connecting any of my old gaming systems, TV's or cell phones to the Google Mesh Network either.  
Actual WiFi Speed Test Results – Before and After the Google WiFi System
Let me show you some actual "Before and After" WiFi speed test results from my Samsung Galaxy Cell Phone to show you the huge difference this upgrade made for me.  I live near Chicago, and have Comcast XFinity.  We have pretty fast internet speeds around here.  
Before refers to My Old Asus WiFi 4 Gaming Router, and After refers to the new WiFi 5 Google Mesh Network
Living Room – Near my old Router – This was the area closest to my old router.  I had been getting 81.6 Mbps download near my gaming area which was fine for gaming and streaming 4K from Netflix.  After installing the Google Mesh Network, my WiFi speed nearly tripled.  My download speed jumped to 235 Mbps
| | |
| --- | --- |
| Living Room WiFi 4 – Old Asus WiFi Router | Living Room with Google WiFi Mesh Network |
—–
Front Door Area, by the Ring Wireless Doorbell – This was the area that was most finicky for me before the change.  Streaming video from our Ring doorbell wasn't exactly stellar.  These reading were taken outside my house, near the front door.  My download speed jumped 233%, and my upload speed jumped 157%.  This made a huge different for streaming video from the Ring Doorbell.  
| | |
| --- | --- |
| Front Door Before – Wifi 4 – Old Asus WiFi Router | Front Door with Google WiFi Mesh Network |
—–
3rd Level Bedroom – One last speed test from the upper level Master Bedroom in my split level house.  My download speed on the top floor actually quadrupled!  
| | |
| --- | --- |
| Upper Level Bedroom Before – Wifi 4 – Old Asus WiFi Router | Upper Level Bedroom with Google WiFi Mesh Network |
Conclusion
I am extremely happy with the Google WiFi System.  The pucks are small, unobtrusive and work well.  I waited a few months to write this review, and I have had zero problems since the initial set-up.  My speeds obviously improved, and the Ring Doorbell streaming has been fantastic.  
If you have a small single story dwelling, you might be fine with a single WiFi 5 router, (or a newer single WiFi 6 router if you want some future proofing).  But if you have a larger house, or a multi-level house, I highly recommend this Google Mesh Network.  Google WiFi is very simple to install, and works wonderful.  And if you have a really large house, you can even add more pucks to your system to increase your coverage.
One of the only downsides I have found over my previous Asus Gaming Router, is that my Gaming Router had 4 ethernet ports to directly things like gaming systems and smart TV.  The Google WiFi only has one.  If you want more ethernet ports, you might want to pick up and inexpensive Ethernet Network Switch.