Hey, Pojo!
Search for Lysol foaming bathroom spray cleaner was a bust for the third week in a row, but look what I found on Meijer's newsstand! The new Scholastic Pokémon Handbook of the Galar Region is now out! Scholastic's Pokémon Handbooks have been my go-to for years when I sort through trading cards, after now 21 years, there are just too many Pokémon for me to remember! I use the guides to check evolutions since I sort cards with their respective evolutions, alphabetically by the basic. I don't buy very many cards anymore, so I'll often get a rare and not know what the basic is, ha!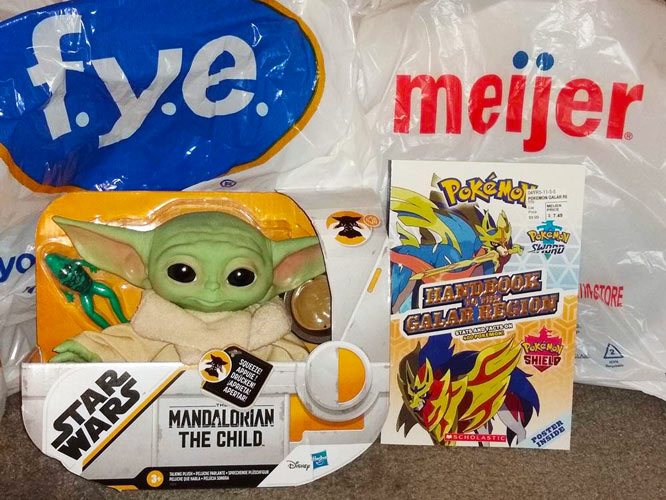 Also of note, that little big guy on campus (because have you seen all the cool school/lunch gear?!) finally showed up in Hasbro's "talking" form at f.y.e.!!! I've collected the Build-a-Bear, the Pillow Buddy, and both the Mattel plush (all plush and plush with vinyl head/hands), so was really excited to nab the last of only two shipped to my local f.y.e. so far! What do you mean who/what?! THE CHILD!!! This little guy is stealing hearts all over the globe, I think now I'm just waiting for The Disney Store to reopen locally so I can get a gander at their plush version. If you're looking for this Hasbro talking version, I can tell you Walmart just sent me an alert that it's back in stock online. The Hasbro Pulse website was listing a restock coming within a week or so as of yesterday. F.y.e. website did have them in stock yesterday. F.y.e also had additional merch come in this week locally, they only just reopened, so no one was sure what to expect, the clerks were lovely and kind and helped me a lot when I called ahead. Wear your mask, there are so few f.y.e. stores these days, let's help keep them safe so we can find items locally; I know for me I fear porch pirates and also our local folks work at these stores and need those jobs. I went to pick up my preordered The Child ornament at Hallmark premiere last weekend, but the wood ornament is delayed, in case you're looking for those. Hallmark has two The Child ornaments lined up for 2020; you can preorder from their site or submit a Wish List in-store.
I have more pictures if anyone wants to see… happy Bounty hunting! 😉
Pika!
Loretta