Epic Jungle & Star Realms High Alert
now on Kickstarter!
White Wizard Games is excited to announce that our Epic Jungle Kickstarter is now live, with a new Starter Deck and new expansions for Epic Card Game!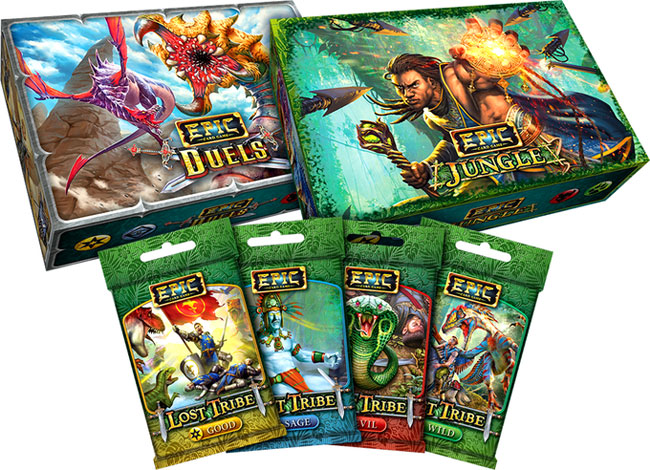 FOR IMMEDIATE RELEASE
August 27, 2019 – Framingham, MA – White Wizard Games launched new expansions for both Epic Card Game and Star Realms today on Kickstarter. 
The Epic Jungle Kickstarter includes:
● Epic Duels 2 Player Starter Deck. Duels is an easy to learn two player starter set for
Epic Card Game. Perfect for new players, it is a complete game on its own and fully
compatible with all Epic sets. New players can back the project for just $20 to get the
new Duels Starter Deck.
● Epic Card Game Jungle is a two player box set exploring the tropical supercontinent of
Gowana. A complete game on its own, or combine it with any other Epic set to support
more players.
● Epic Card Game: The Lost Tribe is a set of four 15 card packs, one for each alignment
(Evil, Good, Sage and Wild). Combine any two packs to create a 30 card, two-color deck
and you are ready to play!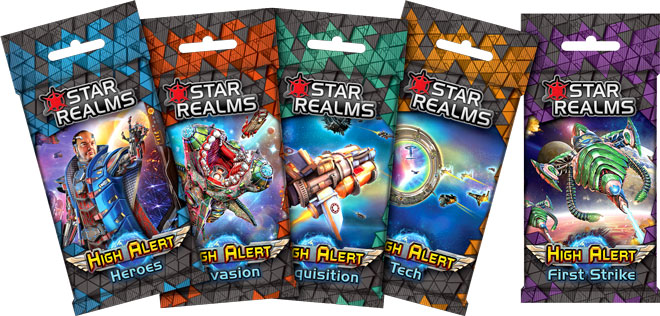 Star Realms: High Alert is a set of four 12-card packs: Heroes, containing new
multi-faction hero cards; Invasion, featuring new ships and bases with the Double Ally
mechanic; Requisition, featuring new ships and bases that are 1 trade cheaper to acquire
for each card of their faction you've played that turn; and Tech, which introduces a whole
new card type! Along with High Alert comes a 14-card Kickstarter Exclusive High Alert
Frist Strike Pack featuring new ships, bases, and tech cards!
The Epic Card Game Jungle Kickstarter marks the first time Epic Card Game expansions have come to the crowdfunding platform. Epic Card Game was launched on Kickstarter in 2015, and raised more than $580,000 from almost 12,000 backers. Since then White Wizard Games has given away over $150,000 in prizes for Epic Card Game, and Epic has expanded in popularity, winning fans all over the world.
White Wizard Games is excited to bring an all-new simplified starter deck, Epic Duels, to new players to make it even easier to learn to play Epic Card Game. Epic was designed by Magic: the Gathering Hall of Famer, Rob Dougherty, and has been widely acclaimed by Magic players around the world.
For more information, check out the Epic Card Game Kickstarter