Hi Pojo,
Just wanted to share a little lockdown cheer. Displayed in front of my Pocket Monsters Special manga, we have the recently released graphic novel adaptation of "Detective Pikachu" courtesy of Barnes and Noble order online, curbside pickup, they snared my items within five minutes of submission! Contact your local Barnes and Noble to ascertain availability of service and please pickup responsibly in accordance with local guidelines.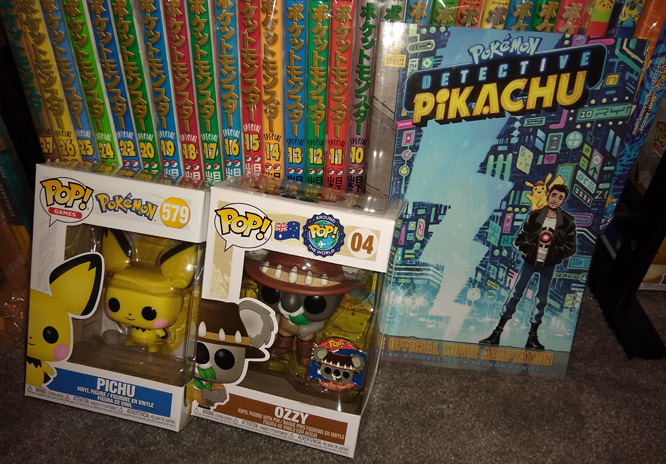 Next we have the recently released Funko Pichu Pop! courtesy of UPS + USPS partnering for delivery–on Sunday, surprise!–thanks to their hardworking delivery personnel who are making stay-at-home possible and keeping the economy going.
I hope people are continuing to write the Aussie government to help save Koalas and habitat with www.savethekoala.com. Funko released a special Pop! overseas which I missed as the health crisis was beginning here, proceeds to help with the Australian wildfire devastation. I did order the online exclusive Pop! Around the World Ozzy, it's quite detailed as you can see and includes a special matching pin. Hopefully better days are ahead because I always look forward to ordering from The Australian Koala Foundation and donating to plant trees. I know most of us are worrying about finances right now, myself included, I'm happy to think someone has a job thanks to what we're able to safely purchase right now. I hope you enjoy the picture, let's work together to make sure the Pokémon items on your wish lists will come around in the not too distant future by acting responsibly about social distancing and using the curbside and online options to help flatten the curve.
Pi!!!
Loretta