The "Dark Magician Girl the Dragon Knight" Trading Card Game Accessories are in stores now.  They finally hit stores in early March.  We got our hands on the product and have a quick review.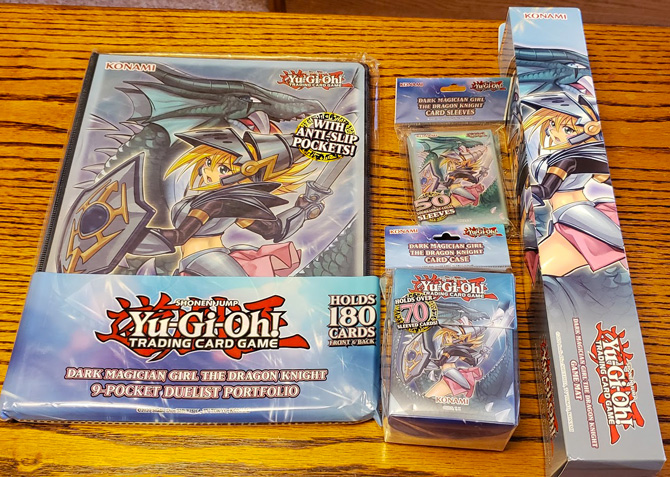 ---
Game Mat promotional Image and Copy:
Dark Magician Girl the Dragon Knight Game Mat (SRP: $14.99) shows off a special variant art with alternate artwork in Dragons of Legend: The Complete Series. This full-sized, rubber game mat is made with high-quality materials, so your Dueling experience will be as smooth as possible!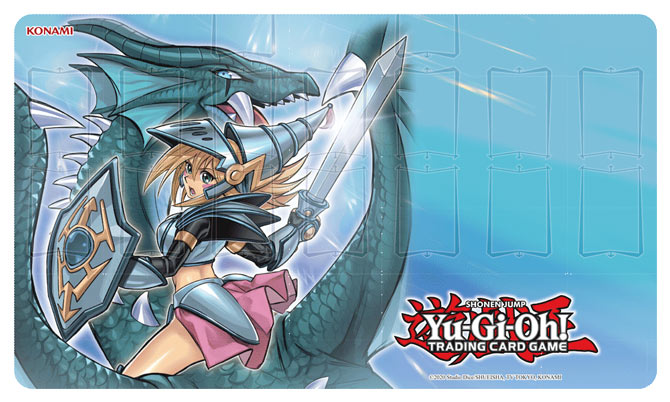 Actual Game Mat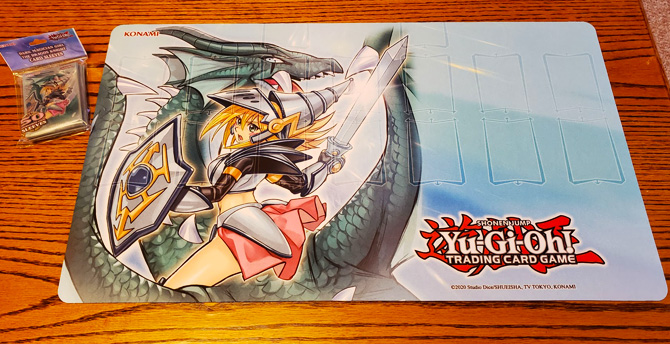 The game mat looks great.  The colors pop.  The outlines for card placement don't take away too much from the actual image of Dark Magician Girl the Dragon Knight.  
---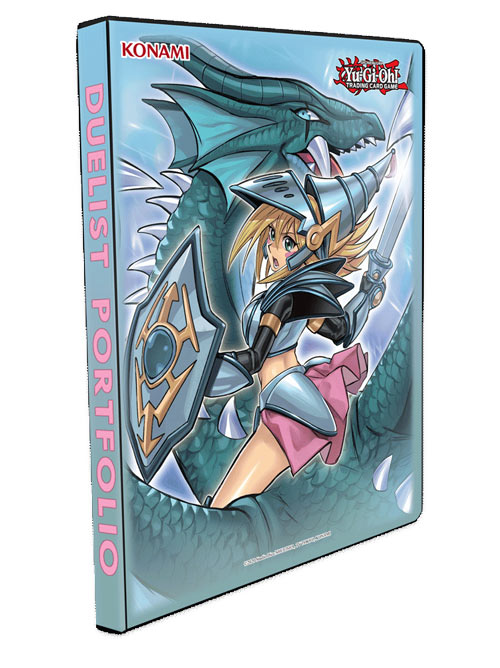 Actual Images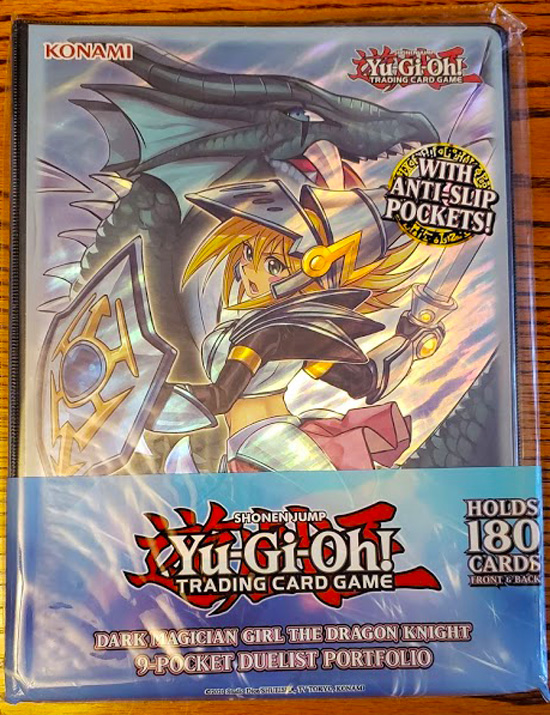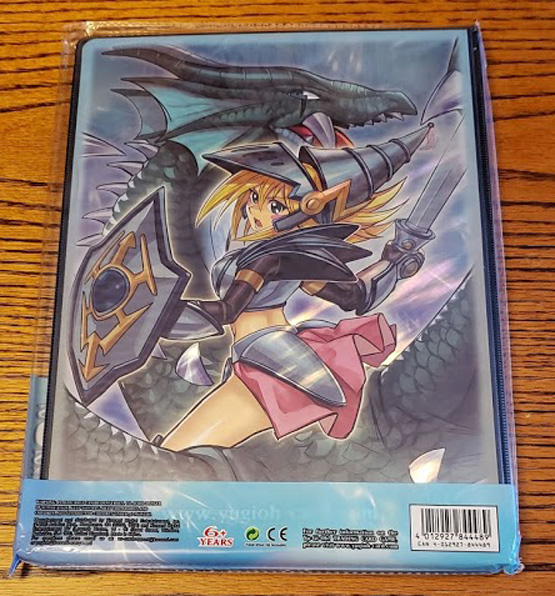 The image background, and the Dark Magicians Girl's armor have a cool reflective holofoil quality to them.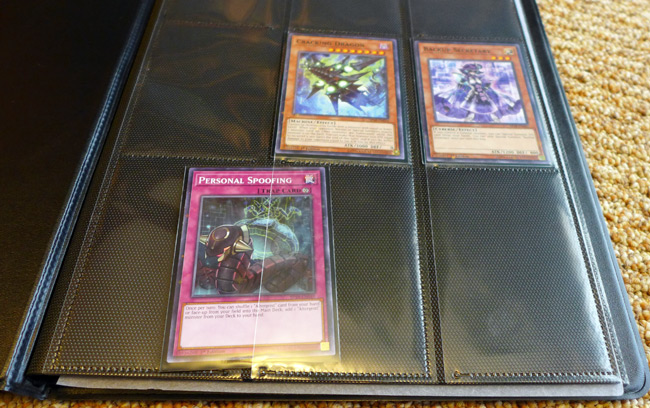 This card binder retails for $9.99 and seems solid and well-made.  It has 10 pages, and thus slots for 180 sleeved cards – front & back.  There is a black anti-slip meshy material behind each slot that keeps cards in places, and prevents the YGO cards from touching each other back to back.  The black background also makes your cards visually "pop" in the binder for a nice look.  
There are no rings like in a 3 ring binder.  Those rings can really damage cards if you are trying to save them as valuables.  I wish I knew that 20 years ago!
Cards are also sideloaded.  This keeps cards from accidentally flying out the top.  I like this a lot.  This portfolio is about 3/4″ thick, 11.75″ tall and 9″ wide.  All in all, for $10, it's easy to recommend this binder to YGO players.  
---
Sleeves Promotional Image and Copy
Dark Magician Girl the Dragon Knight Card Sleeves (SRP: $3.99) contains 50 sleeves per pack, designed to meet tournament regulation standards. There's no better way to protect your cards during a Duel!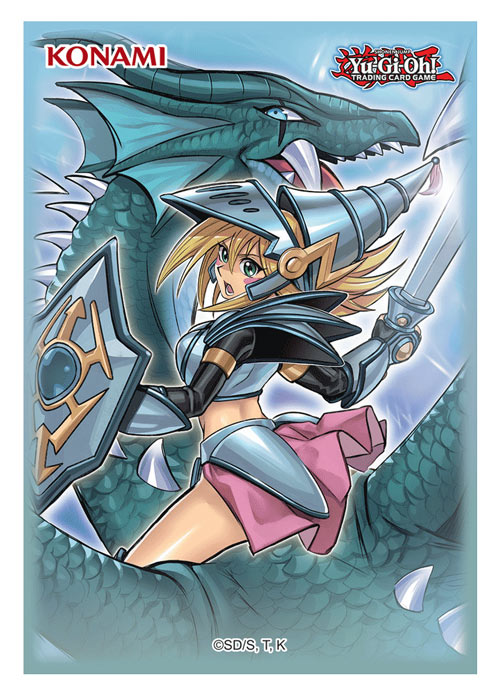 Actual DMGtDK Sleeves: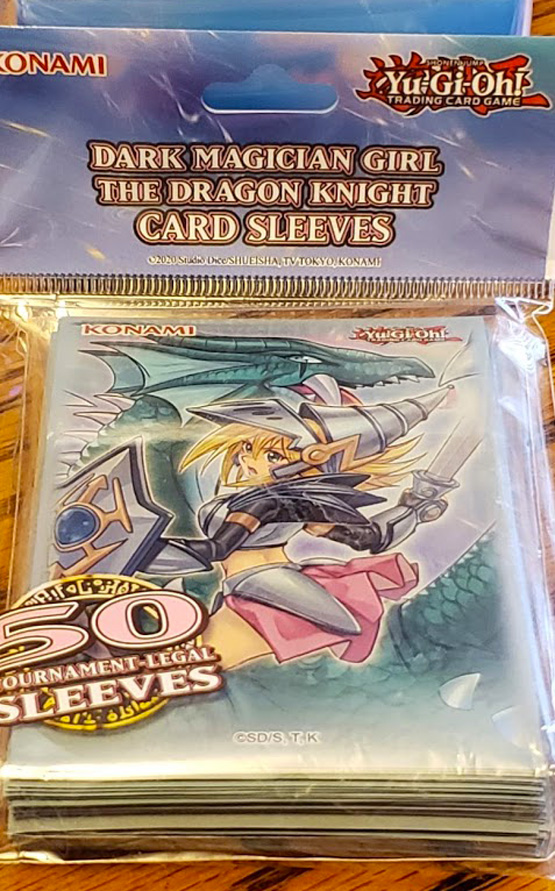 These sleeves retail for $3.99, are well-made, and fit Yu-Gi-Oh! cards perfectly.  They also have a nice feel to them and have solid seams.  The silver background and the dragon's back spikes have a reflective quality that looks pretty cool.  Sleeves pretty much come down to personal taste and artwork.  If you like Dark Magician Girl, then you can't miss here for only $4.  It's pretty much a no-brainer for 50 Tournament Legal sleeves.
---
Deck Case Promotional Image and Copy
Dark Magician Girl the Dragon Knight Card Case (SRP: $4.99) can fit a full Main, Side, and Extra Deck for a total of 70 sleeved cards in each card case. It also includes a special divider featuring the outside design. This is a great way to protect your Deck while you're on the go!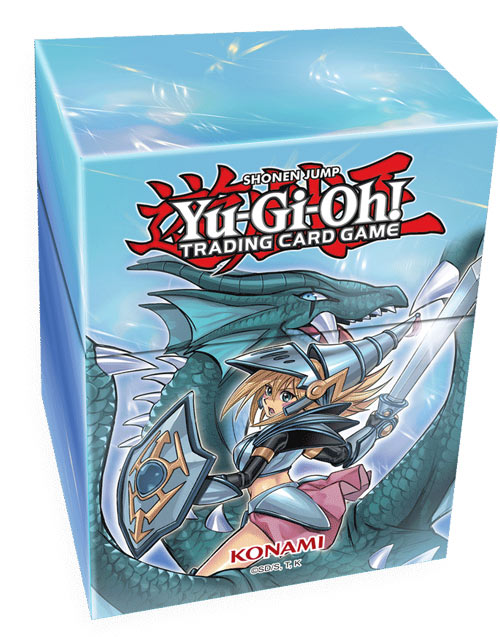 Actual DMGtDK Deck Case: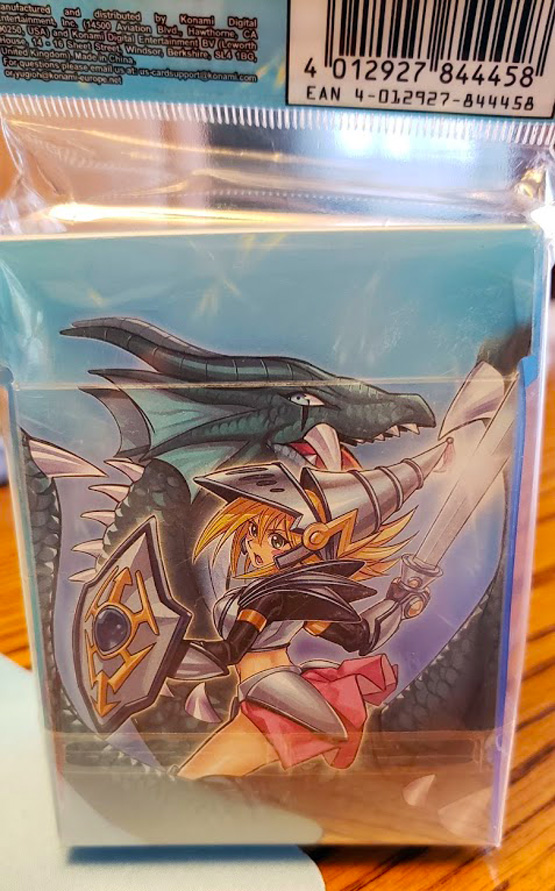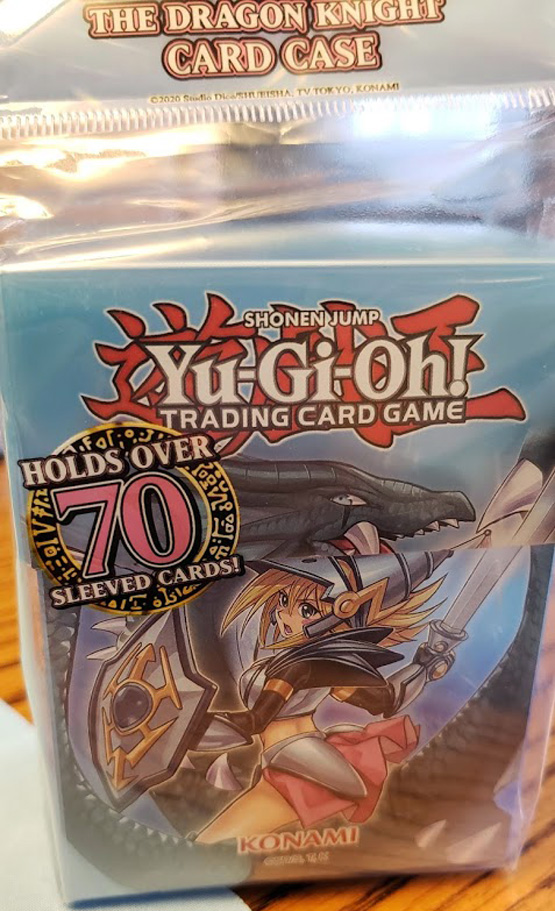 This case retails for $4.99 and seems solid and well-made.  It is designed to hold over 70 sleeved Yu-Gi-Oh! cards.  There is a divider inside the case that matches the artwork on the box.  These newer boxes lack Velcro inside the lid to keep it closed though.  The lid still seems to shut securely though.  They seem to have redesigned these newer deck cases so that Velcro is not necessary.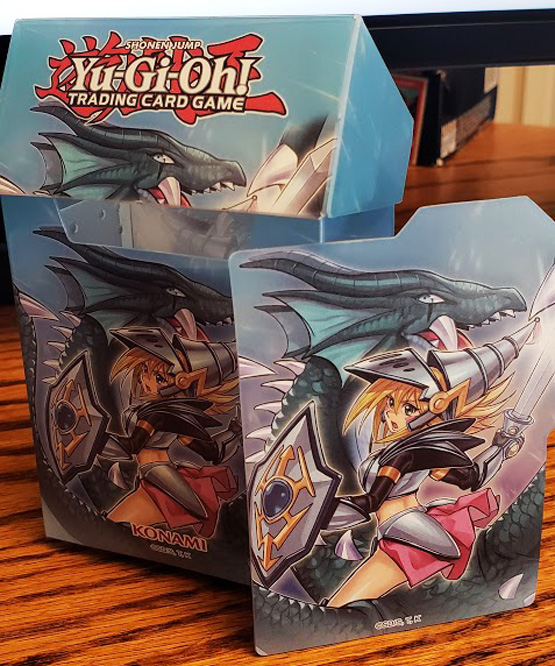 Conclusion
These are all nice products from Konami.  Case, binders, sleeves and play mats are all an extension of your personality.  Play with stuff you like.  I feel like all the prices here are fair, and Konami makes some solid products.