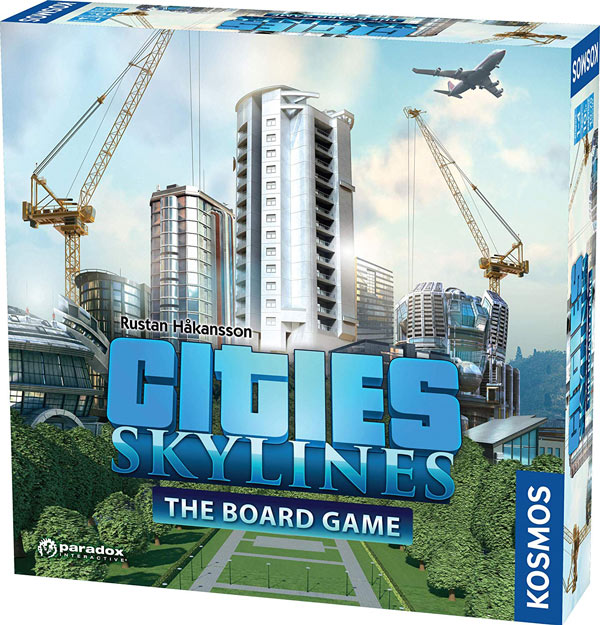 THAMES & KOSMOS ANNOUNCES THE U.S. LAUNCH OF CITIES: SKYLINES, A COOPERATIVE CITY-BUILDING BOARD GAME BASED ON THE HIT VIDEO GAME
PROVIDENCE, RI (OCTOBER 25, 2019) – Thames & Kosmos, the company behind some of the top strategy and family-focused board games available on the market today, recently announced that the highly-anticipated Cities: Skylines board game is now available in the U.S. On the heels of its European debut at PDXCON in Berlin and SPIEL in Essen earlier this month, this physical board game version brings the city-building game off the screen and straight to tabletops, family rooms, and game cafes nationwide.
Based on the best-selling video game by Paradox Interactive, Cities: Skylines is a cooperative board game experience where players work together to plan, build, and manage a city. Players begin with a blank canvas—a plot of land on which they must develop residential, commercial, and industrial areas, gradually creating new neighborhoods. The key to a successfully developed city is a happy population; as players decide how and where to build, they must consider a variety of factors such as the environment, crime, traffic flow, education, and financial resources.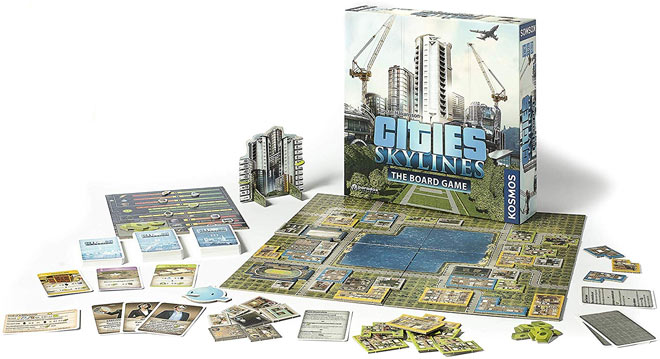 "Since its release in 2015, more than six million copies of the video game have sold worldwide and the active monthly user count remains strong today," explains Andrew Quartin, CEO of Thames & Kosmos. "A large portion of the players who have been building the city of their dreams digitally for years also enjoy the analog nature of classic board games. This new edition caters to their inherent enthusiasm for the game and offers up some key variations that will also interest other board game fans. For one, the board game is completely cooperative: everyone has to work together to build a city as successfully as possible."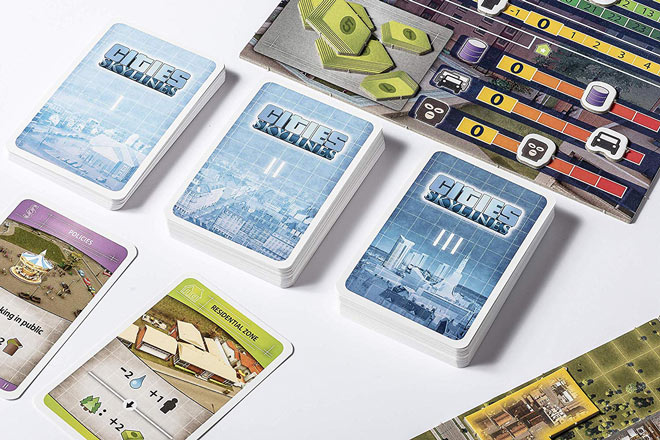 But it is not just the built-in audience of video game fans who have been looking forward to this new tactile version. The cardboard components beautifully integrate the game's original graphics, while celebrated board game designer Rustan Håkansson skillfully executes the shift from digital to analog, generating widespread buzz within the board game community—and beyond. Quartin adds, "With gameplay that increases in difficulty as the game progresses, Cities: Skylines is a great choice for players of all experience levels including veteran gamers, newcomers, and families—it truly is a game that everyone can enjoy." 
Cities: Skylines is now available for purchase at local toy and game stores and through online retailers such as Amazon for a suggested retail price of $49.95. Additional mass-market distribution is expected in spring 2020. To learn more visit Thamesandkosmos.com.
———-
About Cities: Skylines
Cities: Skylines is a cooperative city-building board game based on the bestselling video game of the same name. Players work together as urban planners, designing and constructing a new, thriving city with a happy population. As you decide when and where to build, you must consider a variety of issues: How will your designs affect the environment? How will you manage traffic? Is there enough money in the treasury to keep your plans on track? Players must work strategically, keeping the satisfaction of their city's inhabitants in mind. 
For 1 to 4 players | Ages 10+ | MSRP: $49.95 | Play time: 40-70 minutes
About Thames & Kosmos
Thames & Kosmos (T&K) was founded in 2001 with the mission of improving informal science education by publishing high-quality science and technology-related educational products for children of all ages. T&K's mission has since expanded from its STEM roots to encompass other educational branches, including arts and crafts and early childhood learning, as well as the multitude of thinking and social skills that can be taught through board games and performative magic sets. T&K's entry into the world of board games came in 2015 with the release of five games from the prestigious Kosmos line. Today, T&K's game line includes more than 50 unique titles. These games build social skills, stimulate logical and strategic thinking, promote visual-spatial and math skills, cultivate physical coordination and manual dexterity, encourage family time, and inspire fair-mindedness, confidence, and honorable attitudes. T&K is headquartered in Providence, RI, and is the North American subsidiary of Franckh-Kosmos Verlags-GmbH & Co. KG.