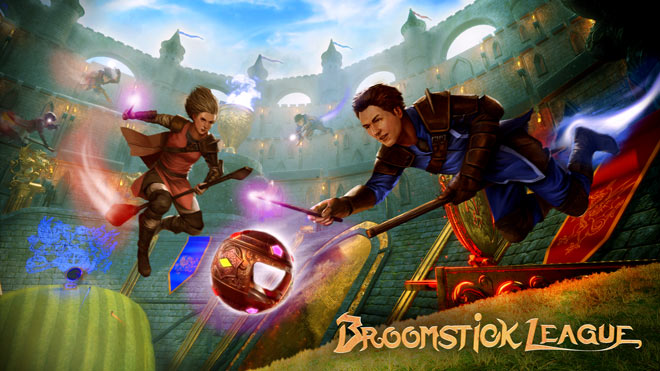 BROOMSTICK LEAGUE AVAILABLE NOW ON STEAM – MOUNT UP FOR SOARING SPORTS ACTION 
Xbox One and PlayStation 4 Development Confirmed for Blue Isle Studios' High-Flying Competitive Sports Game
TORONTO, CANADA – MARCH 5, 2020 – Veteran videogame developer Blue Isle Studios, the team behind Slender: The Arrival, Valley and Citadel: Forged with Fire, announced today that Broomstick League is available now on Steam. Blue Isle Studios has also confirmed that they are developing the high flying sports game for PlayStation®4 computer entertainment system and the Xbox One family of devices. Broomstick League puts players in the sky to compete in up to 3 versus 3 matches with and against other would be wizards from around the world in a high flying, trick shot scoring battle for supremacy of the skies.
Watch Broomstick League in action in the new launch trailer HERE.
"Broomstick League brings the popular competitive sports genre to a world where wizards reign the skies – we plan to finish its development in Early Access with an already passionate community who joined us during our closed and open beta tests," said, Alex Tintor, managing director of Blue Isle Studios. "It's been exciting to see big name streamers and competitive players go at it in the arenas and provide us with valuable feedback as we've readied the game for this launch phase." 
In Broomstick League, players divide into teams and zoom across massive arenas atop their trusty broomsticks in an effort to grab a magical orb, outmaneuver other players and score a goal. Equipped with their wands, players must hone their flying skills and use magic to dodge enemies, defend their goal and make extraordinary plays. Players compete against friends online and use a combination of fast reflexes, teammate assists and magical spells in an effort to become the champion by scoring on their opponents. Broomstick League features endless combos of plays with no two matches ever the same.
Broomstick League is all about winning, with the added excitement of aerial competition via broomsticks and targeted spell casting.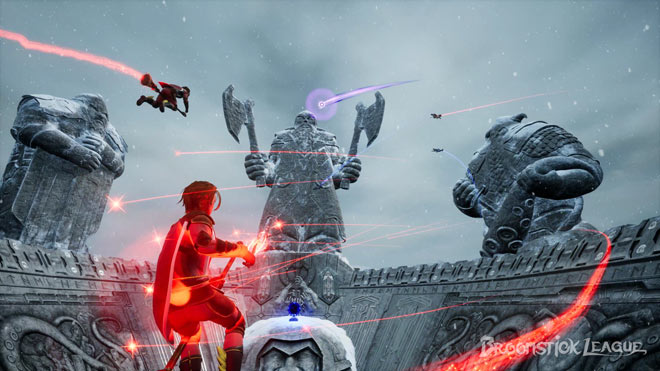 Broomstick League Gameplay Features:
Fast Paced Matches: Play 1v1, 2v2 or 3v3 with friends or matchmake online with opponents from around the world. Form the best team to dominate the arena!
Reflexive and Fantastical Gameplay: Pick up speed while dive bombing to fly past a defender. Cast a spell on your opponent to blast the ball away or use the blink spell and teleport to a more favorable position. Well timed casting can make the difference between a buzzer beating goal or a soul crushing defeat.
Character Customization: Personalize the look of your witch or wizard with a deep pool of creative options. Unlock new broomsticks, wands, and perform a variety of taunts and dance moves to rattle your opponents in the arena!
Mystical Arenas: Experience high flying sports action within fantastical arenas brimming with magic! Battle it out with giant trolls lurking in the background or score impressive goals while floating on the back of massive flying creatures.
Player Progression and Stats: Track your progress with leaderboards, stat tracking and player levelling system to prove you are the most spellbinding broomstick pilot in the land!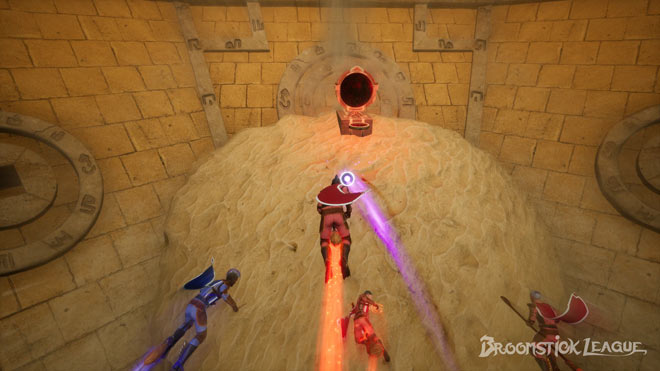 Broomstick League is available now on Steam early access for a limited time sale of $13.49 (a 10% discount) and is in development for PlayStation®4 computer entertainment system and the Xbox One family of devices, including Xbox One X.
  
For more information on Broomstick League, please visit the website, watch on YouTube and Twitch, follow Broomstick League on Twitter, and 'Like' the game on Facebook. 
 
# # #
ABOUT BLUE ISLE STUDIOS
Founded in 2010, Blue Isle Studios is an independent video game developer and publisher located in the heart of downtown Toronto, Canada. Lead by industry veterans Alex Tintor and Brenden Frank, Blue Isle has established itself as one of gaming's most exciting developers, creating iconic titles that have sold millions of copies worldwide. A small yet passionate group of artists, designers and programmers, Blue Isle works to build captivating virtual worlds, delivering the best gaming experience possible no matter what the genre. www.blueislestudios.com.