Well let's make this quick. Hello Pojo Readers, Crunch$G here to talk about the most recent update to the TCG Forbidden and Limited list. As we all know, we're currently still in the middle of the COVID-19 pandemic, meaning there are no physical events as of yet. All of the tournament data we have is from online play, which shows Adamancipator and Eldlich as the best Decks with the Halqifibrax package popping up nearly everywhere. Don't expect that to change this list, as all we got are Unlimits. It's a short list, so I'll get into it.
Altergeist Multifaker
From Limited to Unlimited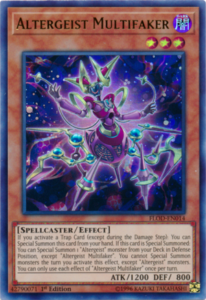 The first unlimit this format is Altergeist Multifaker, and this might be the most relevant one in the short term. Multifaker back to 3 gives us full power Altergeist once again, which was a fairly good control Deck before and even with Multifaker at 1. Multifaker coming back to 3 now makes the combo with Silquitous more consistent, helping you try to control the board better, and the importance of using a Sangan into Salamangreat Almiraj isn't as big anymore. Multifaker to three is a big deal for the Altergeist strategy, just in time for a Pot of Extravagance reprint and this probably implies we'll get the new Altergeist cards soon over in the TCG. It's a fine unlimit since I don't know how well Altergeist can keep up with this meta.
Nekroz of Unicore
From Limited to Unlimited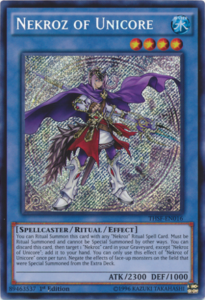 The next unlimit will probably have the biggest impact long-term, and that's Nekroz of Unicore. Unicore to 3 now allows Nekroz to have a good recovery option while also potentially having a Unicore to actually summon from hand, making both effects of Unicore effective now. It's a strong floodgate-like effect to stop Extra Deck monsters from using effects at all and having this at three makes Nekroz far more consistent, especially now you don't have to rely as much on all the search cards to get to your Unicore with a greater chance of this being in the opening hand. This is also big mostly since Dragma Nekroz has seen success in the OCG with 3 Unicore as well, so seeing the same over here might suggest we'll see a good amount of Dragma Nekroz as well once Rise of the Duelist drops.
Ritual Beast Ulti-Cannahawk
From Limited to Unlimited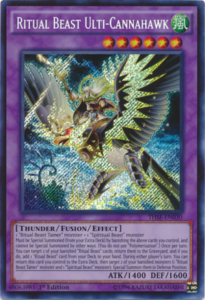 The last unlimit will probably have the least impact on the meta, but it makes Ritual Beasts more resilient. Ulti-Cannahawk is finally back from 1 to 3, which is especially great considering Cannahawk shouldn't of went to 1 to begin with. Cannahawk was an important piece for Ritual Beasts to search their key cards to help play on the opponent's turn, and it was massive to lose your 1 Cannahawk, which now isn't as big of a deal with it back at the unlimited status once again. Ritual Beasts are known for taking long turns, but it's honestly something we might be used to with all the combos we've seen over the years. Ritual Beast players can finally rejoice.
In Conclusion
It is nice for Konami to clean off the list with cards that don't need to be there anymore every once in a while, but even in this case I do think they could of done more. There are several banned and limited cards still there that easily don't need to be there anymore, but I guess they wanted to save that stuff for when we had physical play again. No cards were hit, which does sting considering how strong the Decks in this format are and how good Halqifibrax is, but everything is still too new and they don't want to hit the Decks too hard yet. It seems we are stuck in this format until September, and Dragma will likely join the party once Rise of the Duelist drops. It is a pretty weak list, but nice to see some clean up still.