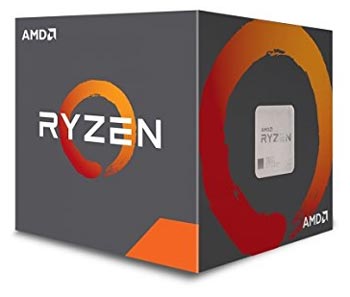 For the past several years, many PC enthusiasts have lamented, in general, that Intel's processors have only been advancing incrementally and that they lacked meaningful competition.  Throughout 2017, AMD released a new line of Ryzen processors which filled that void.  Now there is a two-sided sense of competition along with genuine reasons to consider both sides.
| | |
| --- | --- |
| Intel Core | AMD Ryzen |
| Higher clock speeds | More cores and threads |
| Only the "K" versions can be overclocked. | All are overclockable. |
| Has integrated graphics | No integrated graphics |
| Does not require a video card. | Must have a video card for it to work. |
| More affordable Mini ITX motherboards | Better price to performance ratio. |
| Wide selection of motherboards | Most compatible motherboards lack wifi. |
| Stock coolers are viewed as mediocre. | Stock coolers are viewed as decent. |
| Each year or two Intel releases a new generation of CPU which requires a different chipset | Ryzen's chipset will be supported with additional hardware releases until 2020. |
| Does not benefit from RAM faster than 2400 MHz typically. | Benefits from faster RAM (i.e. 3000 MHz) |
Ultimately, these are my recommendations as of late 2017:
Office/School/Business

– Pentium G4620 or  i3-8100

Budget Gaming

– Pentium G4620 or i3-8100

Budget Gaming with Light Video Editing

– Ryzen 3 1200 or i3-8100

Mid-Range Gaming

– Ryzen 5 1600 or i3-8350k

High-End Gaming

– i7-7700k or i7-8600k or i7-8700k

Recording Studio

– i5-7400 or i3-8100

Recording Studio with Light Video Editing

– Ryzen 3 1200

Semi-Pro 4K Video Editing

– Ryzen 5 1600

Professional 4K Video Editing

– Ryzen 7 1700 or i7-8700k
For Intel, their latest Coffee Lake (8th generation) CPU's should make just enough improvements to stay competitive against Ryzen.  At the low end, the i3-8100 puts pressure on the Ryzen 3 1200.  The new i3 has four cores with high clock speeds (instead of two), as well as integrated graphics.  At the mid-end, Ryzen 5 1600 is still the best value, although the i3-8350k may be an alternative for gamers.  At the high end, it becomes a split on which company you prefer and what your needs are.
Update (Dec 2018): It appears that Coffee Lake's i5's do surpass much of the Ryzen line, although motherboard pricing is an issue for the Intels.  i7-8700k, while more expensive, does decisively beat out the Ryzen 7 for content creation.  Coffee Lake has offered answers to the Ryzen line-up overall, though Ryzen still offers great performing CPU's for the price.