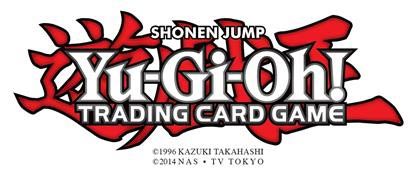 A NEW SEASON OF DUELING ACTION KICKS OFF THIS AUGUST FOR THE Yu-Gi-Oh! TRADING CARD GAME!
El Segundo, Calif. (July 26, 2019) – As Duelists in the Yu-Gi-Oh! TRADING CARD GAME (TCG) prepare for a new season of competition all across the globe, Konami Digital Entertainment, Inc. (KONAMI) is writing new chapters for every echelon of the game. Speed Duels, Structure Decks, and some of the most beloved cards of the past and the present all get a reboot, with five new releases set to revolutionize the Dueling world.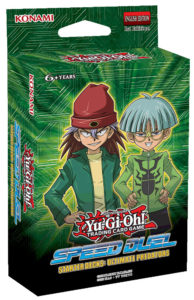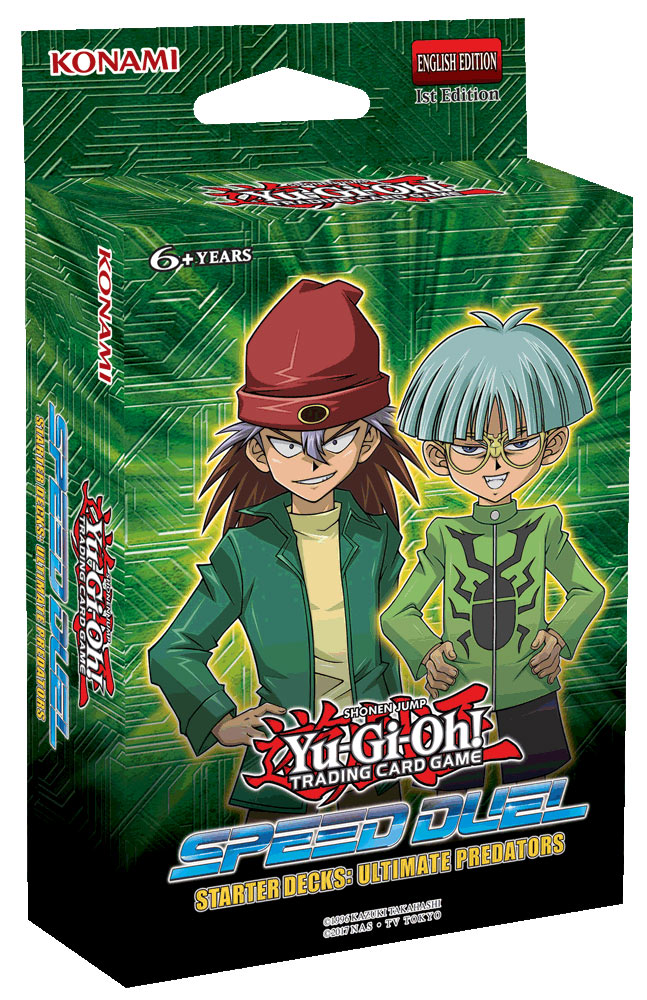 First up, new rivals make their Speed Dueling debut in Speed Duel Starter Decks: Ultimate Predators and the Speed Duel: Scars of Battle booster set! Rex Raptor, Weevil Underwood and Bandit Keith join the fray with Skill Cards and signature monsters, while established villains and heroes get new tricks and tactics. Then you'll leap forward in time to the Yu-Gi-Oh! VRAINS era as Varis' Rokket strategy becomes whole. Structure Deck: Rokket Revolt brings Rokkets, Topologics, and Borreloads to new heights in one ready-to-play package. Fan-favorite themes are re-envisioned in the all-foil Fists of the Gadgets booster set, and the best cards from 2018's greatest releases return in all-different rarities in the long awaited 2019 Gold Sarcophagus Tin – a fresh take on the annual tradition of Collector's Tins! It all adds up to one incredible month of action for Duelists, and there's truly something for everyone.
Get revved up for a villainous new start! Speed Duel Starter Decks: Ultimate Predators heralds the arrival of two of the most notorious baddies from the original Yu-Gi-Oh! series, with a pair of ready-to-Speed-Duel Decks introducing Rex Raptor and Weevil Underwood. Each character comes with 30 cards and 2 brand-new Skill Cards each: Rex's Dinosaur Kingdom Skill unleashes a powerful Field Spell to trample your opponent while Nightmare Sonic Blast! unlocks the full power of Rex's signature Serpent Night Dragon. Weevil's Hidden Parasite Skill can catch unsuspecting rivals off guard, while Hyper Metamorphosis speeds you toward the Summon of Perfectly Ultimate Great Moth.
Speed Duel Starter Decks: Ultimate Predators also includes 2 Ultra Rare variant cards to bolster the two new strategies. All 66 cards bear the unique Speed Dueling marker, the special symbol indicating that a card is legal for Speed Duel competition, and everything but the Skill Cards are legal for play in regular Yu-Gi-Oh! TRADING CARD GAME tournaments and events.
Speed Duel Starter Decks: Ultimate Predators is unleashed August 2 with 66 cards: 1 30-card Rex Raptor Deck, 1 30-card Weevil Underwood Deck, 4 Skill Cards and 2 Ultra Rare variant cards. MSRP: $9.99 Per Box.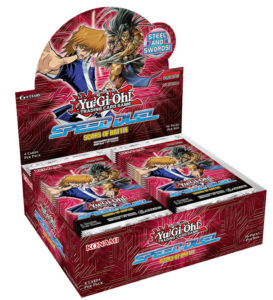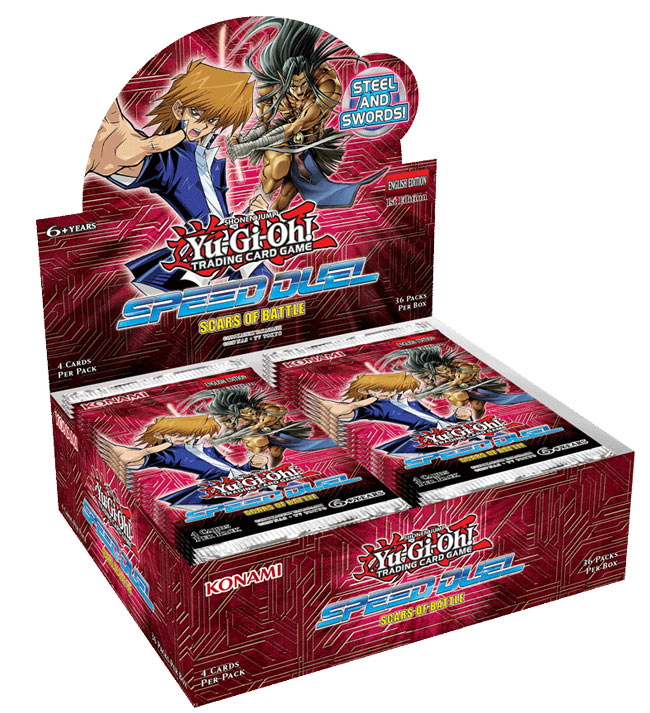 Accompanying the release of Speed Duel Starter Decks: Ultimate Predators is the latest Speed Dueling booster set Speed Duel: Scars of Battle. Bonz and Rex Raptor return with all-new Skill Cards: Servants of the Fallen King loads the Graveyard with heaps of monsters for Bonz's Zombie strategy, so you can bring them back with cards like Book of Life. Rex's Double Evolution Pill Skill Card helps you Summon massive monsters straight to the field offering a direct path to victory.
Finally, Bandit Keith joins the brawl with signature monsters galore! Blast your opponent's forces off the field with Barrel Dragon or steal sneaky wins with Metalmorph. Looking to power up your Speed Duel Deck? Night Beam eliminates face-down Spells and Traps, stopping your opponent from chaining them. Dark Red Enchanter gains arcane powers as you play more Spell Cards, and Mask of Darkness reuses your most powerful Trap Cards from the Graveyard. Whoever your hero is, there are new cards for your strategy in Speed Duel: Scars of Battle.
Speed Duel: Scars of Battle arrives August 2 with 45 new-to-Speed Duel cards and 5 brand-new Skill Cards: 34 Commons, 8 Super Rares and 8 Ultra Rares. MSRP: $1.49 Per Pack.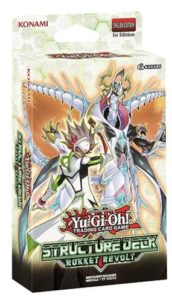 Varis fans unite! Structure Deck: Rokket Revolt brings new monsters and maneuvers to the "Rokket" strategy, combining the Dragon-Type "Borrel" forces with Cyberse "Topologic" monsters for an incredible Extra Deck experience! The "Rokket" monsters are low-Level DARK Dragons, and when you target them with the effect of a Link Monster, they can replace themselves to demolish opposing cards. That means big combos with cards like Borreload Dragon, and you'll find your own copy in Structure Deck: Rokket Revolt.
Borrel fans collected Borreload Savage Dragon from Savage Strike and Borreload eXcharge Dragon from Rising Rampage, and you'll find a new "Borreload" Fusion Monster in the Structure Deck. Link Summons are the heart and soul of the strategy, but a new Spell that destroys Fusion Materials instead of just sending them to the Graveyard brings Fusion Summoning to Rokket Revolt as well, perfect for creating big plays for the new Fusion Monster. "Topologic" monsters get an upgrade too, with a new monster that can banish everything from the field and then return moments later.
Lock and load with Structure Deck: Rokket Revolt on August 16, packing a Beginner's Guide, a Double-sided Deluxe Game Mat/Dueling Guide and 46 cards total: 39 Commons, 4 Super Rares and 3 Ultra Rares. MSRP: $9.99 per Box.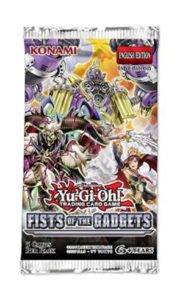 One week later, two of the biggest fan-favorites of all time explode into modern Dueling in Fists of the Gadgets. A 60-card all-foil booster set, Fists of the Gadgets marks the return of The Brotherhood of the Fire Fist. New Link Monsters let you skip the costs of your "Fire Fist" abilities or take control of opposing monsters, while a new Ritual Monster searches your Fire Formations and controls the Duel by negating monster effects.
Then it's time for some clockwork craziness, as the "Gadget" monsters unite with new Machine-type soldiers to literally become the fists of a mechanical uprising! Grind your gears hard enough and you'll generate power to boost your monsters, destroy your opponent's cards and even wipe the field with an aggressive Mirror Force type effect. And watch out for 10 new cards for Cyberse Decks, 4 new versions of Summoned Skull – 1 Fusion, 1 Synchro, 1 Xyz and 1 Ritual Monster – and 2 new "Code Talker" monsters.
Fists of the Gadgets hits home on August 23 with 60 cards: 40 Super Rares and 20 Secret Rares. MSRP: $3.99 Per 5-card Pack.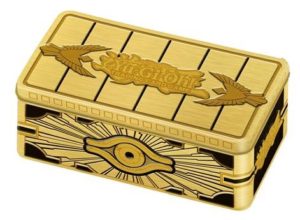 And then it's the one you've been waiting for: the 2019 Gold Sarcophagus Tin re-envisions the Collector's Tin format with an iconic new vessel to protect your cards, styled after the classic Gold Sarcophagus Spell Card! Inside each one you'll find 5 Prismatic Secret Rare variant cards exclusive to the Tin: 2 of a possible 6 cards with illustrations by the creator of Yu-Gi-Oh! Kazuki Takahashi; 2 more from a set of 5 cards from the original Yu-Gi-Oh! animated series, including the 3 Egyptian God Cards; and 1 of 3 new World Premiere cards designed to be splashed into any Deck. Each of the new cards will help you fend off some of the fastest strategies your opponent may bring to the table: one stops effects that load your opponent's Graveyard, the next one punishes them if they Summoned too many monsters, and the final card of the three helps you survive and strike back if your opponent built a massive field on their first turn.
But that's not all. Each 2019 Gold Sarcophagus Tin comes with 3 Mega-Packs of a special booster set featuring some of the best cards from Flames of Destruction, Dark Saviors, Cybernetic Horizon and Soul Fusion, including incredibly powerful picks like Knightmare Mermaid, Danger!? Tsuchinoko? and Called by the Grave.  Every foil card in the set appears in a different rarity from its original 2018 release, giving you a chance to collect top tournament cards in surprising new foil treatments.
Lift the lid on the 2019 Gold Sarcophagus Tin on August 30. Every Tin contains 5 Prismatic Secret Rare variant cards plus 3 Mega-Packs with 16 cards each: 12 Commons,1 Rare, 1 Super Rare, 1 Ultra Rare, and 1 Prismatic Secret Rare. MSRP: $19.99 Per Tin.