Konami revealed today its upcoming slate of releases for the Yu-Gi-Oh! TRADING CARD GAME during October 2022, which include the Speed Duel GX: Midterm Paradox Mini Box (10/7) and Darkwing Blast booster set (10/21).
Also, starting October 26, Duelists who participate in any upcoming sanctioned tournaments at a KONAMI Official Tournament Store can score an OTS Tournament Pack 20!
---
IT'S BACK TO SCHOOL AND BACK TO BLACKWINGS IN THE Yu-Gi-Oh! TRADING CARD GAME!
Hawthorne, Calif. (October 4, 2022) – Fan-favorites from the early days of Dueling are taking center stage this October in the Yu-Gi-Oh! TRADING CARD GAME (TCG)! Konami Digital Entertainment, Inc. (KONAMI) is kickin' it old school with two new releases, both featuring cards and characters from Yu-Gi-Oh! GX and Yu-Gi-Oh 5D's. First up, the Speed Duel GX: Midterm Paradox Mini Box adds to the adventure and strengthens your strategies, building on April's Speed Duel GX: Duel Academy Box! Then the Darkwing Blast booster set marks the return of new tournament strategies like Branded, Tearlaments and Spright, while delving into Dueling history to bring back Decks like Archfiend, Dracoslayers, Ninjas and the star of the show, Crow Hogan's Blackwings!
Duelists can earn boosters of the new OTS Tournament Pack 20 by competing in tournaments and find flashy foil upgrades of some of the best cards in Dueling today! For Duel fans on the move, KONAMI's offering lots of events and attractions to showcase the Yu-Gi-Oh! brand at one of the year's biggest pop culture and collectible conventions, New York Comic Con. And to finish off the month, hundreds of Duelists will travel to Minneapolis to Duel at the season's first Yu-Gi-Oh! Championship Series (YCS) tournament in the United States! It's truly going to be a month to remember in the Yu-Gi-Oh! TCG.
Arriving on October 7, the Speed Duel GX: Midterm Paradox Mini Box brings a new cast of characters to Speed Duels, as well as new cards for heroes and rivals who made their debut in the Speed Duel GX: Duel Academy Box. Play as the Paradox Brothers and unleash the power of Gate Guardian! Assemble an arsenal of Vehicroid Fusion Monsters with Syrus Truesdale. Or take it to the outback with Chumley Huffington, alongside a cadre of cuddly Koala and Kangaroo monsters!  You'll even find powerful new Skill Cards for Jaden Yuki and Bastion Misawa, ramping them up from their appearances in the Speed Duel GX: Duel Academy Box.
Every Speed Duel GX: Midterm Paradox Mini Box includes 12 new Skill Cards and 100 Common Cards, with ready-to-play Decks for Jaden, Bastion, Syrus, and the Paradox Brothers! Crack the box and shuffle up for an instant 4-player mini-tournament. Or use the cards to strengthen your existing Speed Duel strategies and discover entirely new Decks to build and play! Powerful cards like Frost and Flame Dragon and Shield Crush appear in Speed Duel for the first time, boosting your best Decks, while Des Wombat makes its first appearance, keeping cards like Nightmare Wheel and Zoma the Spirit in check. Each Mini Box also includes 4 of 12 collectible Secret Rares, a handpicked highlight reel of GX highlights and fan-favorites from Time Wizard formats!
Make your return to Duel Academy on October 7th, with the Speed Duel GX: Midterm Paradox Mini Box! Each Mini Box contains a total of 100 Common Cards, 12 Skill Cards, and 4 of 12 Secret Rares, plus a 2-Player Jaden Yuki & Syrus Truesdale Game Mat. MSRP: $15.99 per 124-card Mini Box.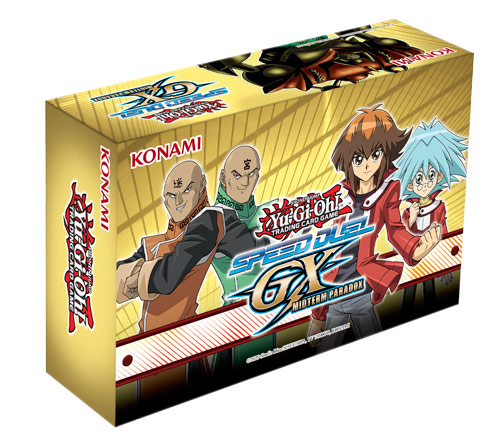 Speed Duel GX: Midterm Paradox
Blackwings are back, alright! One of the defining Championship Decks of the 5D's era blasts back into competition on October 21, leading the charge in the Darkwing Blast booster set. New Blackwing monsters Special Summon Token Cards, as well as themselves and each other, all to fuel your Synchro Summons! A new Blackwing monster lets you Special Summon Black-Winged Dragon in a snap, by sending what would be its matching Synchro Materials from your Deck to your Graveyard. Another works like Effect Veiler to negate your opponent's monster effects. New Spell and Trap Cards revive your monsters from the Graveyard and recall them if they're banished; Special Summon Synchros using fallen monsters as if they were materials; and negate opposing Spells and Traps, sometimes more than once! It all adds up to a brand-new retrain of Crow's original Black-Winged Dragon. The new Synchro's a massive 3200 ATK Dragon: it deals 700 damage each time your opponent resolves a monster effect, it gathers Black Feather Counters, and it can use them to destroy every card on the field!
What else will you discover in Darkwing Blast? August's Power of the Elements set introduced two new themes that dominated tournaments – the electrifying Sprights and the fast-fusing Tearlaments – and both Decks get awesome new cards! Spright Duelists will find a new Link 2 that can load your Graveyard with Level 2 monsters, punishing Special Summons by removing monsters from the field. Tearlaments get an amazing new Fusion Monster that uses Tearlaments Kitkallos as Fusion Material: it shields your other Aqua monsters from destruction by battle, negates your opponent's Special Summon effects, and sends a Tearlaments card from your hand or field to the Graveyard to trigger more effects. Oh, and if it's sent to the Graveyard by a card effect? You can Special Summon it right back!
A new, powerful Spellcaster monster is coming, too. You can Special Summon it from your hand when you have Fallen of Albaz on the field or in your Graveyard. From there, it's a Level 4 Tuner packing an effect that helps you make Fusion Summons. Even better? It returns from your Graveyard to your hand in the End Phase, when one of your Fusion Monsters was sent to your Graveyard. That means it can fuel your plays again and again! A new Cyberse Xyz Monster clocks in at Rank 9: upon Summon it lets you send a monster from your Extra Deck to the Graveyard, potentially triggering powerful effects like those of Elder Entity N'tss or Garura, Wings of Resonant Life. This beguiling beast can swap its Xyz Materials for monsters in your Graveyard, too, getting you twice the use out of whatever monster you send to the Graveyard, and when it hits the Graveyard, you'll negate one face-up card on the field of your choice. And we've got breaking news! This just in: a Link 2 monster's reporting live from the Underworld, protecting your monsters and Special Summoning Fiends from your Graveyard!
On top of all those highlights, you'll find new cards for each of the three debut themes from August's Tactical Masters, as Vaylantz, Labrynth, and Runicks all get strong new support. Even former contenders like Dracoslayers, Igknights, Naturia, Majespecter, Fur Hire, and Prediction Princesses get new cards, and a second chance at tournament greatness!
Darkwing Blast soars into stores on October 21. The complete set includes 50 Common cards, 26 Super Rares, 14 Ultra Rares, and 10 Secret Rares. MSRP: $4.49 per 9-card pack.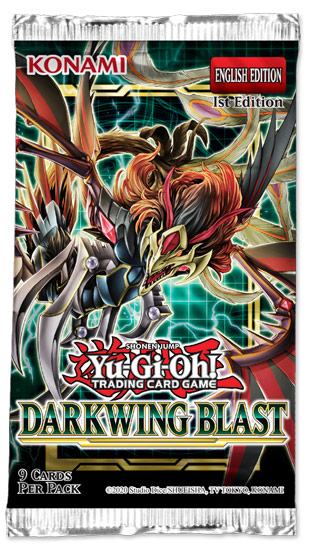 Also arriving in October, a brand-new tournament prize pack! OTS Tournament Pack 20 is exclusive to KONAMI Official Tournament Stores, and you'll only get them by participating in sanctioned tournaments. Tournament Pack boosters always reprint powerful tournament staples to help you build your Decks, as well as foil upgrades of popular cards. And speaking of, OTS Tournament Pack 20 features three brand-new Ultimate Rares, including the classic Ghost Reaper & Winter Cherries! The ghost girl classics never looked better, dominating mirror matches and rewarding you for adding cards to your Extra Deck. The more you Duel at your local OTS, the more Tournament Packs you'll earn!
You can score boosters of OTS Tournament Pack 20 at KONAMI Official Tournament Stores near you, starting October 26. The full set includes 27 cards: 14 Commons, 10 Super Rares, and 3 Ultimate Rares.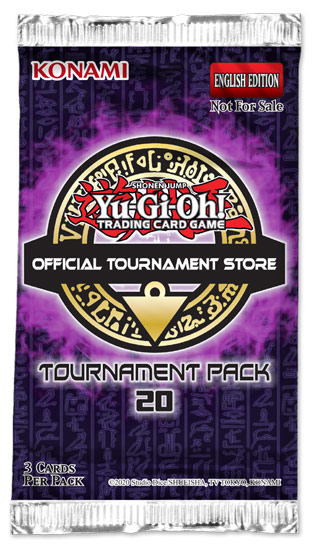 Summer is over, but there's still one stop left on the 2022 convention calendar! Duelists from all walks of life are invited to the Javits Center for New York Comic Con (NYCC), from October 6 to October 9! The KONAMI booth will offer learn-to-play demos of the Yu-Gi-Oh! TCG Speed Duel for aspiring Duelists, as well as a Duel the Master challenge for experienced competitors who bring their own Deck. Create a custom Token Card with your photo at the green screen Token Booth, purchase an Exclusive Game Mat, only available at NYCC, and try KONAMI's Yu-Gi-Oh! digital games, including the recently launched mobile title, Yu-Gi-Oh! CROSS DUEL where you can discover a brand-new way to play Yu-Gi-Oh! with innovative 4-player battles.
Then on October 22-23, it's time to Duel in Minneapolis! The Yu-Gi-Oh! Championship Series is bringing high-competition Dueling to the Twin Cities, and the glory of a YCS title is on the line! Attendees will find lots of popular Public Events too, like Win-A-Mat and Speed Duel tournaments, Regional Qualifiers, MASTER DUEL and ATTACK OF THE GIANT CARD!! Rake in exclusive prizes, win invites to the 2023 World Championship Qualifier, and enjoy one huge weekend of Dueling action with your friends and fellow Duel fans. The Yu-Gi-Oh! Championship Series is the heart and soul of competitive play in the Yu-Gi-Oh! TCG, and for the United States, YCS Minneapolis is the first big Championship of the season!
Perfect your Deck, hone your skills, and get ready for an incredible tournament! Find more details about YCS Minneapolis on the official event page, at https://www.yugioh-card.com/en/events-item/ycs-minneapolis-2022.