Konami Digital Entertainment, Inc. is excited to share information about three upcoming product releases for the Yu-Gi-Oh! TRADING CARD GAME during April and early May 2022, which include: Speed Duel GX: Duel Academy Box (4/1), Structure Deck: Albaz Strike (4/15), and Ghosts From the Past: The 2nd Haunting (5/6).
---
Press Release
DUEL FROM THE ACADEMY TO THE BEYOND
IN THE Yu-Gi-Oh! TRADING CARD GAME!
Hawthorne, Calif. (March 11, 2022) – Spring is in full swing, and alongside it, new chapters begin and fan favorites return to the Yu-Gi-Oh! TRADING CARD GAME (TCG)! Konami Digital Entertainment, Inc. (KONAMI) begins the next generation of Speed Duel with the Speed Duel GX: Duel Academy Box, chronicles untold stories with Structure Deck: Albaz Strike, and calls even more Ghost Rares from the beyond with Ghosts From the Past: The 2nd Haunting.
The Speed Duel GX: Duel Academy Box marks Speed Duel's venture from the original series to Yu-Gi-Oh! GX, introducing a whole new class of characters with their Skill Cards and signature themes. Designed to allow up to 8 players to enjoy their own tournament experience, you can relive your favorite Duels from the GX-era or give them a new school twist with crossovers only you could put to the test. A special prize pack is also included featuring 8 of 24 Secret Rare variant cards for you to distribute as prizing, give to each of the participants, or collect for yourself!
Become the HERO of your own story as Jaden Yuki or take control of Destiny as Aster Phoenix, unleash ancient mechanical mayhem as Dr. Vellian Crowler or enter the Cyber age with Zane Truesdale, and even uncover hidden gems with other popular characters like Jesse Anderson, Alexis Rhodes, Yubel, and many more! With tons of new Skill Cards from Yu-Gi-Oh! GX, you won't need to look too hard to Get Your Game On!
Class begins with the Speed Duel GX: Duel Academy Box on April 1! Each box contains 4 2-Player Jaden Yuki & Aster Phoenix Deluxe Game Mats as well as 228 total cards: 200 Commons, 20 Skill Cards, and 8 Secret Rares from a set of 24. MSRP: $29.99 per box.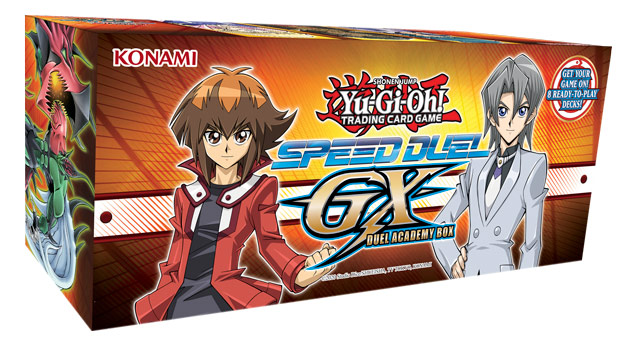 The lore behind Fallen of Albaz unfolds in Structure Deck: Albaz Strike. Playing a huge role in the story for many themes, Fallen of Albaz unites them with its unique take on Fusion Summoning and its signature Dragon forms. Structure Deck: Albaz Strike bolsters this specific strategy with cards geared to take advantage of his effect, alongside brand-new Fusion Monsters to add even more options to your arsenal.
Unleash a fearsome new Dragon Fusion Monster that has a built-in effect to help you Fusion Summon an additional Fusion Monster by shuffling the necessary materials from your field, Graveyard, and/or your face-up banished cards! Use its effect to call upon the power of a new Wyrm Fusion Monster that can banish a monster on the field by sending 1 Fusion Monster that lists Fallen of Albaz as a material from the Extra Deck. This is not only a powerful way to disrupt an opponent, but also triggers the effects of various other Fusion Monsters like Titaniklad the Ash Dragon. A powerhouse that gets rid of all the opponent's monsters on the field.
You will also find 5 special Tokens included that you can use for whatever you need, each referencing a specific piece of the Fallen of Albaz saga with brand-new artwork!
Dive into the epic tale of Structure Deck: Albaz Strike on April 15! Each Structure Deck comes with 1 Double-sided Deluxe Game Mat/Dueling Guide and 51 cards total: 38 Commons, 3 Super Rares, 5 Ultra Rares and 5 Token Cards. MSRP: $10.99 per box.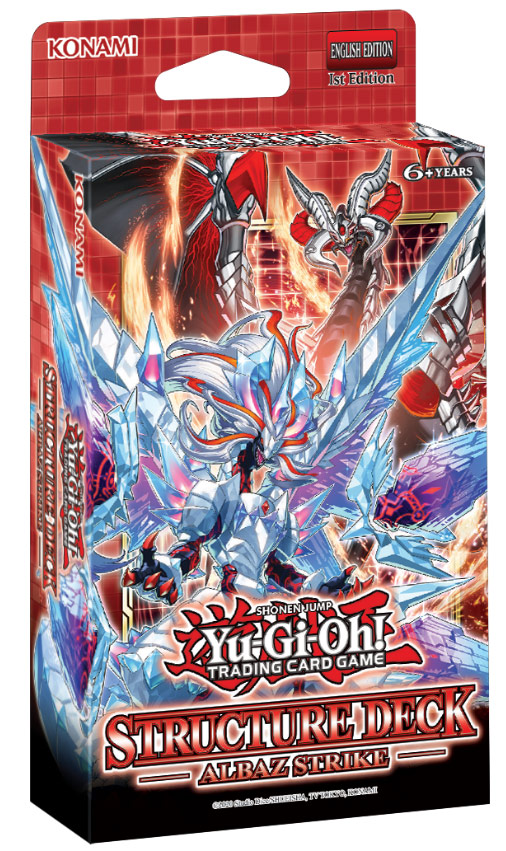 Iconic cards make a spooky comeback in Ghosts From the Past: The 2nd Haunting. This all-foil booster set features an unfathomable mix of tournament mainstays, foil upgrades of fan favorites, as well as brand-new cards to discover and collect. With a chance to resurrect 1 of 9 incredibly popular cards from the past as a Ghost Rare in every box, brace yourself for an unearthly foil experience!
Whether you're a tournament-level player or a casual fan, you can find everything from Dark Armed Dragon and Cyber Dragon to Dark Magician Girl and Blue-Eyes White Dragon as stunning Ghost Rares. Compared to last year's Ghosts From the Past, Ghost Rares are twice as easy to pull as last year! But that's not at all, you will also find an extra pack compared to the original release, so every box will include a total of 4 all-foil packs.
Go further beyond ace monsters from the various Yu-Gi-Oh! anime series with brand-new cards with the Special Summoning fury of Crystal Beast Rainbow Dragon, the draw power of Decode Talker Heatsoul, and the insurmountable Borrelend Dragon!
Each Ghosts From the Past: The 2nd Haunting contains 4 packs with 5 cards each and hits shelves May 6. That means each box will contain 20 Ultra Rares (but a Ghost Rare will replace an Ultra Rare when one appears). MSRP: $19.99 per set.