Most Valuable Yugioh Cards of 2017 Countdown
The official Top #25 countdown will begin on tomorrow, as we're going to close out the last 25 days of 2017 with the Top 25 cards.  We're kicking things off early with an honorable mention.
#Honorable Mention
Number C39: Utopia Ray – $270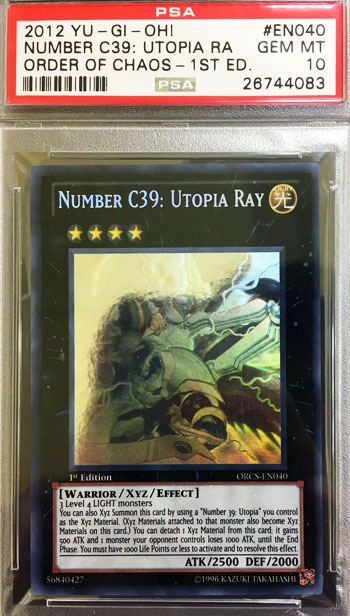 This card is only 5 years old, but still came in 26th place sales-price-wise on eBay.  This is a ghost rare card from Order of Chaos.   In September 2017, this Gem Mint card sold for $270.  If you have one, you might want to get it graded.  I personally think rares from 15 years ago are more collectable, but the market is what the market is.  
Some quick notes on our rankings:  These are all cards you could have reasonably collected. These are all cards that were available in the United States.  These are cards that appeared in Booster Boxes, Booster packs, Leagues, and/or Starter Sets. Yugioh TCG fans/players could have plausibly obtained these cards through auctions, trades and/or blind luck pulls.  There are no "prize cards" or "error cards" on our list.  All values are based on actual sales of YGO Cards on eBay during the 3rd/4th quarter of 2017. Our Prices are mostly based on Professionally-Graded, Gem Mint cards, which are independently certified on their condition. Here's an article on Graded Pokemon Cards if you don't know what Graded Cards are.  
| | |
| --- | --- |
|   |  Coming Soon |