Most Valuable Pokemon Cards Countdown
& Haymaker History
We're closing out the last 25 days of 2017 with a Countdown of the Top 25 Most Valuable Pokemon Cards. (Based on actual "Sold" prices on eBay this year) 
#6 – Hitmonchan, Base Set 
1st Edition – $6,351


Another beautiful fighting card from the original Base Set.  In November 2017, this copy of Machamp sold for $6350.  Another PSA 10 Hitmonchan sold for $5850 on the very same day. There are only 42 PSA 10 Hitmonchan in circulation, while there are over 100 PSA 10 Charizard.  Is this due to the fact that Charizard is the more collectible card?  Or is this due to the fact that Hitmonchan was actually a great card while playing the TCG and it got literally beat up while laying down its own jabs and punches?  Charizard was actually a pretty sucky card in the TCG and it sat in binders staying all pretty and shiny.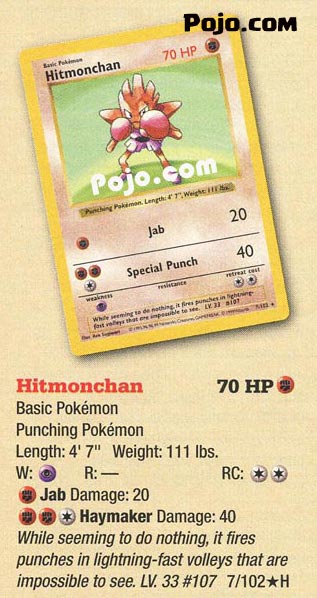 Hitmonchan/Pokemon Trivia for you:  Hitmonchan was part of the famous "Haymaker Deck" that dominated tournaments in 1999 & 2000.  It featured fast & furious Basic Pokemon like: Hitmonchan, Electabuzz, Mewtwo and Scyther.  An old friend ours, Brian Brokaw (who started the Pokegym many moons ago), actually coined that Haymaker Deck Name in 1999.  He got the name from an article that appeared in an old Wizards of the Coast magazine called "Top Deck" magazine.  In the magazine, they labeled the "Special Punch" attack as "Haymaker" in the text below the card.  Brian caught this printing error and called his deck the "Haymaker Deck".  I assume that WOTC had originally intended to call the attack "Haymaker" and changed it before printing the cards.  I made a scan for you from my copy of the magazine so you could see it for yourself. So now you know how the famous Haymaker Deck got its name.  
Some quick notes on our rankings:  These are all cards you could have reasonably collected in the United States. These are cards that appeared in Booster Boxes, Booster packs, Leagues, and/or Starter Sets. Pokémon TCG fans/players could have plausibly obtained these cards through auctions, trades and/or blind luck pulls. There are no cards "prize cards" in our list.  All values are based on actual sales of Pokemon Cards on eBay in 2017. Most of these cards are Professionally-Graded, Gem Mint cards, which are independently certified on their condition. Here's an article on Graded Pokemon Cards if you don't know what Graded Cards are.