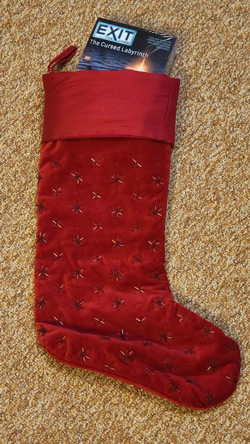 About this time of year, I am on the lookout for stocking stuffers for my family.  Every holiday season, my wife hangs stockings by the fireplace. And I like to fill the stockings with fun items for my grown-up kids and their spouses.  Our family loves board games, card games, and role playing games.  And those are the kind of items that I like to toss into the stockings.  
So, I thought I would share some of my ideas of games and knick-knacks you could throw into stockings if you have a gaming family.
I hate when folks recommend stocking stuffers that won't actually fit into a stocking. Stockings are typically 19 inches long and have an 8 inch wide opening at the top.  Everything I am recommending today should fit into an average sized stocking.  
1. Cool Dice
People that play role playing games will usually need a full set of dice.  For example, Dungeons and Dragons dice sets are typically made up of seven dice. There is a 20-side die (D20), a 12-sided die (D12), two 10-sided die (D10), an 8-sided die (D8), a six-sided die (D6) and a 4-sided die (D4).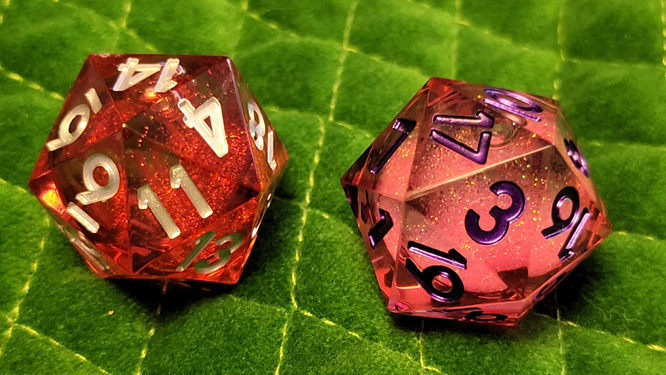 I have recently discovered "Elixir Liquid Core Dice" from Fan Roll Dice.  My wife loves these dice.  She calls them the "Snow Globe Dice".  They literally have liquid centers with glitter inside.  Elixir dice are infused with glittery liquid cores that swirl when rolled. The glitter inside gently settles down after the dice have been rolled, just like the inside of a snow globe.  I think a fancy dice set is a fantastic stocking stuffer for any gamer.  
---
2. Exit: The Game
EXIT: The Game is a series of Escape Room Games for playing at home. Players solve riddles and puzzles and crack codes in order to escape from an imaginary room or environment.  Each time you solve a riddle or puzzle, you will be one step closer to escaping and winning.  Exit Games typically have about 8-10 unique puzzles to solve in one box.  And you can enjoy these with a small group of people.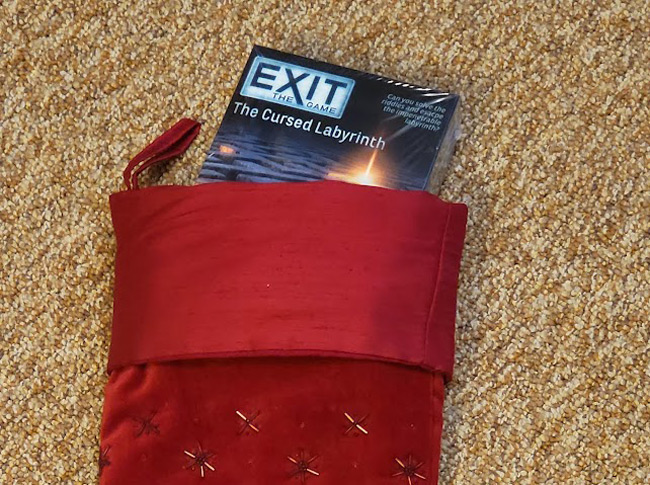 Each game has its own unique setting. Everything you need to "escape" is usually included in the game box. And each game will take about 1-2 hours to solve.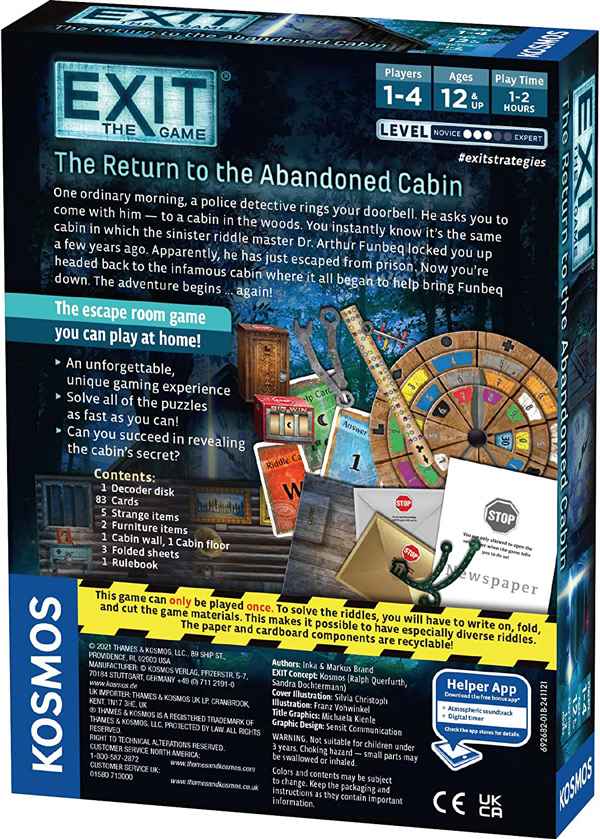 There are over 30 Exit Games to choose from.  I would recommend the newest releases for this years stockings:
---
3. Fluxx Games 
There are dozens of themed versions of Fluxx available.  Fluxx games are fast paced, action filled 2 card games for 2-6 players. Fluxx is simple and fun with families, friends, kids and adults. Created for adults, teens and children ages 8 and up.  Everything you need to play is included in one small box that easily fits inside a stocking.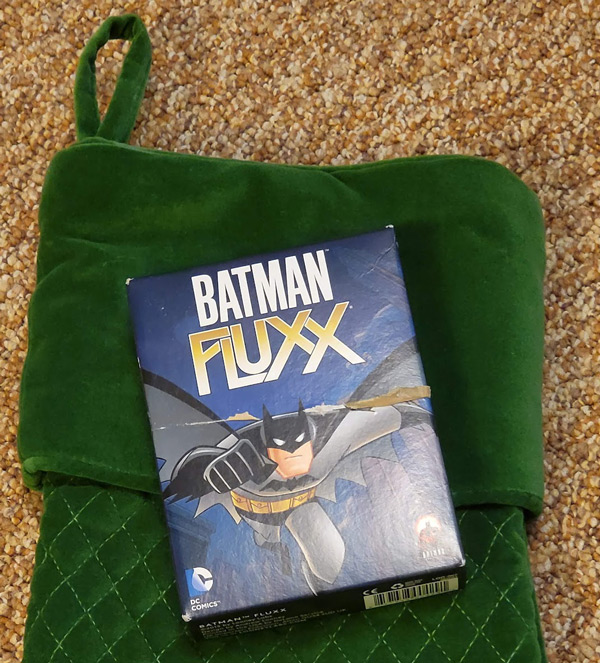 Fluxx games begin with one basic rule: draw one card, play one card. You start with a hand of three cards, add the card you drew to your hand, and then choose one card to play, following the directions written on your chosen card. As cards are drawn and played from the deck, the rules of the game change from how many cards are drawn, played or even how many cards you can hold at the end of your turn.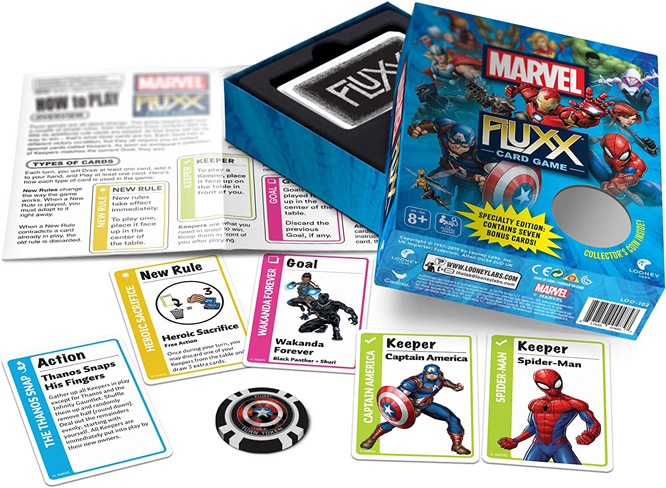 I love that Fluxx games are crazy easy to teach, and that everyone usually gets a good belly laugh along the way.  Fluxx games only take 5 to 30 minutes to play. Here are a just a few of the Fluxx games you can find on Amazon.com:
---
4. Mountain Goats Board Game
Mountain Goats is a fun little Board Game for 2 to 4 Players, and it only takes 20 minutes to play.  The small little box actually contains 24 mountain goat meeples, and 4 full sized dice!  And the game is pretty darn fun.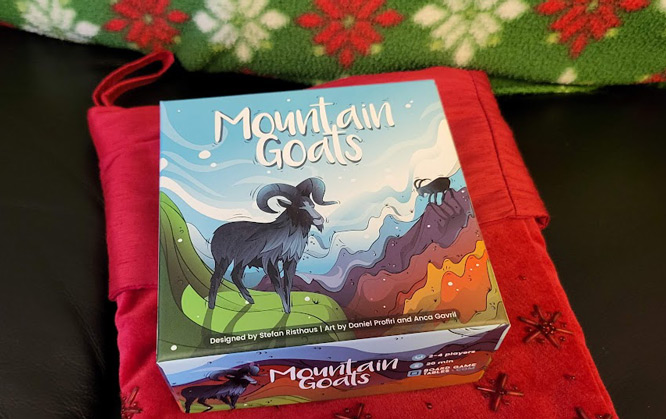 Mountain Goats is a basically a board game version of "King of the Mountain".  I loved playing King of the Mountain on large snow banks in Chicago growing up as a kid.  😉
Here, you work to move your goats to the top of 6 different mountains where the goats can score points for as long as they stay up there. You can share spaces with other goats on the way up, but there is only room for one goat at the top of each mountain. If someone else's goat moves to the mountain top, they will kick you off and you'll have to start your trek over.  It's a simple little game, with a fun and deceptive strategy.  Set up is easy, and game play is quick.  This is a good travel game as well.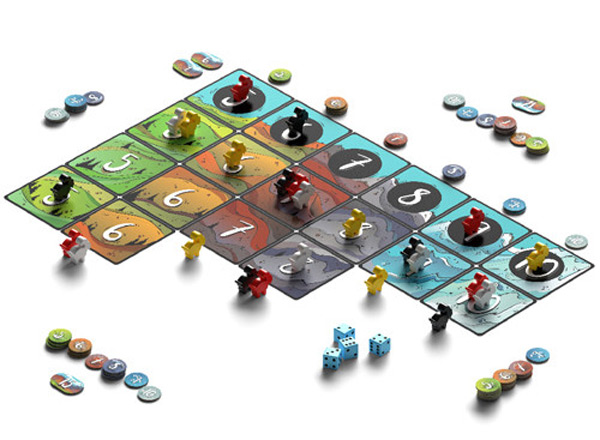 This game costs a little more because of the wooden goat meeples, but still retails for under $25 from Amazon.com.  
---
5. Portable Dice Towers
I am a huge fan of Dice Towers.  Dice Towers keep dice from flying around the table top and knocking around your game pieces.  You can buy premade dice towers, or buy model kits to assemble them yourself.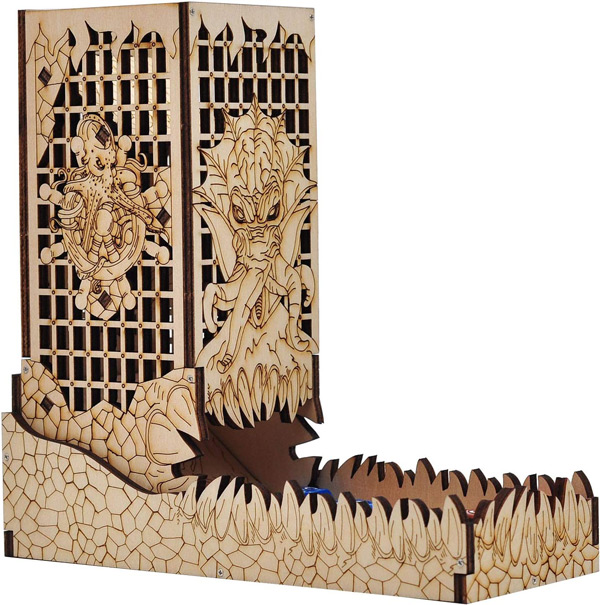 This Cthulhu Portable Dice Tower is an easy-to-assemble model kit, that converts into a folding dice tower after you build it. The Package Dimensions are 7.56″ x 3.27″ x 1.69″ which should easily fit in a typical stocking.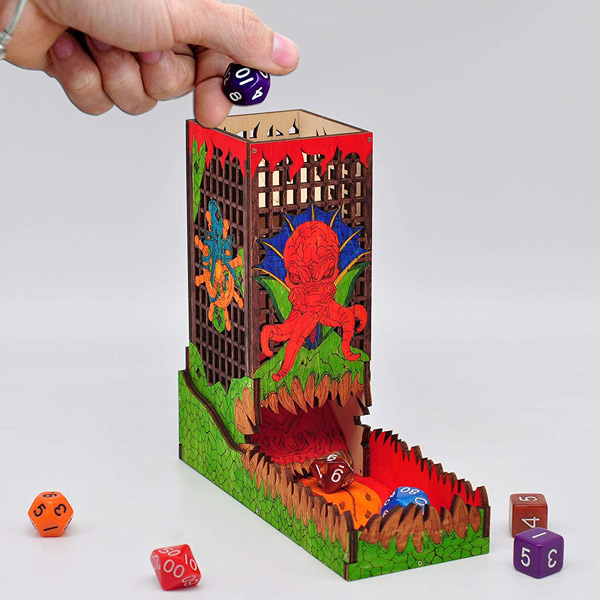 This dice tower retails for under $20 at Amazon.com.  And you can paint it and make it your own! 
---
6. Long Shot – The Dice Game
Long Shot – The Dice Game is one of our most-played games of 2022!  It is a fantastic game for 2 to 8 players, and easy to learn and teach.  This game falls into the Roll & Write category, where you roll dice and write something on your individual player boards.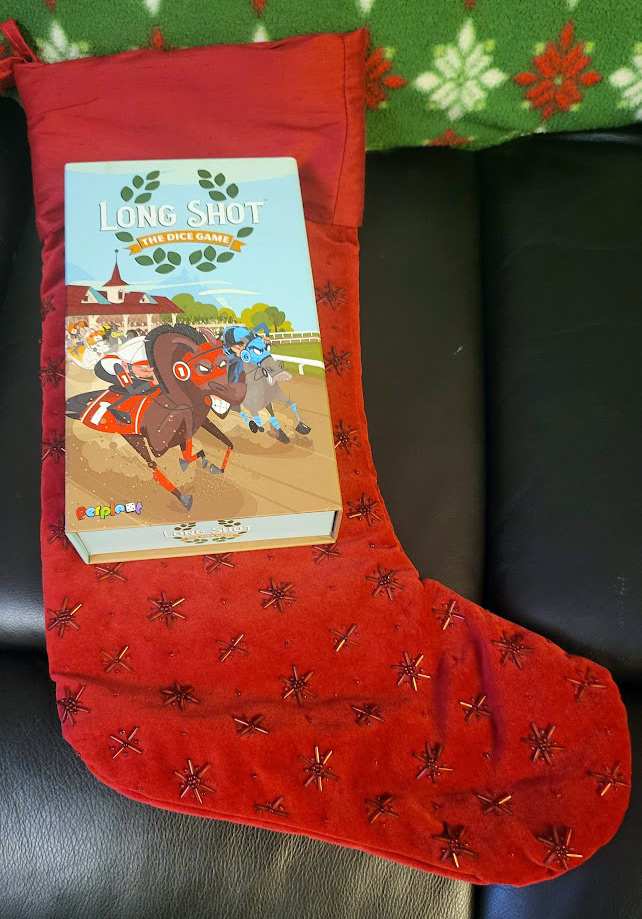 In Long Shot: The Dice Game, you will strategize and push your luck as the action unfolds in a tense race of eight horses. During the game you buy horses, place bets, influence race movement, and utilize special abilities.  The roll of the dice determines which horses move and the options available to everyone each turn.  There aren't many games you can play with up to 8 people, and this one is awesome.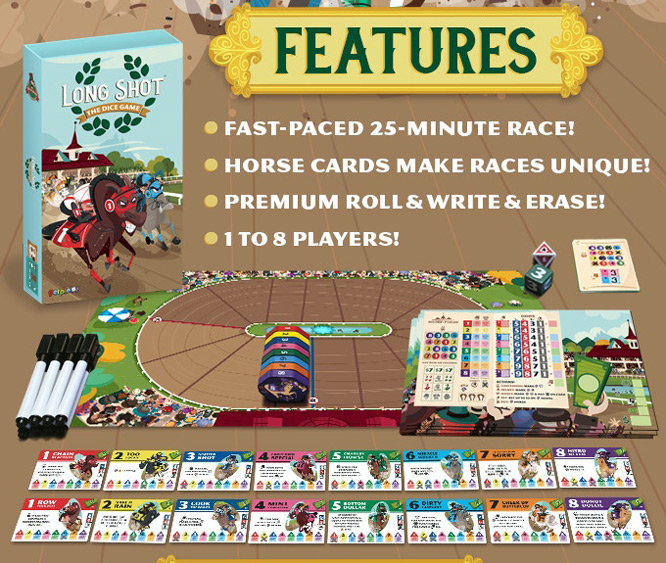 This game is not currently available on Amazon.com, but you can buy it directly from Perplext (the manufacturer).  This game is just under $30, but you get a lot of game inside the box!
---
7. Trails – A National Parks Game
Trails is a smaller spinoff of the extremely popular Parks Board Game.  Parks will not fit into a Stocking, but this fun little spinoff game will!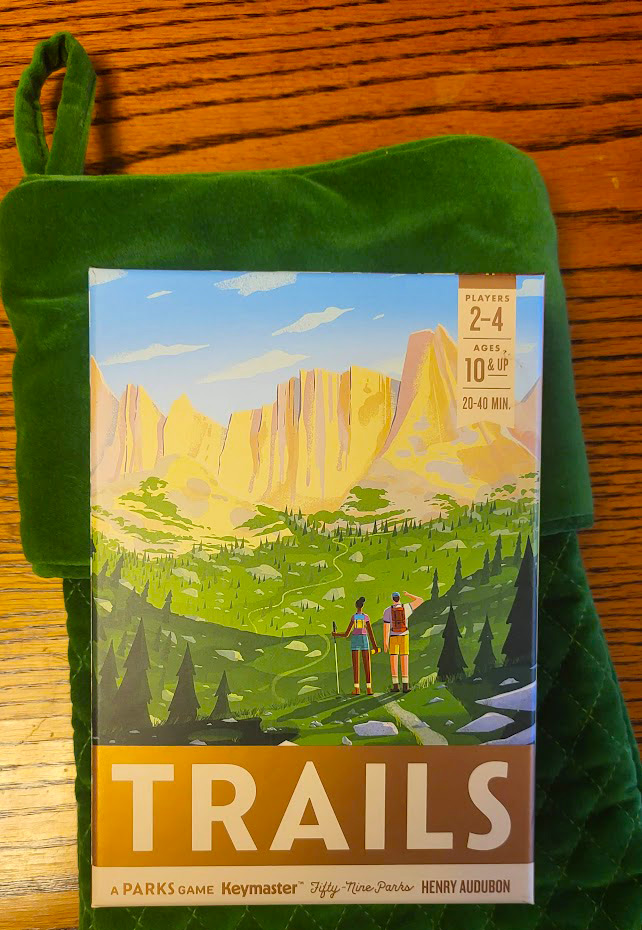 "Take a hike in TRAILS, exploring iconic sites and national parks across the U.S., gathering resources, observing wildlife, and earning wilderness badges. In TRAILS, players hike back and forth along the trail, collecting rocks, acorns and leaves; taking pictures; and encountering wildlife to gain bonuses."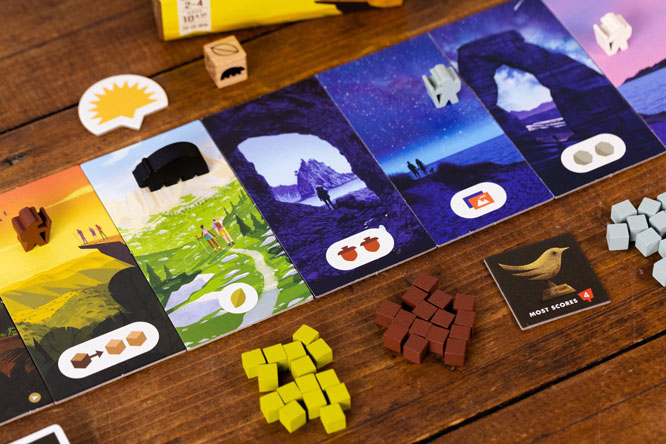 We have a full review of Trails here on Pojo.com.  Suffice it to say, we love the game, and it fits into a Stocking.  😉
Trails is only about $20, and available at Walmart and Target.  
---
8. Hasbro Games Underwear
Who doesn't want some fun undies for the Holidays?  And PSD makes fun, popular, and high quality under garments. PSD makes undergarments for both men and women.  Holiday versions are available from Amazon.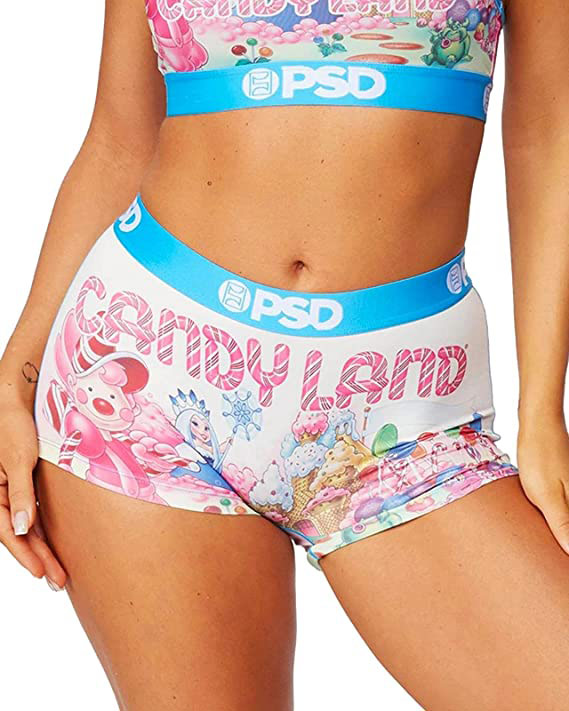 These Monopoly boxer-briefs can be snagged from Amazon.com and stuffed easily into a Stocking.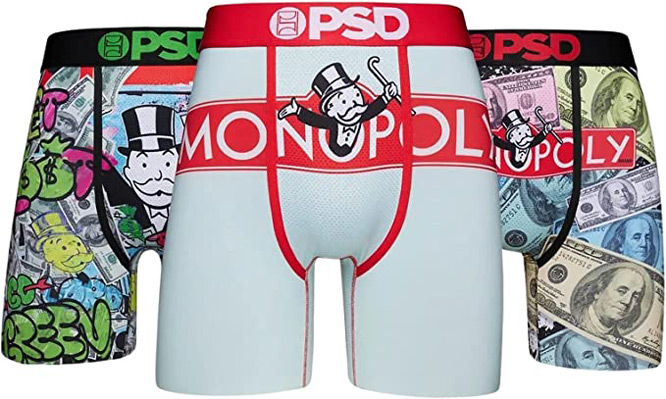 PSD has many other styles as well, like: Naruto, SpongeBob, Rick and Morty, and many more!  
---
9. Board Game Socks
These licensed "Hasbro Board Games, Women's 5-Pack Socks" are great stocking stuffers.  They feature artwork from: Clue, Scrabble, Monopoly, Connect Four, and Sorry!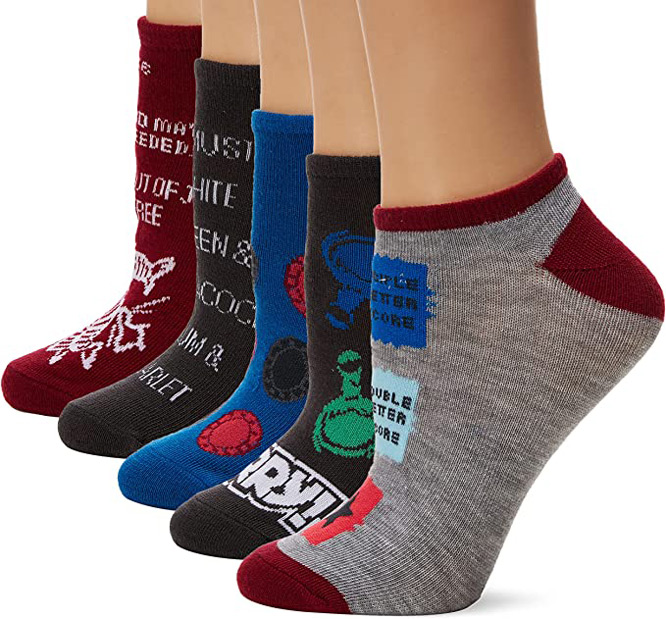 And you can pick these up from Amazon.com for about $10.  There are Men's Socks as well with different games on them like Operation.  
---
10. Next Station London Board Game
Next Station London is a Flip & Write Game from Blue Orange Games.  This is a strategy game for 1 to 4 players.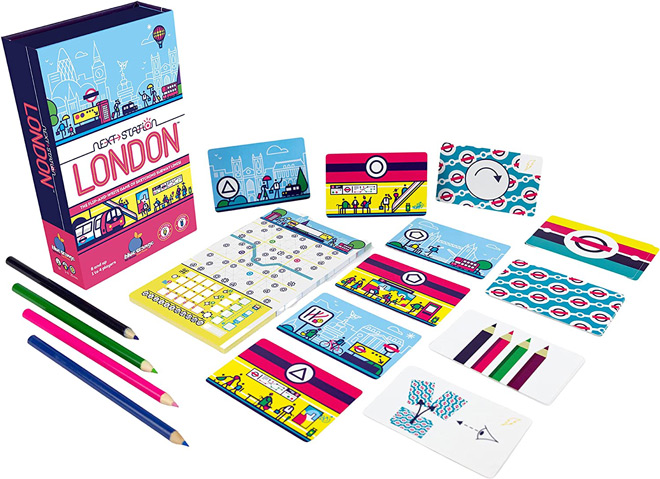 In this game, the city of London has commissioned you to redesign its underground network. You will need to optimize connections using colored pencils, serve as many sights as possible and exploit the tunnels that pass under the city.  The box is 1.6 x 4.3 x 7.1 inches and should easily fit in a standard stocking.  
Each player is simply trying to make the best layout they can as cards are flipped. There is no direct player interaction that will impact what other players are doing.  I like this game for older players – like teens to adults.  It's a bit of a thinky game, but not too thinky.  And the artwork on this game is fantastic.  Next Station London can be had for under $20 from Amazon.com.  
---
Bonus ideas – My wife also likes to top off the stockings with other items.  Here are few more for you:
Have a great holiday season everyone!