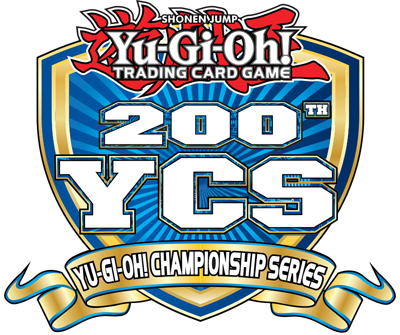 To celebrate the 200th tournament of the Yu-Gi-Oh! Championship Series (YCS), three concurrent events will be held across the globe in the United States, Mexico and the Netherlands across two days where top Duelists around the world will compete for prizes and a chance to earn a spot at the 2019 World Championship Qualifier. Everyone from novices to veterans will be in attendance to show off their best Decks and greatest strategies.
All Duelists who submit their registration form, entry fee and valid, legal Deck List will receive an exclusive Participation Game Mat and Field Center Card to commemorate the 200th celebration, while supplies last.
In addition to action-packed Duels in the Main Event, Public Events will run all weekend long including 2019 Regional Qualifiers, Ultimate Duelist Series Qualifiers, 3 vs. 3 Team Dueling, ATTACK OF THE GIANT CARD!! tournaments, Win-A-Mat tournaments, an Ultimate Pegasus Challenge, Custom Token Card Booth and autograph sessions with actor Darren Dunstan, who voices Maximillion Pegasus from the Yu-Gi-Oh! animated TV series.
Below are the details:
Greater Columbus Convention Center
400 North High St
Columbus, OH 43215
https://columbusconventions.com/
Pre-Registration: Runs from 1:00 p.m. to 7:00 p.m. ET on Friday, Sept. 21. Registration will reopen at 7:00 a.m. ET on Saturday, Sept. 22 and will continue until 9:45 a.m. ET.
Round One of the event: Begins Saturday, Sept. 22, 2018 at 10:00 a.m. ET.
Here are the Game Mats and Prize Card of the 
200th Yu-Gi-Oh! Championship Series!
---
It's Time to Duel around the world!  We'll be celebrating the 200th Yu-Gi-Oh! Championship Series (YCS) simultaneously in The Netherlands, Mexico, and the United States on September 22/23.
In Europe, Duelists will head to The Netherlands, as the city of Utrecht will kick off the festivities. A few hours later, Duelists from the Americas will compete in Columbus, Ohio (United States) and Mexico City (Mexico) as their respective 200th YCS tournaments kick off.
We'll have special prizes and activities on offer at all 3 locations, and today we are revealing the first of those, the Game Mats! A number unique Game Mats will be exclusively available at these tournaments, read on to find out how you can take some home!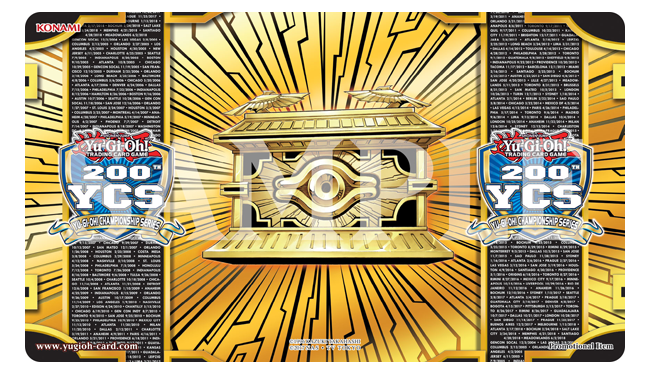 First up is the 200th Yu-Gi-Oh! Championship Series Participation Game Mat. This will be available to every Duelist who registers for the main event at each location (while supplies last). Gold Sarcophagus takes centre stage, surrounded by the history of the Yu-Gi-Oh! Championship Series, marking every date and city we have visited so far.
Here's the 200th Yu-Gi-Oh! Championship Series Win-A-Mat! You can win one of these by competing in special Win-A-Mat tournaments at each location. As with every YCS there are many Public Events to take part in throughout the weekend, and these Win-A-Mats are sure to be popular.
Finally, we have the 200th Yu-Gi-Oh! Championship Series Top Cut Game Mat. These will be limited to the elite Duelists who make the Top Cut playoffs at each event. A mighty being is depicted on this Game Mat, but you won't find out who that is until…
…now!
Say hello to Chaos Emperor, the Dragon of Armageddon, your new Yu-Gi-Oh! Championship Series Prize Card! Chaos Emperor Dragon – Envoy of the End was a widely-feared adversary who marked its appearance to the field with complete destruction. From the moment this monster hit the field the fates of Duels were sealed. Such power has been Forbidden for an eternity but now this Dragon is back in a terrifying new form.
[Pendulum Effect]
You can pay 1000 LP, then target 1 of your banished Dragon monsters; destroy this card, and if you do, add that monster to your hand. You can only use this effect of "Chaos Emperor, the Dragon of Armageddon" once per turn.
[Monster Effect]
Cannot be Normal Summoned/Set. Must be Special Summoned (from your hand or Extra Deck) by banishing 1 LIGHT and 1 DARK monster from your GY. You can only Special Summon "Chaos Emperor, the Dragon of Armageddon" once per turn this way. Once per turn: You can pay half your LP; send as many cards you control as possible to the GY, except from the Extra Monster Zone, and if you do, send cards your opponent controls to the GY, up to the number of your cards sent to the GY, then, inflict 300 damage to your opponent for each card sent to their GY by this card's effect. If this face-up Special Summoned card leaves the field, return it to the bottom of the Deck.
Chaos Emperor, the Dragon of Armageddon will be the Prize Card at Yu-Gi-Oh! Championship Series events for the upcoming year, awarded to top 3 Duelists of the main event(s) and the winner of each Public Events playoff. 
To celebrate its debut however, the top eight Duelists at each 200th Yu-Gi-Oh! Championship Series event will win a copy of Chaos Emperor, the Dragon of Armageddon! The Ultra Rare version is exclusively awarded to 1st Place at each YCS, with all other winners receiving the Super Rare version.