Here is a gift idea for Pathfinder fans.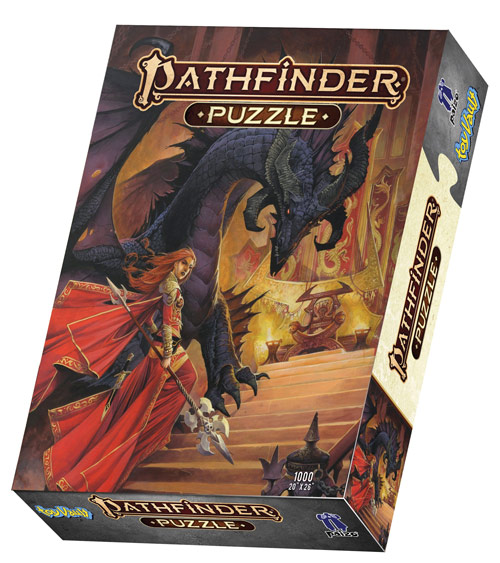 PRESS RELEASE – FOR IMMEDIATE RELEASE
The adventure continues: Toy Vault releases two new Pathfinder puzzles
Designs feature iconic artwork from bestselling RPG's catalog
Corbin, Kentucky (November 17, 2021) – Toy Vault, Inc. – in partnership with award winning role playing game publisher Paizo Inc. – is announcing the release of two new 1,000-piece jigsaw puzzles featuring artwork from the exciting and popular Pathfinder fantasy role-playing game franchise.
"The Pathfinder RPG has such a rich and expansive catalog of artwork from which to make high quality jigsaw puzzles," said Tony Smith, Director of Toy Vault. "I'm proud of the two newest puzzles recently released in our growing Pathfinder puzzle line. I think they are a must-have item for anyone that's a fan of world class fantasy art."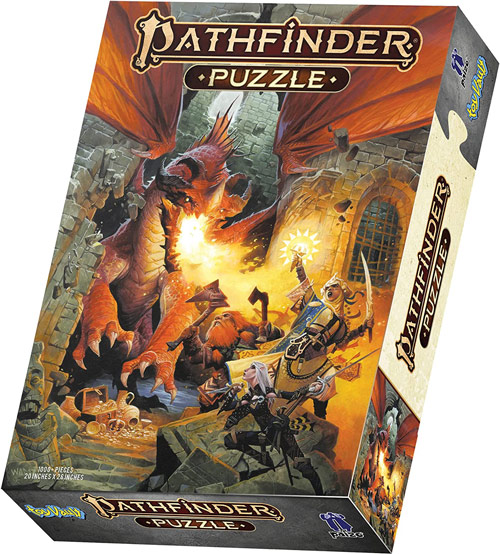 "The previously released Pathfinder Core Rulebook and Pathfinder Bestiary puzzles were received with great enthusiasm and we are thrilled that Toy Vault is expanding the line with the Pathfinder Gamemastery Guide, and Pathfinder Lost Omens: Gods and Magic covers," said Erik Mona, Publisher and Chief Creative Officer at Paizo. "Artists Wayne Reynolds and Ekaterina Burmak bring the world of Pathfinder to life in vivid detail, and we can't wait to share their work with jigsaw puzzle lovers."
Pathfinder artists Wayne Reynolds and Ekaterina Burmak are the talent behind the brilliant images used for these puzzles which showcase paintings from the covers of the Pathfinder RPG Gamemastery Guide, and Lost Omens: Gods and Magic rulebooks. When complete, the puzzles measure approximately 20" x 26" and are composed of thick, quality cardboard pieces which make preservation of the puzzle for framing and display easy. All of the pieces come in a resealable plastic bag, and a handy reference sheet is included with each puzzle.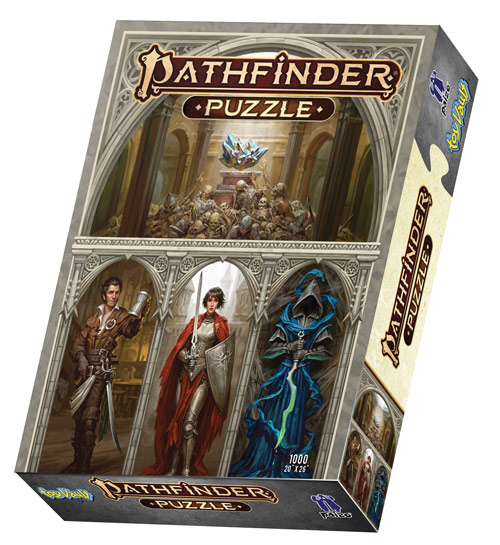 Toy Vault released the first two puzzles based on the Pathfinder Roleplaying Game in January. All four puzzles are currently available in stores and online for an MSRP of $24.99.
###
About Toy Vault
Toy Vault was founded in 1998 to fill a need in the marketplace for high-quality, well-crafted toys and figures based on overlooked properties, such as Alice in Wonderland and Lord Of The Rings. Toy Vault has since gone on to acquire licenses for popular properties such as The Jim Henson Company and Paizo Inc. For more information on Toy Vault visit www.toyvault.com
About Paizo
Paizo Inc. is publisher of the award-winning Pathfinder Roleplaying Game, Pathfinder Adventure Card Game, Pathfinder Tales novels, Starfinder science-fantasy roleplaying game, as well as numerous board games and accessories. In the 15+ years since its founding, Paizo has received more than 100 major awards and has grown to become one of the most influential companies in the hobby games industry. The Pathfinder world, in which players take on the role of brave adventurers fighting to survive in a world beset by magic and evil, is currently translated into eight languages, and has been licensed for comic book series, graphic novels, toys, apparel, computer games, and more. Paizo.com hosts a leading online hobby retail store, offering tens of thousands of gaming products from a variety of publishers to customers all over the world. The website is also a portal for Paizo's organized play campaigns and Pathfinder and Starfinder communities.