Here is our current List of the Top 10 Most Expensive & Most Valuable Yu-Gi-Oh! Cards.  This list is based on actual sales on eBay in recent months.  Pojo Note: I revised this article on November 27, 2020 to reflect the newest BEWD sale.  
Some quick notes on our rankings:  These are all English cards you could have reasonably collected in the United States. These are cards that appeared in Booster boxes, Booster packs, Leagues, and/or Starter sets.  Some cards might be promos from DVD's or Video Games.  Yu-Gi-Oh! collectors could have reasonably obtained these cards through auctions, trades and/or blind luck pulls. There are no "prize cards" or "error cards" on our list.  All values are based on actual sales of Yu-Gi-Oh! Cards on eBay in 2020. Most of these cards are Professionally-Graded, Mint cards, which are independently certified on their condition. Here's an article on Graded Pokemon Cards if you don't know what Graded Cards are.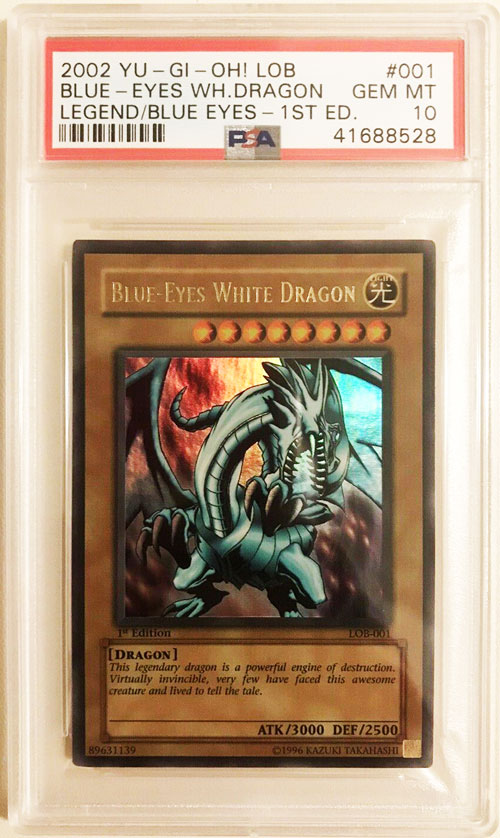 #1 – Yugioh 1st Edition Wavy Lob LOB-001 Blue Eyes White Dragon PSA 10 Gem Mint – $47,200
The BEWD pictured above sold for $47,200 on November 25 2020.  This is the from the first booster box – Legend of Blue Eyes White Dragon.  This the Yu-Gi-Oh's version of Base Set Charizard.  A PSA 9 sold in October for over $14,000 as well.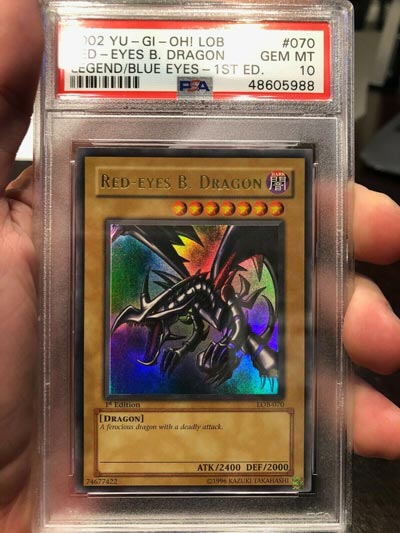 #2 – Yugioh Red Eyes Black Dragon 1st Edition LOB-070 PSA 10 – $9,999
Joey is getting some love here at #2!  REBD sold for $9,999 in October 24, 2020.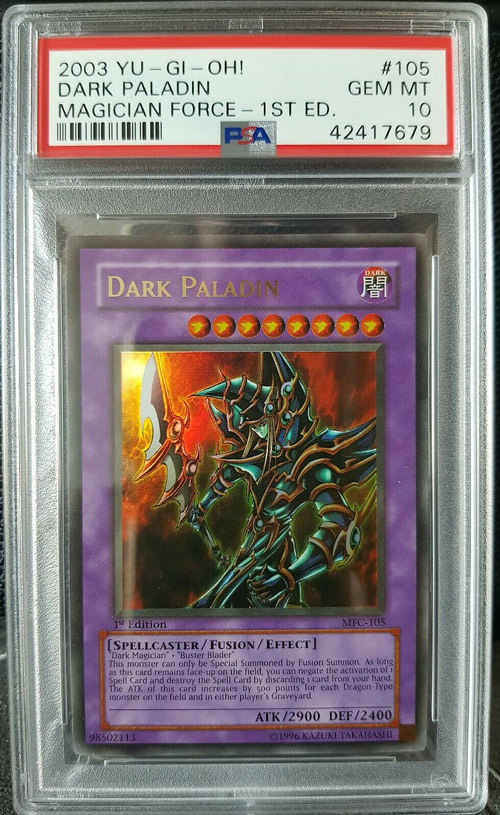 #3 Yu-Gi-Oh Dark Paladin Corrected Art 1st Edition PSA 10 – $9,400
This sale took place on November 8, 2020 There is a story that goes with this card.  There are actually two different versions of Dark Paladin in MFC.  It's a long story that I don't want to go into right now, but AzulRyu has a great thread on Reddit that has all the cool details.  And he actually used Pojo as a source a couple of times.  Thanks AzulRyu for the great thread!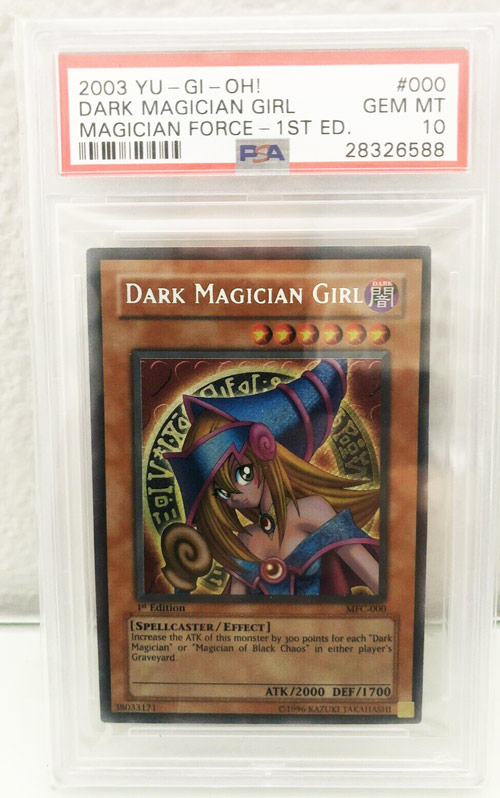 #4 – Yugioh MFC Magician's Force 1st Edition Dark Magician Girl PSA 10 – $9,100
Dark Magician Girl comes in 4th place in recent sales.  She sold for $9,100 in November 2020.  She's always going to be a top 5 card to collect in my opinion.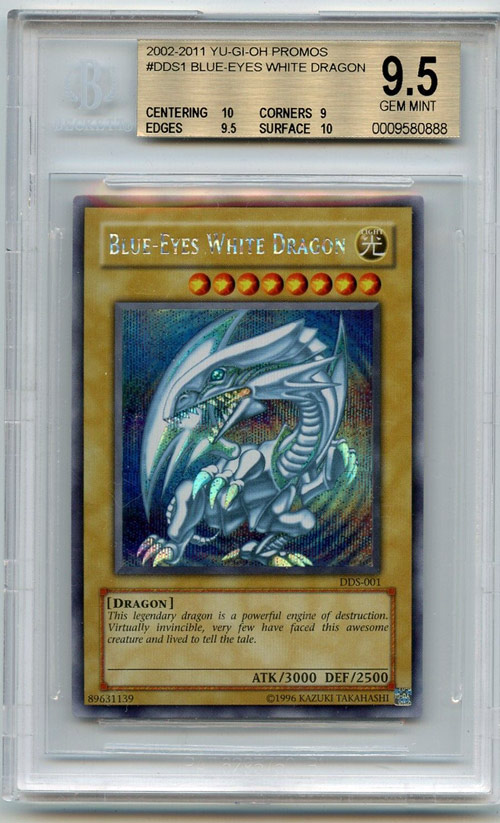 #5 – Yu-Gi-Oh! Dark Duel Stories Blue-Eyes White Dragon DDS-001 Secret Rare BGS 9.5 – $7,999
This card was found inside some copies of the Gameboy game – Dark Duel Stories.  I was always saddened by the fact that my copy of the game came with some other crappy promos way back in March 2002.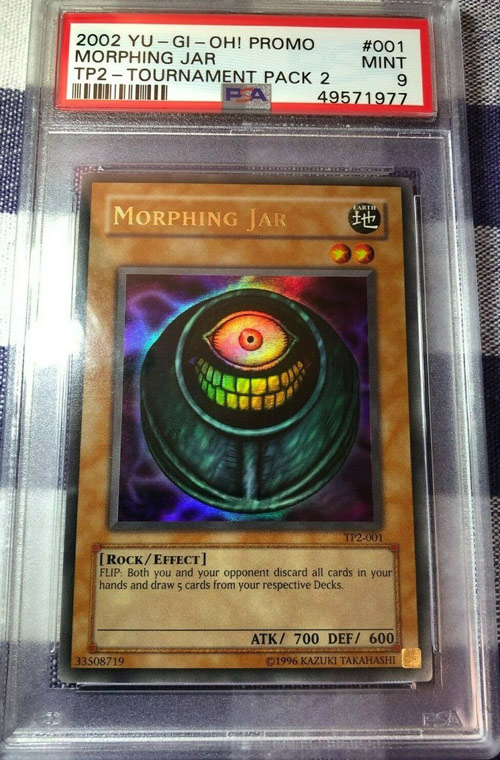 #6 – 2002 YuGiOh Promo TP2-001 Morphing Jar PSA 9 Mint Tournament Pack 2 – $6,000
This is an ultra rare from Tournament Pack 2, which was released in 2002.  What would a PSA 10 fetch on eBay?  There are only 22 Perfect 10's on the PSA Population Report.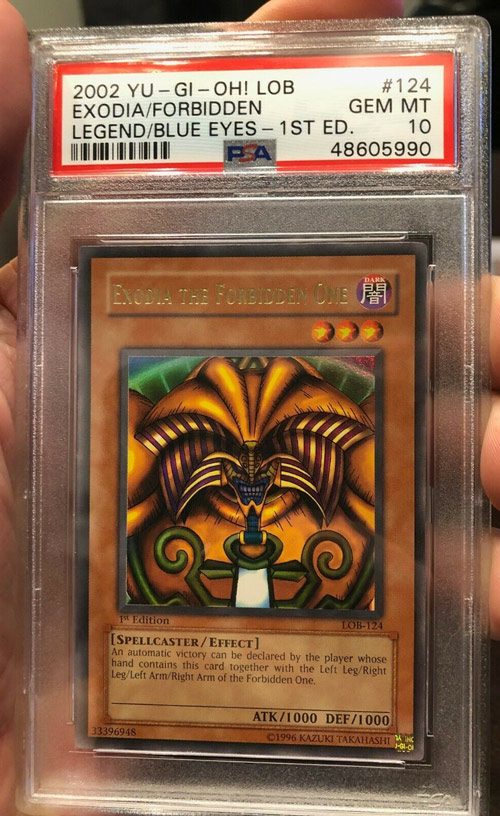 #7 – Yugioh Exodia The Forbidden One 1st Edition LOB-124 PSA 10 – $4,500
The head of Exodia is one of the most sought after cards from the early days.  This card sold for $4,500 in October 2020.  The arms and the legs will cost you an arm and leg too!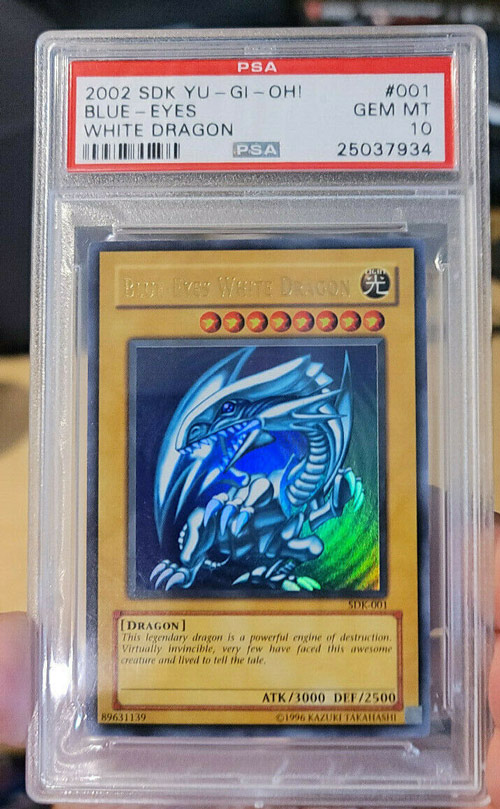 #8 – Blue Eyes White Dragon SDK-001 PSA 10 Gem Mint – $3,750
Yep, this is the 3rd different BEWD to show up on our list.  He's the Charizard of YuGiOh.  This particular BEWD is from the Kaiba Starter Deck. This one just sold on November 8th, 2020.  And this one is not even the first edition version.  What would a first edition version fetch?  One is listed on eBay right now for $25,000!  I think a lot of First Edition Kaiba starters got played with, so I'm guess this card might be pretty rare in PSA 9 & 10.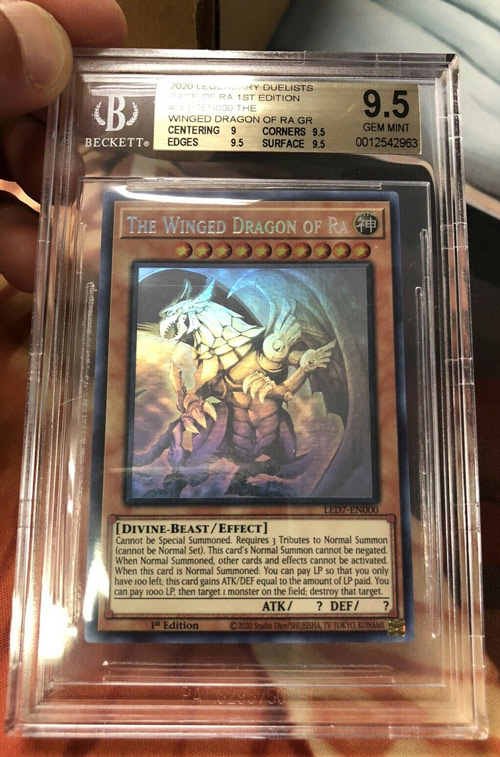 Yugioh The Winged Dragon Of Ra Ghost Rare LED-EN000 1st Edition Beckett 9.5 – $3,200
This Ghost Rare just sold for $3,200 last month.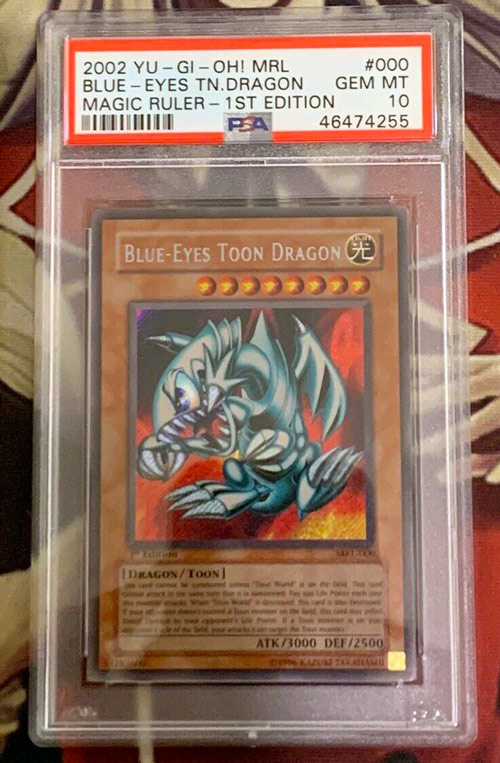 #10 – 2002 Yu-Gi-Oh! MRL-000 Blue-Eyes Toon Dragon 1st Edition Secret Rare PSA 10 Mint – $3,000
This is the secret rare from Magic Ruler, and a very cool card to have in your collection.  This card sold in October 2020 for $3,000.  
Pojo's Final Thoughts
Okay, I admit it, there is a fairly obvious flaw with this Top 10 List … Right?!  Where the heck are the original Dark Magicians?  A Dark Magician should be on this list somewhere!  There are two Dark Magician's that could/should be here, IMHO: The 1st Edition card from LOB.  And the 1st Edition one from the Yu-Gi-Oh! Starter Deck.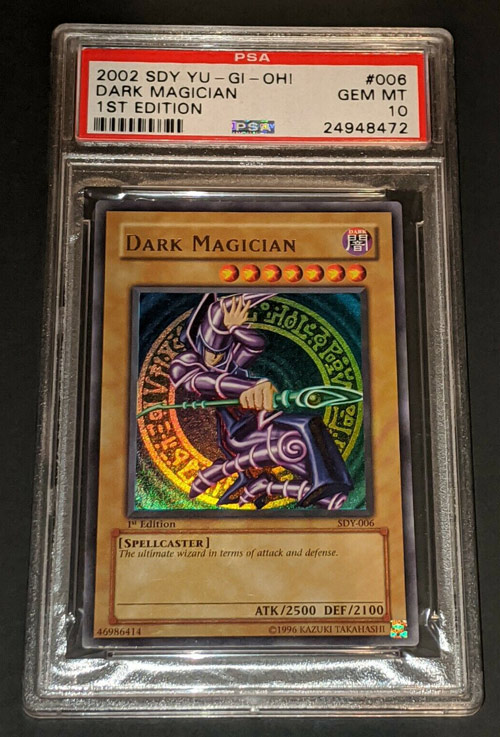 This PSA 10 card from the Yugi Starter Deck recently sold for $2,300, which seems fair.  There are currently 40 PSA 10's in the Population Report.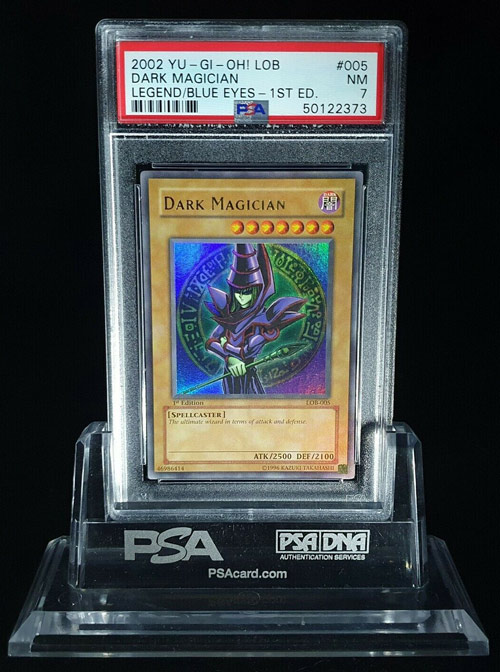 And this PSA 7 from Legend of Blue Eyes sold for $2,025.  So we have a problem with our Top 10 List.  A PSA 10 sale would easily make our list, but no 8's, 9's or 10's of Dark Magician have sold in the last couple of months.  There are 60 PSA 10's of the LOB version.  Someone is selling this particular card in PSA 9 for $9,500.  I'm looking forward to seeing what a PSA 10 might yield some time in the future!
Happy Hunting and Stay Healthy!