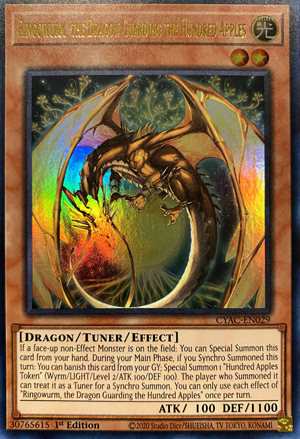 Ringowurm, the Dragon Guarding the Hundred Apples – #CYAC-EN029
If a face-up non-Effect Monster is on the field: You can Special Summon this card from your hand. During your Main Phase, if you Synchro Summoned this turn: You can banish this card from your GY; Special Summon 1 "Hundred Apples Token" (Wyrm/LIGHT/Level 2/ATK 100/DEF 100). The player who Summoned it can treat it as a Tuner for a Synchro Summon. You can only use each effect of "Ringowurm, the Dragon Guarding the Hundred Apples" once per turn.
Date Reviewed:  June 5th, 2023
Rating: 3.92
Ratings are based on a 1 to 5 scale. 1 is awful. 3 is average. 5 is excellent.
Reviews Below:
---


King of
Lullaby
Hello Pojo Fans,
Ringowurm, the Dragon Guarding the Hundred Apples starts up the first full week of June on Pojo.
Low ATK/DEF Tuner Dragon, had the best levels for a Tuner (2), and can Special Summon itself from the hand if you are playing non-Effect Monsters. This can also be achieved if you have something like a Token, so I'm immediately thinking this could be dropped into Tenyi and Swordsouls for some added extending. It doesn't specify which side of the field the non-Effect monster has to be on, so if your opponent were to have one you're in business as well.
If you Synchro Summon during your Main Phase with Ringowurm (sorry some Yang Zing), you can banish it and get a token. Token is weak, but is a Wyrm-Type and Level 2 making it great for Synchro Summon material…and it's considered a Tuner so you're green-lit for more Synchro Summoning.
Ringowurm is a card that helps decks that play a lot of vanilla monsters to Synchro Summon or is an extender for archetypes that generate tokens. You don't need to Special Summon it for Ringowurm to be useful. Summon it and Synchro with it and get your token. Use that token for a Link Summon or another Synchro Summon. Ringowurm belongs in Synchro decks like Tenyi/Swordsoul or a mix of those two alongside Yang Zing.
Advanced-3.5/5    Art-4/5
Until Next Time
KingofLullaby
---


Crunch$G
Here we go with Cyberstorm Access and we start the set by looking at some of the best cards, including a new Tuner for the game: Ringowurm, the Dragon Guarding the Hundred Apples.
Ringowurm is a Level 2 LIGHT Dragon Tuner with 100 ATK and 1100 DEF. Stats aren't too much to write home about, but being a LIGHT/Dragon/Tuner is outstanding. The first effect lets you Special Summon this card from the hand if a non-Effect Monster is face-up on the field, making it good for Decks generating Tokens like Swordsoul or Decks that would use monsters without effects like Blue-Eyes and Tenyi. The second effect can be triggered during the Main Phase of a turn you Synchro Summoned, letting you banish this card from the graveyard to summon a Hundred Apples Token (Wyrm/LIGHT/Level 2/ATK 100/DEF 100) and the player that summoned it can treat the Token as a Tuner Monster for a Synchro Summon. Being able to generate Tokens is usually good, but especially when you got the option to be able to use it as a Tuner or a non-Tuner at your will. Hard once per turn on each effect, which is more than fair. Ringowurm helps several different Decks be able to Synchro Summon more monsters with greater ease and can help several unique Decks using Tokens or any non-Effect Monster. It's a great extender for those strategies to make your Extra Deck plays, especially since it can be 2 Tuners wrapped into one.
Advanced Rating: 4.5/5
Art: 4/5 It's his apple.
---


Mighty
Vee
This week we're covering the one-off generic cards from Cyberstorm Access, starting with Ringowurm, the Dragon Guarding the Hundred Apples. As its name might suggest, it's a level 2 LIGHT Dragon Tuner monster; being a LIGHT Dragon is always a plus, giving it synergy with Chaos and Dragon cards, and being level 2 is icing on the cake since it'll be accessible through Spright Sprind and Gigantic Spright. Fittingly, as a Tuner monster, its stats are quite poor, with only 100 attack and 1100 defense, so it's firmly relegated to being a combo piece in application.
Ringowurm has two hard once per turn effects, the first letting you Special Summon it for free from your hand as long as you control a non-effect monster. Given that it's a Tuner, Swordsoul should immediately come to mind, as not only do their tokens qualify as non-effect monsters, Swordsoul also typically plays Tenyi cards to summon Monk of the Tenyi, which is also a non-effect monster. Swordsoul also synergizes particularly well with its second effect despite Ringowurm being a Dragon, which we'll get to soon. There are a few other decks that can take advantage of this, like Magikey or Genex, but Swordsoul is the most relevant among them. Ringowurm's second effect can only be activated during your Main Phase if you Synchro Summoned the same turn, letting you banish Ringowurm from your Graveyard to Special Summon Hundred Apples Token (a level 2 LIGHT Wyrm with 100 attack and defense), and you can optionally treat it as a Tuner as well. Pivoting to Wyrm type is particularly valuable for Swordsoul, as it becomes a valid Synchro material for Swordsoul Grandmaster – Chixiao and Swordsoul Sinister Sovereign – Qixing Longyuan. Even outside of Swordsoul decks, it's a free Tuner body and can easily let you Synchro Climb an additional two levels. Swordsoul and Spright decks have both been experimenting with Ringowurm, and while it hasn't produced amazingly broken results, its potential as a Synchro enabler means it'd be wise to keep an eye on it for the near future.
Advanced: 3.75/5
Art: 4.25/5 Very nice colors, it probably looks even more exquisite in person as an Ultra Rare.
---
Visit the Card of the Day Archive!  Click here to read over 5,000 more Yu-Gi-Oh! Cards of the Day!
We would love more volunteers to help us with our YuGiOh Card of the Day reviews.  If you want to share your ideas on cards with other fans, feel free to drop us an email.  We would be happy to link back to your blog / YouTube Channel / etc.   😉