Capacity Expansion Leads to Lowest Pricing in 14 months
SANTA ANA, CA, JUNE 9, 2022 –  Professional Sports Authenticator (PSA), the leading authenticator and grader of sports cards and memorabilia, announces its low-cost Value card authentication and grading service level is once again available following a temporary suspension that began in March 2021.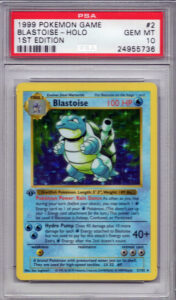 Following historic growth across the collectibles industry, PSA witnessed unprecedented demand from customers for its industry-leading authentication and grading services. In early 2021, more than 500,000 cards were submitted for grading to PSA per week — a more than 10x increase over previous years. To address the resulting backlog of more than 12 million cards and ensure customer orders could be graded and returned as quickly as possible, PSA suspended its Value, Regular and Express service levels at that time.  
Thanks to ongoing efforts by PSA to quickly grow its team, invest in new technology, and expand to additional space, the company is now close to completing the order backlog with a final subset of cards moving through the grading processes to be shipped back to customers in the coming months. All existing backlog orders with PSA will be serviced and shipped to customers before new Value orders are processed.
"We know that customers have been looking forward to this day for a long time so we thank them all for their patience," said Kevin Lenane, PSA President. "We never could have anticipated the flood of submissions that we saw last year and our entire team has been focused on getting back to where we are today." 
"Investing in technology and other enhancements to expand our ability to meet customer demand has been our biggest focus at PSA," said Nat Turner, CEO of Collectors. "I'm a collector myself so I deeply understand and appreciate how important the customer experience is for hobbyists. This is just one step on our journey to continue leading the hobby for generations to come." 
Starting today, Value service, which is specifically designed for modern cards issued since 1996, has reopened following the previous return of Express, Regular and Economy service levels. In addition to the relaunch of Value service, PSA is now opening Economy service submissions for all customers with no Collectors Club membership requirement to submit. 
As part of its efforts to meet customer demand, PSA and its parent company, Collectors Holdings, Inc., has grown to over 1,200 total team members and also expanded with a new 130,000 square feet facility in New Jersey that it anticipates will soon significantly bolster the company's robust grading operation. The company continues the integration of Genamint, Inc., a software company it acquired in 2021, to help improve and scale the process by which PSA grades trading card submissions. 
For full details on PSA's card grading service levels, visit www.PSAcard.com/services, and to become a PSA Collectors Club member, visit www.PSAcard.com/join.