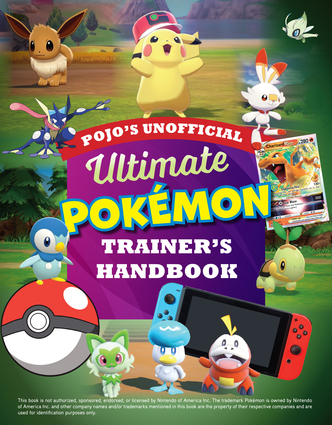 Hey folks!  We have a new Pokemon Book available for purchase from Amazon.com and other bookstore outlets.  It has been almost 7 years since we collaborated on a new book with Triumph Books and these glorious writers. 
Contributors include:
3-Time Pokemon TCG World Champion – Jason Klaczynski
4-Time Pokemon TCG International Champ – Tord Reklev
Pokemon Video Game & Anime expert – Angel "Reeve" Pelaez
Pokemon Go Virtuoso – Matthew Buck
Pokemon Geezer, and guy still hanging in here – Bill Gill
This Ultimate Pokemon Trainer's Handbook is new for 2023.  The book is 8.5″ x 11″, and is 128 pages long.  It is in full color with hundreds of images.  Graphic Designer Phil Deppen designed it to look like an issue of our old Pojo's Pokemon Magazine.  
I don't want to spoil too much of the book for you, but here is a quick overview of what you will find inside:
Top 10 TCG Pokemon cards from every era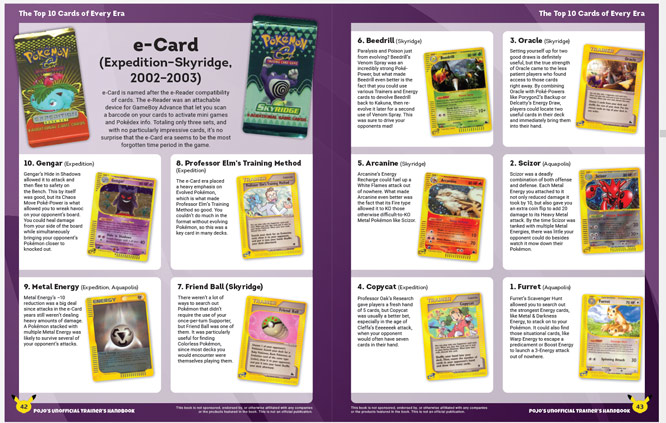 Jason Klaczynski thought it would be fun to review the Top 10 cards from every era.  Jason collaborated with Tord Reklev to cover all the cards from the Gen 1 era all the way through to Sword and Shield era.  This is a great read for TCG fans!
Ash's 25 Years of Story Arcs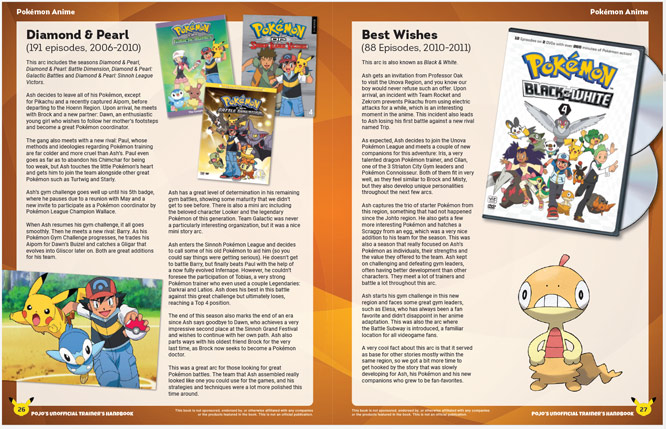 Ash and Pikachu's epic anime adventures come to a conclusion in 2023.  Ash will be replaced with two new protagonists.  Angel has a look back at ever story arc with reviews to help you catch up on 25 seasons of Pokemon.  
Pokemon Go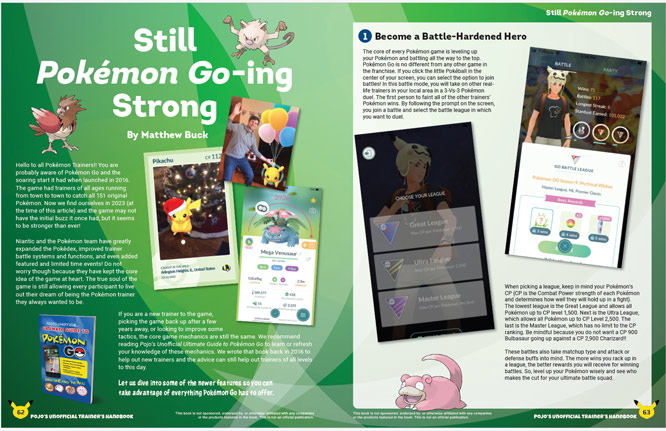 Pokemon Go is still going strong.  If you haven't played in a few years, Matthew Buck is your new personal trainer.  He's getting you back in shape for playing this fantastic exercise game. 
Type 10 Pokemon RPG Games Ranked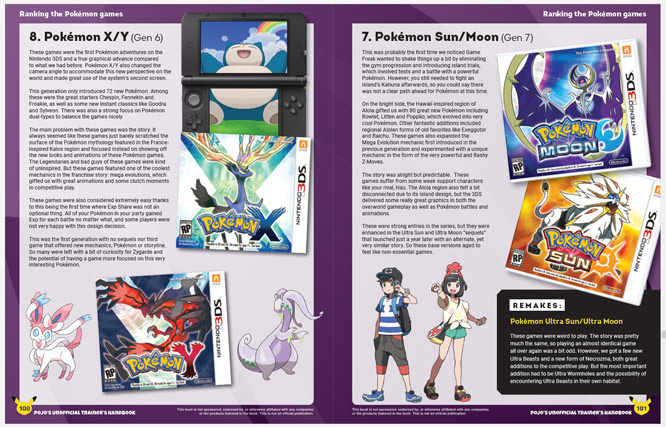 Have you missed any of the RPG games over the last 25+ years?  Angel reviews and ranks the Top 10 and tells you which games you might want to go back and play.
Pokemon Scarlet & Violet Review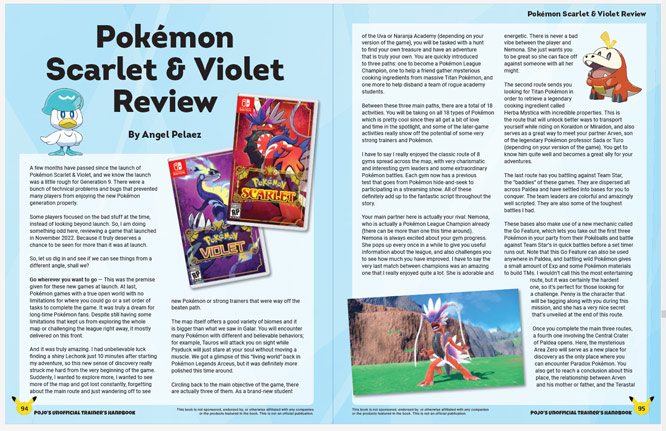 Pokemon Scarlet and Violet took a bold step in a new direction for Pokemon RPG games.  Angel has a detailed review for you with tips.  
Pokemon Rare Finds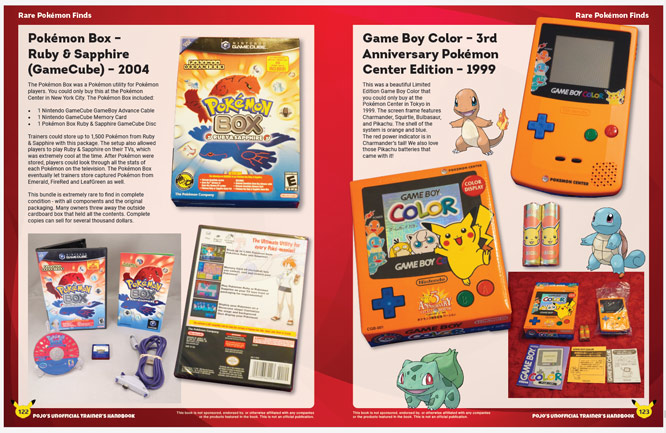 Bill opens up the vault and has a list of rare finds that you might want to keep your eye out for.  
Top 10 Pokemon by Type for RPG Games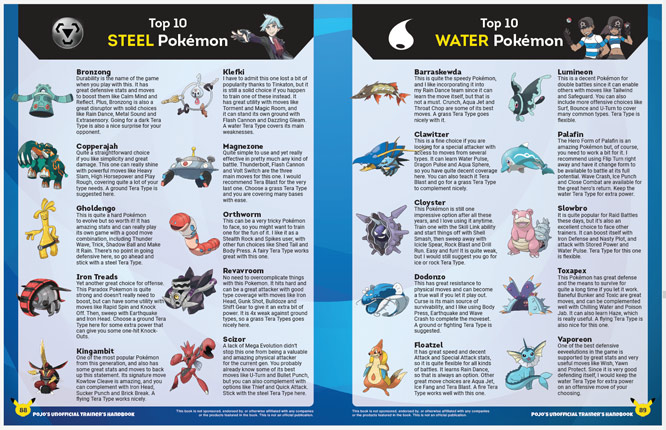 Based on reviews I received on our 2016 Hardcover Big Book of Pokemon, this section was a fan favorite.  So I asked Angel to update it to include all the new Pokemon through Scarlet and Violet.  There are 18 types of Pokemon, so this is a whole new list of the Top 180 Pokemon to farm while playing.
The Pokemon Timeline 
A lot has happened in the Pokémon World since Pokemon released in 1996 in Japan.  We have a brief timeline of all the Video Games, TCG Products, and Anime releases each year to help you keep up with the times.  
Pokemon Puzzles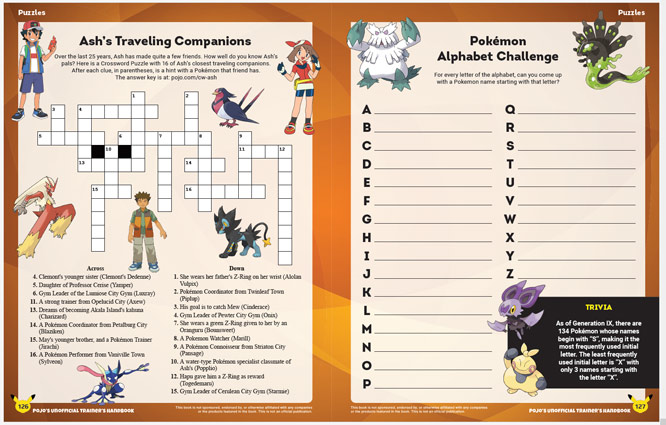 We put together a handful of Pokemon Puzzles and Word Searches to let you test your Pokemon knowledge.
The 2023 book also includes:
a Pokédex for each Generation of RPG games through Scarlet and Violet.
Information on Pokemon TCG card grading in 2023
and a Look Back at Pokémon Colosseum and Pokémon XD: Gale of Darkness
Overall, this is a beautiful softcover book. You can pick this new book up from Amazon for $14.95, and we think you will get great deal of reading enjoyment out of it.