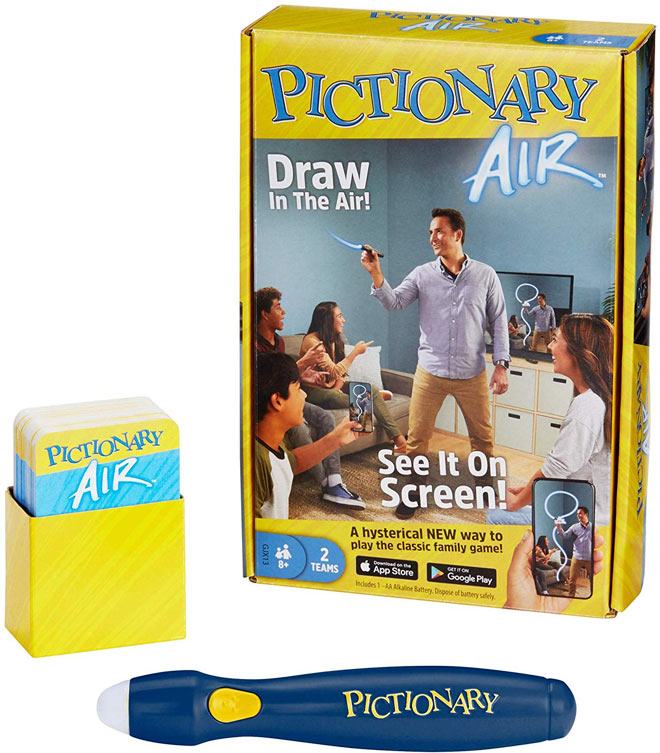 Holy Cow does this game take me back!  Pictionary and Win, Lose or Draw! were huge "Party Games" in the mid 1980's.  Pictionary and Win, Lose or Draw! were "THEE" party games of that time period.  I read online that Pictionary sold over 32 millions copies through the year 2011.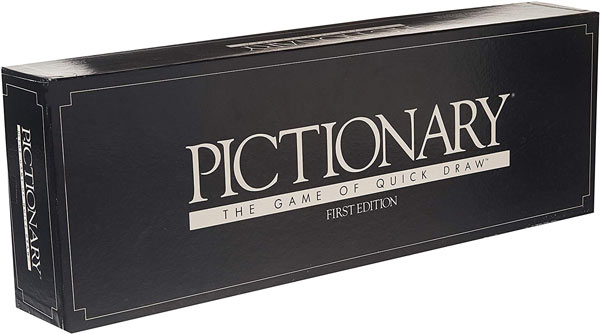 But, our family, like many families, had long left Pictionary for dead.  Walk through any Goodwill store, and you are likely to see several old boxes of Pictionary lined up on the game shelf like Tombstones.   I can't even remember the last time I heard of someone playing Pictionary.
Skip Ahead to Indianapolis 2019
We are walking through Gen Con gaming Convention in August 2019, and we see a crowd of fans gathered at a small demo booth for Mattel Games.  And someone is drawing with a magic pen in the air, and they have their back to the TV monitor. The artist and their drawings are both showing up on the TV monitor behind them.  And everyone is laughing … the artist, the fans, and even the Mattel guy running the demo.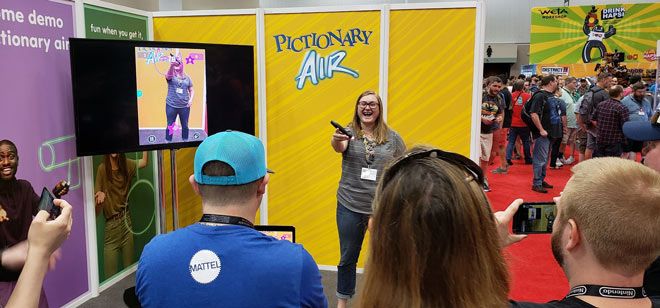 My wife thought this would be a nice addition to our Party Game Nights.  We ask the Demo Guy how much the game costs, and we find out Pictionary Air only retails about $20!  For $19.99 you get the Magic Pen and a Box of Clue Cards.  And then you download the FREE Pictionary Air App to your Smartphone or Tablet.  And you have everything you need to play for a party!
How to Set Up Pictionary Air
I was sitting on this game for 3 months until we finally had the right crowd for playing Pictionary Air.  So, let me explain what all this game entails.
You will need a Modern Television Set that you can "cast" or "stream" to.   This is also known as Screen Mirroring.  I would venture a guess that most people have the modern TV set needed.  But I'm not sure how many people out there know how to "cast" video to their television.  I know my wife didn't even know "casting" was possible between a smartphone and a TV.  You need someone mildly tech savvy to set this up.  It is not difficult to do by any means, but if you have never done it before you will probably be baffled for a bit.  
Casting is when you stream video from your phone (or a tablet) to your television.  This can be done with Apple TV, Chromecast, Samsung SmartThings, etc.  If you are baffled at all by this, just Google for videos on how to set this up with your Smart Device, and your brand of TV.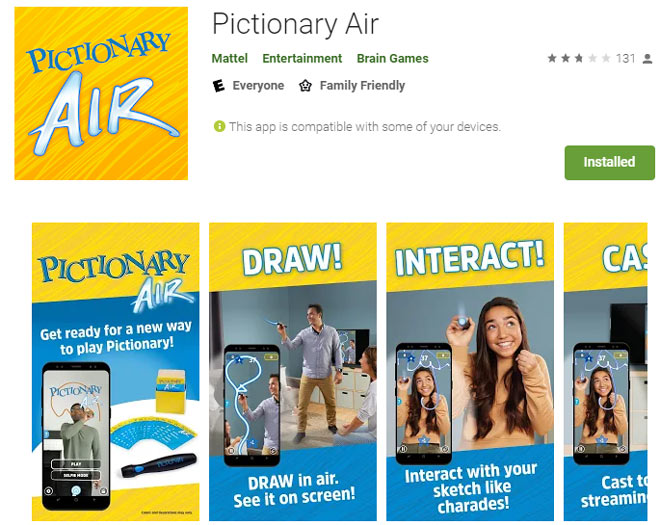 Next, you will need to download and install the FREE Pictionary Air App for your device.
And lastly, you need to set up an area to play.  This was the hard part for me.  First you need a wide enough spot where you can stand and draw, and be able to interact with your sketches.  And second, you probably will need a table, or a tripod, or a selfie stick to place your Smartphone on to capture video and play the game.
We determined that it would be best for our situation to use an old Tripod to hold a smartphone.  But we didn't have any way to mount a Smartphone to my Tripod.  You could probably make something if you're crafty, but I just decided to buy a cheap Tripod Phone Mount Holder from Amazon.


Once I had my Tripod Setup, the App Installed, and the Battery Powered Pen turned on, we were ready to play Pictionary Air.  And I have to say that we had absolutely zero technical difficulties with the Pictionary Air App – or Casting the game to our TV.  The game worked flawlessly for us.
Pictionary Air includes:
1 Pictionary Air pen
112 double-sided clue cards
& 1 AA battery for the Air pen.
A Look at the Pictionary Air App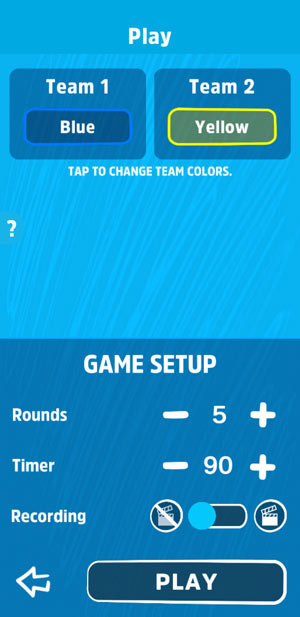 The first thing you will want to do is set up the game in the Pictionary Air App.
Choose your team's color from: Blue, Yellow, Pink, Orange, and Purple.
Set up the number of rounds you want to play.  Options are 3, 5, 7 or 10.
Set the timer.  This is how long players will have to draw all their clues and let their teammates Guess.  Options are: 45, 60 seconds, 90 seconds.  
You even have the opportunity to record the gameplay videos of each round!
There is an optional "Selfie Mode" that allows you to draw without any time limits or rounds.
The App recently had an update (last month) that allows the game to be played in Portrait or Landscape Mode.  Landscape Mode allows you to turn your phone sideways and cast images large enough to fill your entire TV.  This was a welcome update by many gamers!  And this shows that Mattel is listening to fans and willing to make updates!
How Does Pictionary Air Play?
These Rules are from the Directions. The instructions are simple.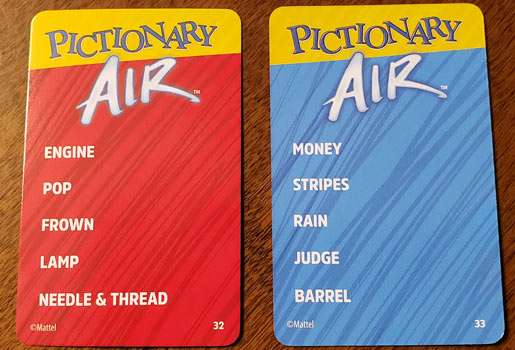 "Divide into 2 teams. The starting team selects a Picturist – a player who will sketch the first clue. Set the card box in a spot near where the Picturist will stand. The cards are double-sided, but equal in difficulty. Pick which side of the cards you are playing, so you know which side of the box to pull from. When you are done with that side, you can turn the box around and play from the opposite side. The Picturist cannot see what they are drawing, even if they are streaming to a TV.  This is why Pictionary Air is so different and hilarious. In fact, looking at your image on the screen may only confuse you.
The Picturist takes a card from the deck and secretly looks at the words to be played.
NOTE: the clues can be drawn in any order.
When the Picturist announces they are ready, the player using the app will start the
TIMER.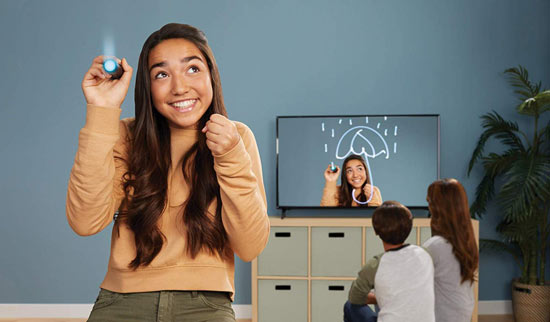 To draw, make sure the lighted pen tip is facing the handheld device. Hold down the button
on the Pictionary Air pen when you want to draw. Release the button when you do not
want a line drawn. You can press and release the button as many times as you need to draw the image.
If the clue has been guessed by one of the Picturist's teammates, they will announce it
and the device-holder/teammate will score it on the app. Each clue that is guessed
correctly is worth 1 point.
If the Picturist wants to restart their sketch, say "clear!". At this point, the device holder
should CLEAR the screen.
When the time is up, it's the next team's turn to sketch and guess. Play continues for as many rounds as you set up.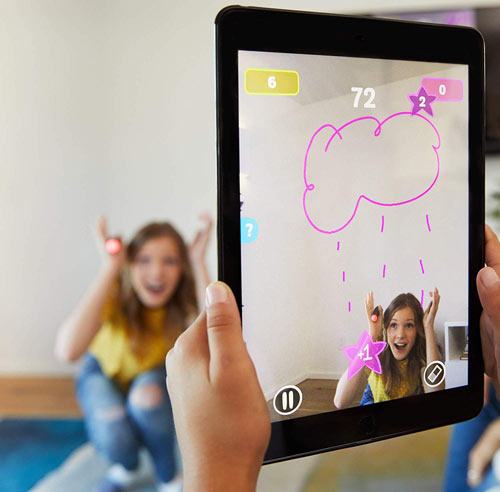 You are encouraged to interact with your clues; however, this is not simply a game of
charades. You must draw an image first that can be interacted with."
Likes, Dislikes, and Final Thoughts for Pictionary Air
Likes
This is a fantastic Party Game.  Pictionary Air breathes new life into an old game that most people haven't played in many moons.  The best part of the new version is interacting with the images you draw.  And some hilarity will ultimately ensue.  
Example: One of the players at a recent party had the clue "Cushion".  He drew a chair beside him.  And then he drew a Whoopie Cushion on the chair.  And then he pretended to sit on the chair.  And then he drew air lines shooting out behind him.  Everyone was cracking up.  
Drawing imaginary images in the Air with a Magic Pen isn't as hard as you think, and it's a whole lot of fun!
Everyone gets a turn!  If you have 20 people, you can set up 10 rounds so that everyone will get at least one turn drawing clues.  This game is fun to watch even when the other team is up.
The Pictionary Air App worked fantastic for us.  I have seen some average reviews for the Pictionary Air App online.  The App gets 3.0 out of 5 on Google Play, and 3.3 out of 5 on the Apple App Store.  But we had absolutely no problems with the App, and it earns a 5 star rating from us.  You have to wonder if the bad reviews are coming from people who are not Tech Savvy, or have old Smart Devices, or do not know how to "cast" the images to their TV?  I dunno?  I can just tell you our experience was a pleasant one.
I also like how the Pictionary Air App kept score on the TV screen.  And how easy it was to clear the screen if you want to start over.  
Dislikes
This will vary by user, but it took some work to get the proper height and mounting for my smartphone.  As I mentioned earlier, not having a "Tripod Phone Mount" was my main difficulty.  A camera selfie stick or a tablet on a table might do the trick for others, but I didn't have that option in my situation.  
Another thing we learned from our experience, is that your camera shot can not have the TV in the background.  If the TV is in the screenshot, it messes with the functionality of the Pen, and lines start drawing all over the game screen.  I guess this can happen with certain shades of red and green clothes and/or backgrounds.  Our Christmas tree lights were causing problems too.  Once we figured out the optimal place to stand, and place the camera, we were golden.  But this took some time trial and error.  
And I have a minor bone to pick with the App options.  It seems like the Game Settings should actually offer more options.  We had 2 teams of 4 players.  We wanted to set up the game for 4 rounds so that everyone would have just one opportunity to draw.  But the game only offers: 3, 5, 7 or 10 rounds.  Why not 4, or 6, or 8?  This doesn't seem like it would be difficult to program.  
And another nitpick I have is with the box of cards.  It seems on the small side.  There's only 112 clue cards in the box.  You will burn through those 112 clue cards quickly.  The Original Pictionary game had like 500 Clue Cards in the box.  Hopefully Mattel will offer up expansions soon. Or, you could snag clues from other games, like the Original Pictionary game.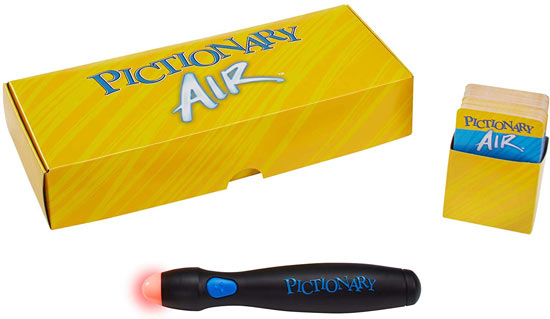 Final Thoughts for Pictionary Air
Pictionary Air is a super easy game to recommend for families and game nights.  And it's a good break from all the Social Deduction games that hit stores in recent years.  
This game would be fun for family gatherings and birthday parties too.
The price is right as well.  The MSRP of the game is $19.99, but the game has been sitting in the $15 to $17 price range for a couple of months on Amazon.
Just make sure you have someone in the family that is just a little bit tech savvy to set things up, and that you have a TV that you can "cast" to. 
This would make a fantastic family gift for the holidays!