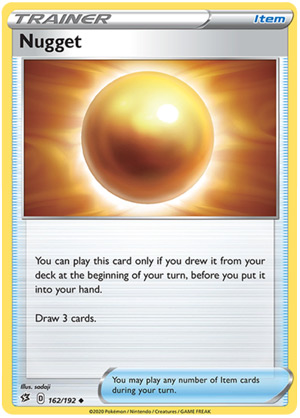 Nugget
– Rebel Clash
Date Reviewed:
May 16, 2020
Ratings Summary:
Standard: 1.25
Expanded: 1.00
Limited: 2.00
Ratings are based on a 1 to 5 scale. 1 is horrible. 3 is average. 5 is great.
Reviews Below:


Otaku
Nugget (SSH – Rebel Clash 162/192) is our first runner-up.  No, not the 1st-Runner Up; it actually clocked in at 20th-place.  However, it looked like a nice, easy review, and we just wrapped up the official countdown and could use the breather, so here we are!  Nugget is a Trainer-Item with that lets you draw three cards but can only played if it is the card you draw at the start of your turn, and it must immediately be used at that point (you can't save it).  Drawing three cards off of a Supporter may be poor, but drawing it off an Item is better than Bill, before Bill was reprinted as a Supporter, forever nerfing him into irrelevancy).
So, without any combos, you have to hope you are lucky and draw Nugget at the right time.  Not just at the start of your turn, but at the start of a turn when it won't backfire.  You know, like if you're thinning your hand for a "draw until" or "discard then draw" effect.  While it is a sweet bonus when it all works out, on its own, that ain't happening too often.  If it is added to your hand by anything other than your draw for the turn, it's a dead card.  You can use it as discard fodder, or use something that lets you return it to your deck.
There multiple ways to get Nugget on top of your deck, but you have to use them on the turn before, leaving you vulnerable to common disruption such as Reset Stamp or Marnie.  There are only two I believe are worth singling out:
Magcargo (SM – Celestial Storm 24/168)
Oranguru (Sword & Shield 148/202)
The former has the Ability "Smooth Over", letting you topdeck one card from your deck.  The latter has "Primate Wisdom", letting you swap a card from your hand with the top card of your deck.
There are other cards, but it just seems like such a waste to (for example), use a Mallow without having a non-Supporter draw effect to get those two cards into your hand immediately.  It strikes me as a waste of Smooth Over, but as a reusable effect, some turns you might be able to spare it.  Oranguru's Primate Wisdom is the only one that really makes sense, because you're turning the cost into a bonus.  So should you run Nugget if you're running Oranguru?  Probably not.  All that effort means you only net one extra card drawn; Nugget ate up a draw (or search) to get into your hand initially, and then another for it to activate.
Do you already run Acro Bike or Judge Whistle in your deck?  They're good cards (Acro Bike more so than Judge Whistle), but they're not for every deck.  Yeah, Acro Bike's discard can backfire, but sometimes it helps with deck clutter or deck-specific combos.  They shrink your deck, but we don't run them mostly because that space could go towards something useful, including many other Item cards like Tool Scrapper or Scoop Up Net.  Though you may as well try your luck in Limited.
Ratings
Standard: 1/5
Expanded: 1/5
Limited: 3/5
I thought Nugget looked amazing when I first saw it, even argued why it might be good but… no.  It desperately needs a second effect, one you can use by simply playing it from hand.  It wouldn't have had to be anything particularly good; just "Draw 1 card." would have been enough.  It could still prove itself, namely if we had more effects where topdecking something from hand was a "cost" a la Oranguru's Primate Wisdom, but for now, Nugget is better thought of as Johnny Bait.  There are a lot of combos where you can pull off its effect… but they aren't worth it.


aroramage
Get it? Cause it's literally gold!
Nugget is an interesting Item card, to say the least. In fact dare I say it, it's the most unique Item I've ever seen! Never in my life would I believe that I'd see an Item that literally says, "Draw 3 cards" on it. That's better than a good amount of Supporters! That's better than certain Pokemon Abilities! That's almost good enough to be better than the biggest draw Supporters in the game – and that's saying something!
So what's a "draw 3" card doing not even in the Top X list? Well, there's this one problem Nugget has, and it's a pretty significant one: you can't play the card at all. Well, that's not entirely true. You can play Nugget, but you can only do so if you draw it from your deck, and only if you draw it at the beginning of your turn. After that, you immediately play the card, and then draw 3 cards before Nugget even touches your hand. I'm sure it's phrased that way to get around certain Abilities or effects, but let's just say that this restriction is very hard to work around.
When first writing this review, I wasn't aware of any cards that could specifically put Nugget on top off the top of my head – sure, stuff like Oranguru (UPR) puts stuff on the bottom, but that doesn't do much in the long run. However, Otaku pointed out a couple of cards to me that do put Nugget on top…technically. Magcargo (CES) is the obvious one, with its Smooth Over Ability allowing you to stack any card from your deck on top of your deck. This can combine with Nugget and start your next turn drawing Nugget and then drawing 3 cards from its effect. The thing is…aren't there better cards you can put on top rather than Nugget? Wouldn't you rather guarantee a better hand with Professor's Research, or be able to play multiple Supporters with a planned Lt. Surge's Strategy? Or maybe you're just looking for that one Energy to attach, or that one Item that helps secure the win? The point here is, Smooth Over can grab you ANY card in the game and put it on top of your deck. Nugget just lets you draw 3 random cards. You can do better with your Smooth Over Ability.
The other card he brought up is also Oranguru…but not the Ultra Prism one. Oranguru (SSH) has Primate Wisdom as an Ability, which lets you take any card from your hand and put it directly on top of your deck. This seems like the better way to play around Nugget, since yeah, it's pretty useless otherwise. If it ends up in your Prizes, it's unplayable. If you draw it off of a Supporter – very likely – it's useless. If you discard it, shuffle back into your deck, then draw it later off of a Supporter, guess what? No refunds. So having Primate Wisdom acts as an "insurance policy" to the card by letting you take a normally dead card and making it "active" again. However, there's the matter of cards like Marnie and Red Stamp, which will not only mess around with your hand but also shuffle your deck as well, and you know what that means: no guaranteed Nugget on top, no idea when you'll draw it, no easy guarantee to make it happen.
Despite the potential of its payoff, Nugget simply isn't worth playing on its own, nor is it worth the investment to try and make it playable. Definitely tempting, but ultimately not worth the price tag.
Rating
Standard: 1.5/5 (in the few instances it works, it may be pretty good)
Expanded: 1/5 (but there are plenty of better draw cards out there)
Limited: 1/5 (not even sure if it's worth it here…I guess draw is draw, but still)
Arora Notealus: Nugget is one of those cards with a big payoff, but the work to get there just doesn't seem worth it. If we get something that just says, "Put an Item on top of your deck," then Nugget may be good, but otherwise the chance of just hard drawing it on your turn is too small to make it worthwhile.
Next Time: Let's talk about that freaking fire rabbit.
We would love more volunteers to help us with our Card of the Day reviews.  If you want to share your ideas on cards with other fans, feel free to drop us an email.  We'd be happy to link back to your blog / YouTube Channel / etc.   😉
Click here to read our Pokémon Card of the Day Archive.  We have reviewed more than 3500 Pokemon cards over the last 17+ years!