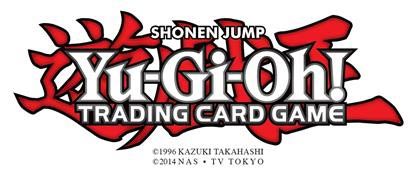 NEW Yu-Gi-Oh! TRADING CARD GAME RELEASES GET THE SPOTLIGHT TREATMENT AT THE 2018 NORTH AMERICAN INTERNATIONAL TOY FAIR
El Segundo, Calif. (February 13, 2018) – Konami Digital Entertainment, Inc. (KONAMI) is proud to showcase the 2018 Yu-Gi-Oh! TRADING CARD GAME (TCG) product portfolio at the North American International Toy Fair February 17 – 20. Attendees can get an up-close look at this year's first and second quarter releases at booth #5340 at the Javits Center in New York City.
"The debut of Yu-Gi-Oh! VRAINS and the introduction of Link Monsters last year have created huge momentum in 2018 for the Yu-Gi-Oh! TRADING CARD GAME," said Yumi Hoashi, Senior Vice President, Card Business for Konami Digital Entertainment, Inc. "Now, we are thrilled to show our retail partners our newest product release schedule, as well as exciting new support programs for Official Tournament Stores, like the upcoming Lost Art promotion."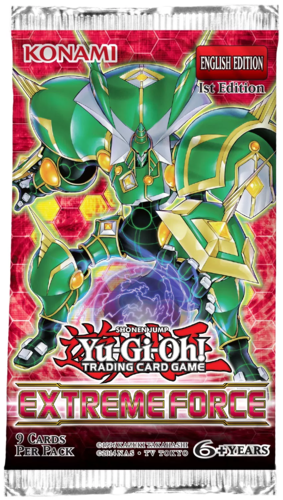 2018 has already been a huge year for the Yu-Gi-Oh! TRADING CARD GAME –  the 100-card Extreme Force booster pack is about to make a massive impact with new strategies, new cards for time-honored themes, and powerful cards that Duelists can add to any Deck. Extreme Force arrives February 2. MSRP: $3.99 per pack. 
The follow-up to last year's heroic Legendary Duelists set, the new Legendary Duelists: Ancient Millennium booster awakens with 53 cards total, and this time it's all about the villains! Classic cards played by Bandit Keith, Weevil Underwood, and the great Maximillion Pegasus appear in their original forms, as well as new incarnations with more powerful abilities. Legendary Duelists: Ancient Millennium awakens February 23. MSRP: $1.99 per 5-card pack.
Seto Kaiba rules the March release roster, with Legendary Collection Kaiba debuting on March 9 and a full spread of Dueling accessories arriving on March 23. Legendary Collection Kaiba assembles dozens of Kaiba's most famous cards along with additional support in a 100-card all-foil mega-set. MSRP: $29.99 per box. Protect your cards with Yu-Gi-Oh! Kaiba's Majestic Collection Card Sleeves; display your collection with Yu-Gi-Oh! Kaiba's Majestic Collection 9-Pocket Duelist Portfolio; and when you're ready to Duel, carry your Deck in the Yu-Gi-Oh! Kaiba's Majestic Collection Card Case. The entire set of Majestic Collection accessories is available on March 23. MSRP: $3.99 per pack of sleeves; $4.99 per card case; and $9.99 per portfolio.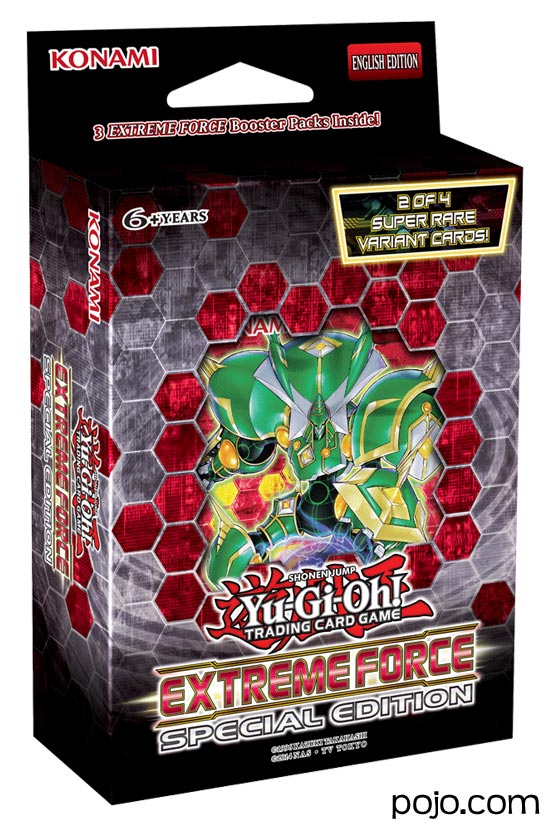 Also available March 23, Extreme Force Special Edition revisits the Altergeists, Mekk-Knights, "F.A." theme, and all the Link Monsters that made Extreme Force a landmark release. Presented in a 3-pack format with 1 of 2 Super Rare variants of popular tournament cards, as well as 1 of 2 Super Rare preview cards from the Spring 2018 booster set, Extreme Force Special Edition is a great chance for Duelists to collect cards they missed the first time around, at a great value. MSRP: $9.99 per box.
Finally, March releases draw to a close with Star Pack: VRAINS. Overflowing with hits from the Link era, the latest Star Pack features the "Cyberse" monsters, popular Link Monsters, and more of the biggest cards from the Yu-Gi-Oh! VRAINS animated series in an exclusive foil finish, available March 30. MSRP: $0.99 per pack.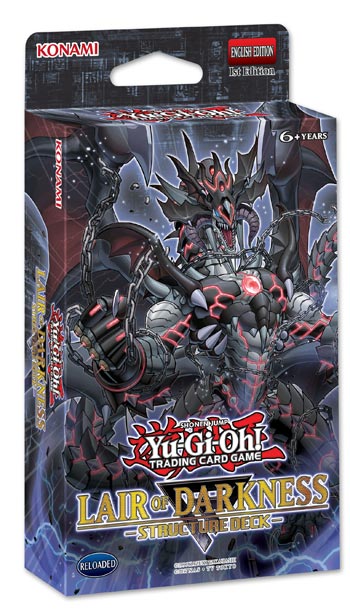 Dark portents of evils arise in April! For every action, there is an equal and opposite reaction – following the early 2018 release of Structure Deck: Wave of Light, Structure Deck: Lair of Darkness emerges from the shadows on April 20. Ready for play right out of the box, Lair of Darkness features cards that pair perfectly with themes from the upcoming Dark Saviors special booster pack one month later. With 36 Common Cards, 3 Super Rares, 2 Ultra Rares, and 1 Token Card, each Structure Deck: Lair of Darkness is presented with a Beginner's Guide and a Double-sided Deluxe Game Mat/Dueling Guide. MSRP: $9.99 per box.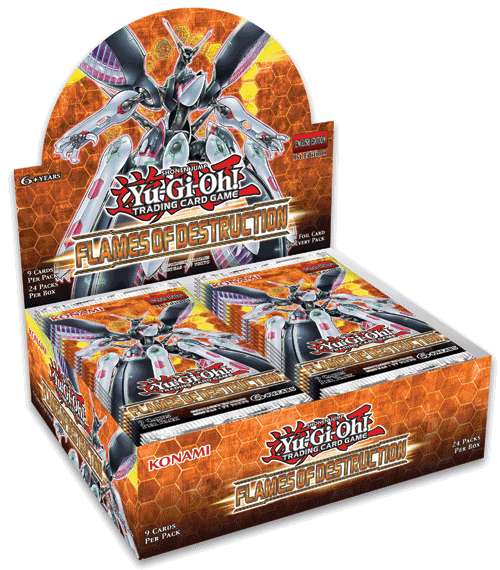 Then, April showers…bring Destruction!! The Flames of Destruction booster pack debuts on May 4 to close out the first Dueling season of the Yu-Gi-Oh! VRAINS era. This 100-card booster set will shake up the competition with new cards for established Deck themes, as well as a brand-new Link Monster theme, the return of the Elemental Lords, and more. MSRP: $3.99 per pack.
The Dark Saviors special booster arrives on May 25, an all-foil release with 40 Super Rares, 20 Secret Rares, and a legion of ancient evils so mighty they could fuel a thousand lifetimes of Dueling devastation. Making powerful combos with key cards from Structure Deck: Lair of Darkness, the Dark Saviors booster is presented in 5-card packs and offers new strategies that are sure to be a hit with Duelists. MSRP: $3.99 per pack.
And finally, June 8 offers Duelists a second chance at all the best cards from Flames of Destruction with the Flames of Destruction Special Edition. The year's second Special Edition release, each box includes 3 Flames of Destruction booster packs, 1 of 2 Super Rare variant cards, and 1 of 2 foil preview cards from the Fall 2018 booster set. MSRP: $9.99 per box.
Between hundreds of Regional Qualifier tournaments, big Championships, in-store events, and convention appearances, Duelists will have plenty of chances to put their skills to the test this year. For more information on KONAMI's full program of Organized Play offerings – including special tournament booster packs available exclusively for KONAMI Official Tournament Stores and a Lost Art Promotion with limited edition promotional cards – check out http://www.yugioh-card.com/en/events.
Please note that product names, packaging, and configuration are subject to change.