Hawthorne, Calif. (July 6, 2021) – Duelists from the animated series are back like never before! In July and August, Konami Digital Entertainment, Inc. (KONAMI) is bringing back some of the greatest characters from the history of the Yu-Gi-Oh! TRADING CARD GAME (TCG), with new cards that take their signature strategies into wild new territory!
The original King of Games is up first, as Yugi's King's Knight, Queen's Knight, and Jack's Knight return with new allies in the King's Court booster set! From there, it's the return of the Egyptian Gods in a full line of Slifer, Obelisk, & Ra TCG accessories! And finally, Dawn of Majesty finishes out the Summer with 100 cards of new beginnings and new support, starring Yusei Fudo's signature monster from Yu-Gi-Oh! 5D's – Stardust Dragon.
King's Court is the follow-up to last year's wildly popular Toon Chaos set, and Yugi's "Three Musketeers of Face Cards" theme is back, adding new speed and power to King's Knight, Queen's Knight, and Jack's Knight. Back them up with a new suite of "Joker" cards led by Joker's Knight, a World Premiere "wild card" that can fill the role of any of the Three Musketeers of Face Cards of your choice, recycling itself every turn to speed along your Summons. Spell and Trap Cards lend more support, and the World Premiere Arcana Triumph Joker gains power for every card in both your hand, and your opponent's. Match suits with your opponent's cards, monsters, Spells and Traps, and discard them with Arcana Triumph Joker to destroy the matching cards!
King's Court is packed with support for themes from Legendary Duelists: Season 2 and Lightning Overdrive, and certain cards will even power up your Egyptian God Decks. Raising the stakes, 15 cards will appear as coveted Collector's Rare variants: a mix of World Premieres and cards making their first appearance outside of Japan, as well as all-time classics from the early days of Dueling, and current tournament favorites!
Prepare for King's Court on July 9, with 62 cards total: 37 Rares, 15 Super Rares, and 10 Ultra Rares, plus 15 cards also presented as stunning Collector's Rares. Each pack contains 6 Rares and 1 Foil card. MSRP: $3.99 per 7-card pack.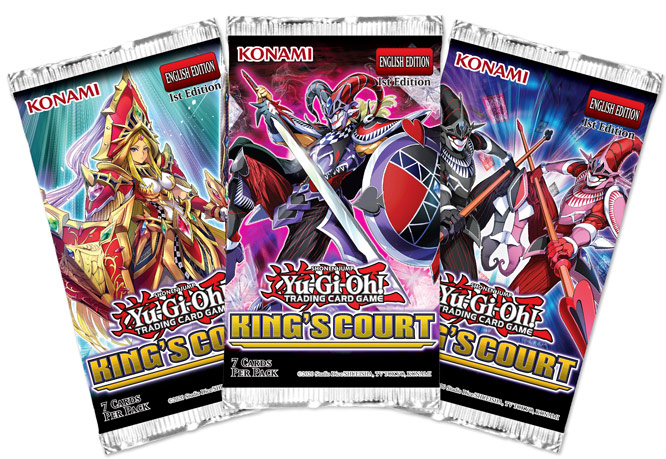 Then, collect four new accessories featuring all three of the Egyptian God Cards – Slifer the Sky Dragon, Obelisk the Tormentor, & The Winged Dragon of Ra! The Slifer, Obelisk, & Ra Card Case carries your complete Main, Side and Extra Deck in a vessel fit for the divine, holding a total of 70 sleeved cards and a divider featuring the three Divine-Beast monsters! Then, keep your Deck tournament ready with the protection of Slifer, Obelisk, & Ra Card Sleeves. Each pack comes with 50 tournament-regulation protectors featuring Dueling's fiercest icons. Demolish your opponents and keep your cards safe by Dueling on the Slifer, Obelisk, & Ra Game Mat, and if you want to show off your most precious cards, keep them in the Slifer, Obelisk, & Ra 9-Pocket Duelist Portfolio. The pinnacle of presentation, it's a 10-page side-loading folio that lets you store, carry, and display up to 180 of your mightiest cards!
All four accessories in the Slifer, Obelisk, & Ra collection arrive July 30, including the Slifer, Obelisk, & Ra Card Case, MSRP $4.99; Slifer, Obelisk, & Ra 9-Pocket Duelist Portfolio, MSRP $9.99; the Slifer, Obelisk, & Ra Game Mat, MSRP $14.99 ;and Slifer, Obelisk, & Ra Card Sleeves, MSRP $3.99 per pack of 50 sleeves.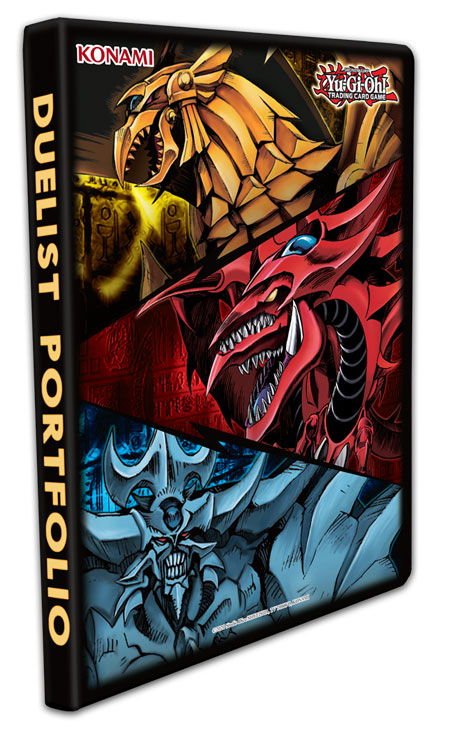 Slifer, Obelisk, & Ra Accessories
Then in August, forget about getting your game on, and get ready to "Rev it up!" one more time with Yu-Gi-Oh! 5D's. The Dawn of Majesty booster set heralds the return of Yusei Fudo's Stardust Dragon, with new support that makes it even easier to Synchro Summon! And how about a tune-up? A brand-new "Majestic" form makes your Stardust Dragon strategy more powerful than ever before, wielding an effect that shreds opposing monster effects, multiple attacks, and can banish itself to dodge threats only to return moments later.
And that's just the beginning. Dawn of Majesty also introduces three new themes to build your Decks around: the first can Fusion or Ritual Summon, using the same Spell Card; another continues the story of the Dogmatika from Rise of the Duelist; and the third is a new fan-favorite that broke the internet, an Xyz Monster theme of giant, sea-faring sushi ships! Beyond those new strategies, you'll find a treasure trove of support for well-loved monsters. Four new monster cards are ready to make Gizmek a fully-fledged strategy of its own! From Aliens to Amazement and Solfachords to Springans, new support will help keep your favorite Decks in the fight.
Tournament players will want to arm themselves with a new surprising defensive Spellcaster you can easily Special Summon from your hand. Once she's on the field, she has many ways to punish your opponent for Special Summoning, including drawing you cards, destroying cards, or Special Summoning your own monsters. With 2500 ATK she's no wilting flower, even on her own. Pendulum Duelists will find a new powerhouse Pendulum Monster, with a Pendulum Effect that mimics Macro Cosmos, and a monster effect that makes it easy to Special Summon. Then, while it's on the field, it'll send newly-Summoned monsters to the Graveyard in the End Phase each turn. You'll even find a new Beast-type Synchro Monster that gains ATK each time another monster's effect is activated. Once it's big enough, you can shuffle it back into your Deck…and shuffle away every opposing monster in play!
The dawn breaks on August 13. Discover 100 new cards with Dawn of Majesty: 50 Commons, 26 Super Rares, 14 Ultra Rares, and 10 Secret Rares. MSRP: $3.99 per 9-card pack.
Dawn of Majesty
Don't want to wait? You can get your hands on the new set before the official launch, by attending a Dawn of Majesty Premiere! Pre-release Event. These exclusive events are hosted only at Official Tournament Stores, offering you the chance to crack packs of Dawn of Majesty days before the official launch! Purchase a minimum of 5 packs of the new set and while supplies last, you'll earn an exclusive Field Center Card. You'll also have a chance to win cool prizes you won't find anywhere but at the Premiere! Pre-release Event, like an Ultra Rare promo card or a Dawn of Majesty Game Mat.
The Dawn of Majesty Premiere! Pre-release Event will take place Saturday or Sunday, August 7-8. You can find Official Tournament Stores in your area here. Contact your OTS to find out when they're running their Premiere! Pre-release Event.
Ready to throw down? The months of July and August are loaded with more chances to play in high-profile Remote Duels and compete for awesome prizes! Remote Duel Yu-Gi-Oh! Day welcomes all Duelists to celebrate their passion for the Yu-Gi-Oh! TCG, by playing in tournaments via their Official Tournament Store on Saturday or Sunday, July 3-4. The next weekend, one of Dueling's most prestigious events gets the Remote Duel treatment. KONAMI will be hosting the first ever Remote Duel Yu-Gi-Oh! Championship Series (YCS) Event on July 10 and 11, which will lead to the Livestream Finals on July 31 for North America and August 1 for Latin America, to crown the first ever North America and Latin America Remote Duel YCS Champions! Then, on July 17 and 18, Duelists who earned their seat in Yu-Gi-Oh! Extravaganza tournaments will duke it out in Remote Duel Invitational Qualifiers. The top finishers in each Qualifier will earn an invitation to the prestigious Remote Duel Invitational one month later.
Yes, the Remote Duel Invitational is back! On the weekend of August 28, sixteen of the season's most decorated Duelists from the United States and Canada will compete in a Livestream Championship-level event for amazing rewards, and the winner will be crowned the next Remote Duel Invitational Champion! You can follow all the action live, on the Official Yu-Gi-Oh! TCG YouTube Channel or on Twitch.
For more information on KONAMI's extensive Organized Play programs, including opportunities for aspiring Duelists to learn how to play, go to www.yugioh-card.com/en/events.