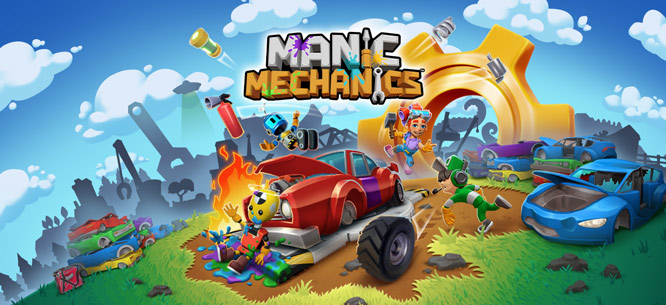 Manic Mechanics is a new chaotic couch co-op from 4j Studios.  4j Studios is known for porting Minecraft to consoles and handheld platforms.  Manic Mechanics is available for the Nintendo Switch, and can be downloaded from the Nintendo store for $24.99.  Manic Mechanics can be played solo, but is much more fun when you team-up with other players. You can even hook up with friends online!  This game is rated "E" for everyone.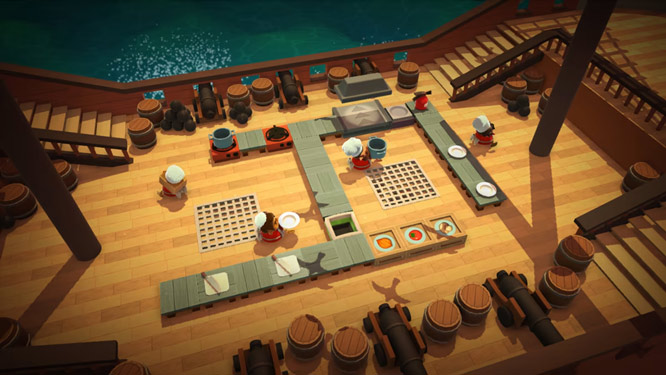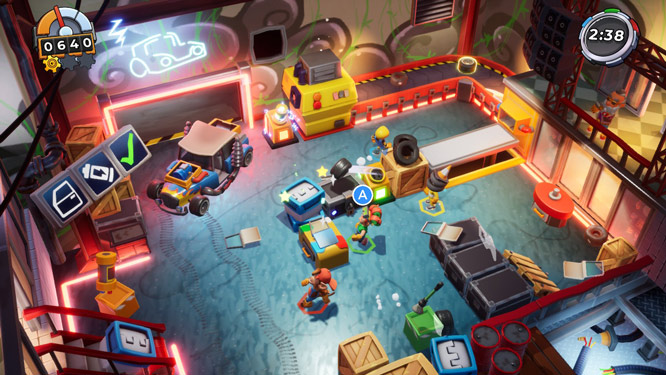 There is no doubt that Manic Mechanics will remind some gamers of Overcooked.  But, instead of working as cooks in crazy kitchens, you are working in a variety of vehicle repair shops as manic mechanics.  The idea of Manic Mechanics is to fix as many jalopies as possible in a within a given time limit – usually 4 minutes. 
There is a very good tutorial at the beginning of Manic Mechanics.  And the first garage mission is pretty easy.  Cars come into the repair garage needing new tires, engine repairs, and new doors.  You grab one of the needed parts from the assembly line, and take the part back to a workstation and prep it before attaching it to the car.  Tires need air.  Doors need spray paint.  Engines need tweaks.  When you completely fix a car, the car will drive off, and a new beater comes in.  You score points based on how many cars you have fixed.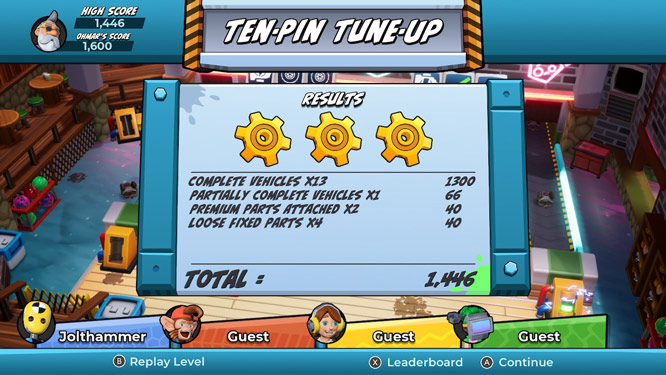 To play the game you really only need to run with a joystick, and press the A, B, X and Y buttons.  Controls are super easy.  My wife is not a gamer whatsoever, and she easily figured the controls out.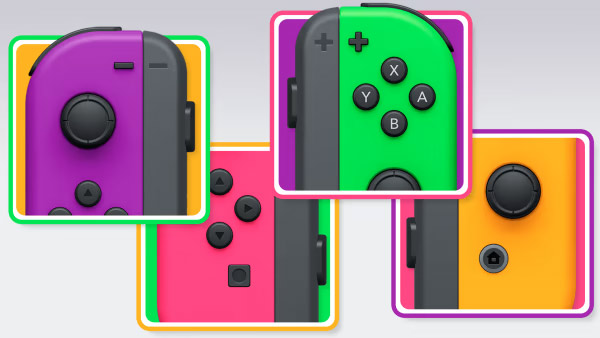 There are 25 different garages to repair vehicles at, and the levels get progressively harder as you move through the game.  Different parts will need to be added to cars – like: spoilers for the backs of some cars; batteries for electric cars; mufflers; etc .  Two cars will eventually be in the garage at the same time.  My favorite so far is when the garage owner didn't want us to beat their in-game records, and they started sabotaging the shop while we were trying to work.  Things get hectic real quickly in this game, but it brings a lot of chuckles with it.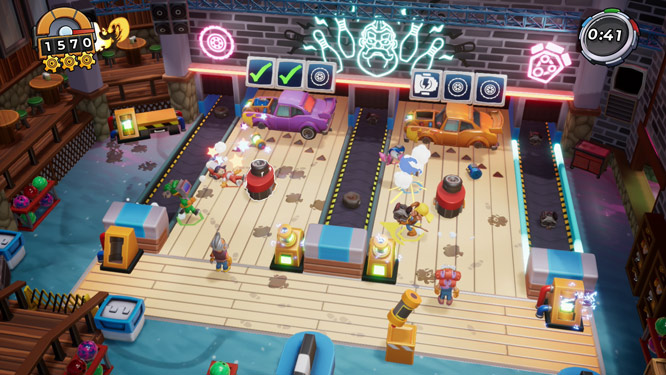 Eventually you will move beyond car repairs.  You will be fixing motorcycles, submarines, and more.  
We played this game solo.  We played this game as couch co-op. And we played this game as an online co-op.  Solo games are good for practice, but the real joy here is playing Manic Mechanics as a couch co-op, or as an online co-op.  Before each level, everyone can be assigned jobs to make things run as smooth as possible. One person can be filling tires, while another is painting doors, while another is repairing engines, while another is floating around throwing parts to everyone.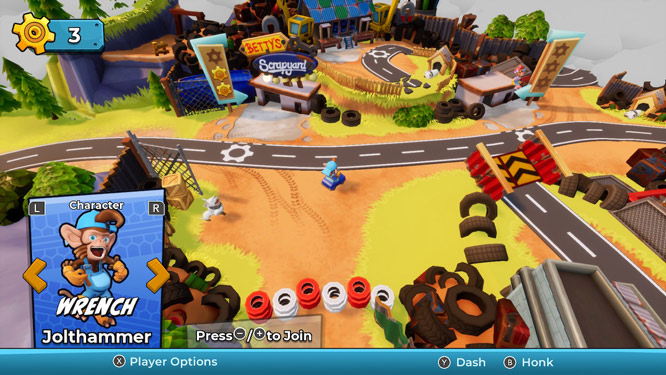 Graphics
The graphics are great.  The game has a Mario Party look to it.  There is a large island you and your friends can drive around to explore.  Octane Isle has five different neighborhoods, and there are 5 garages in each neighborhood.  When you beat all 5 garages in one neighborhood, the fog parts and opens up another 5 garages in a new neighborhood that you can all drive into.  The game keeps progressing 5 garages at a time.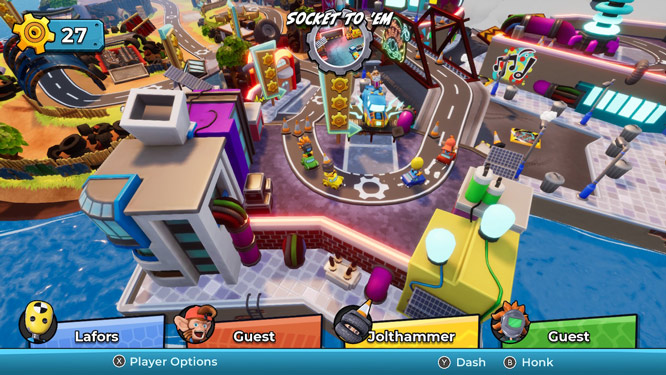 Couch Co-op Notes
To play Manic Mechanic as a 4-player couch co-op, you are going to need 4 different Switch controllers.  You can use the Left and Right Joy-Cons from your original Switch as two individual controllers.  I'm not a fan of these, but they work.  Then you are going to either need two more Joy-Cons, or Nintendo Switch Pro Controllers, or similar. 
We used the handy "8Bitdo Wireless USB Adapter 2" to connect an old Nintendo Wii U Pro Controller to the Switch and used that in our setup. And some of my friends brought their own Switch Controllers over to my house.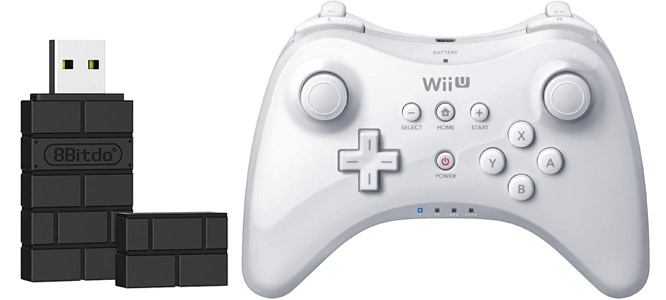 8bitdo allows other controllers work on the Switch! Like Xbox, PS, and old Nintendo Controllers.
Pojo Note: The 8bitdo will also connect Xbox and PlayStation Controllers to your Switch.  You can pick up an 8bitdo for under $20 from Amazon.  
We were disappointed that we could not get GameCube/WaveBird Controllers to work with Manic Mechanics on the Switch.  The GameCube controller is supported on Nintendo Switch consoles with system menu version 5.0.0 or higher.  And we have a plethora of wireless GameCube controllers laying around for playing Super Smash Bros., but unfortunately we couldn't get those GameCube Controllers to work here.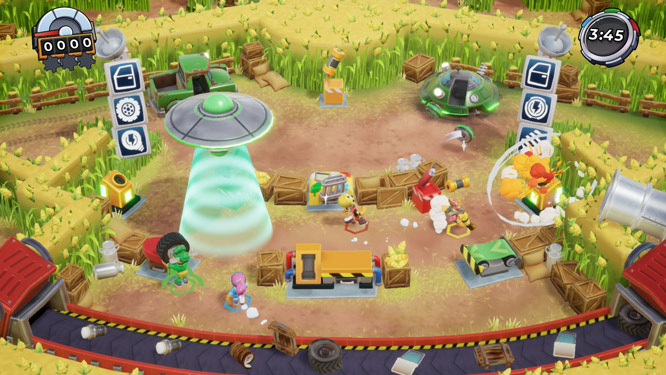 Online Co-op Notes
In order to play Online Co-op, each remote player will need their own copy of Manic Mechanics.  All players will also need to be signed up with a Nintendo Switch Online Membership.  One player will serve as a host.  Other players can easily join the host players game as long they are "Friends" online (have shared friend codes).
We played this game as a couch co-op mixed with online co-op.  I was playing from my house with my daughter, while my buddy Mike was playing on his couch with his daughter.  And we were all online together.  
Online play works pretty well.  Online Chat isn't as easy on the Switch as it is with Xbox or a PlayStation games.  We wound up using the Discord App on our phones in Speaker mode to converse.  I guess you could use Zoom, FaceTime, or even the Nintendo App to talk to each other on your phones, but it's not nearly as nice as using real headsets designed for console play.  Communication is a big key to doing well in Manic Mechanics, so you need to find something that works well for you if you are going to play online.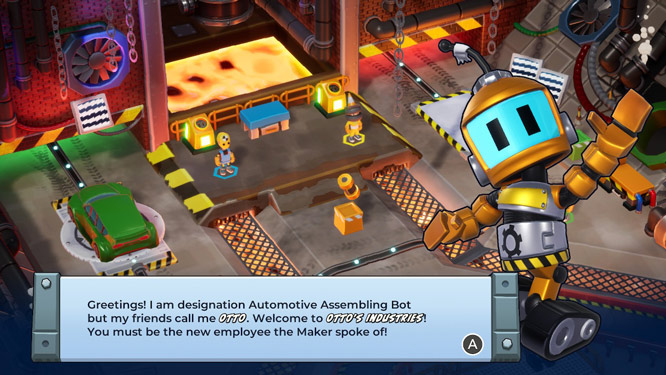 Likes, Dislikes, Final Thoughts on Manic Mechanics
Likes
There are not many couch co-ops out there, and Manic Mechanics is a lot of fun!  It was also fantastic to play online with friends.  
The controls are very simple and work well.  Manic Mechanics is easy to teach and easy to learn.
The graphics are great.  The colors are bright.  Each garage is completely different, and presents a unique challenge. 
There are plenty of cute characters you can control to differentiate yourself from your teammates.  And you can unlock more while you play.  
The game does not wear out its welcome.  Garage Levels are only 4 minutes long.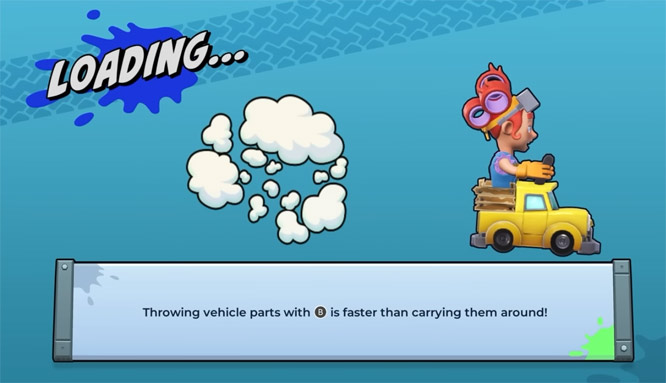 Dislikes
The load times are quite long – like 30 to 60 seconds to load each garage.  This feels like something from 20-30 years ago.
In online play, one player's character kept changing to a completely different character.  This didn't affect gameplay as the character stayed the correct color — it was just annoying. 
Sometimes a player's controller would stop working during gameplay.  This happened to us a few times, more-so during online play.  The controller would then all of a sudden start working again after a minute.  Luckily levels are only 4 minutes long, so we just restarted the level and tried again.  
And during online play, we would get wonky graphics slowly pop-up on screen while waiting for the Octane Isle map to load back up.
I'm assuming a lot of this stuff will get patched up in the future.  
Final Thoughts on Manic Mechanics
You will probably hear a lot of people compare Manic Mechanics to Overcooked, and that comparison is very fair.  I would say this game is slightly easier than Overcooked.  In China, people call Overcooked "Divorce Kitchen" because players can easily get mad at each other, and reportedly Overcooked caused divorces.  We didn't find that so much here.  It seemed easier to assign tasks, and stay focused on those tasks in Manic Mechanics.  And those tasks can be quite fun — even though there is plenty of madness going on.   We didn't find ourselves raging against our teammates in this game. 
This is good friends & family game for those that can cooperate together in front of a television set.  Manic Mechanics would also be fun break between board games on a board game night.  Just make sure you have 4 controllers to use. 
I hope that a patch comes out that allows GameCube controllers to work.  The GameCube Controller layout seems perfect for Manic Mechanics.  And anyone with Smash Bros. Controllers would be ready to play.
I think $24.99 is a very good price for Manic Mechanics.  That's just $1 per garage, and I feel that is perfect for this great little couch co-op. 
Tips and Tricks 
You can unlock more playable characters while driving around Octane Isle.  Examples:  Honk at Dogs.  Race into Light poles, Treasure, Garbage Cans, etc.  😉