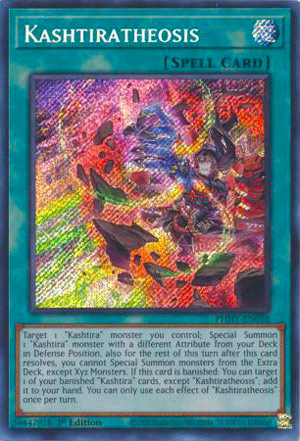 Kashtiratheosis – #PHHY-EN058
Target 1 "Kashtira" monster you control; Special Summon 1 "Kashtira" monster with a different Attribute from your Deck in Defense Position, also for the rest of this turn after this card resolves, you cannot Special Summon monsters from the Extra Deck, except Xyz Monsters. If this card is banished: You can target 1 of your banished "Kashtira" cards, except "Kashtiratheosis"; add it to your hand. You can only use each effect of "Kashtiratheosis" once per turn.
Date Reviewed:  April 18th, 2023
Rating: 3.92
Ratings are based on a 1 to 5 scale. 1 is awful. 3 is average. 5 is excellent.
Reviews Below:
---


King of
Lullaby
Hello Pojo Fans,
Kashtiratheosis is the only Normal Spell in the archetype currently and is one you'd figure would've been released when the archetype debuted.
Normal Spell that is a RoTA for the archetype, but also Special Summons because…it's Kashtira, it's what they do. You need a Kashtira on the field and you have to search and Special Summon a different Attribute, but with each of them being a different Attribute, that's no problem. Special Summoning in defense isn't that much of a problem either, since you're most likely going straight into a Rank 7. Same "restriction" with locking into Xyz Monsters for the turn, same no problem for the archetype. Off of any of your searching Kashtira monsters like Fenrir, Orge, or Unicorn, you can play this and get to Riseheart or Tearlaments Kashtira to affect your opponent through banishing their cards, a different searcher previously listed, or Scareclaw Kashtira, who can attack while in defense and apply a hefty 2600DEF as attack.
This Normal Spell wouldn't be a Kashtira card without a banish ability. When banished you get an add back to the hand from your banished zone. Cannot add this card back through its own effect, and it has to be a Kashtira card (obviously), but that is a great ability, and both effects can be used in the same turn. Kashtiratheosis can get you back stuff like Big Bang and Overlap, or simply get you back a Kashtira that was banished for you to Special Summon once more.
Great search card to be added to the other search effects the archetype has through its monsters. The defense restriction doesn't hurt it because of the archetype going for multiple Rank 7's in a turn, or simply using something like Scareclaw Kashtira.
Advanced-4/5     Art-3.5/5
Until Next Time
KingofLullaby
---


Crunch$G
Next up we got another Spell for the Kashtira archetype finally, and one of the better ones for said archetype in general: Kashtiratheosis.
Kashtiratheosis is a Normal Spell that lets you target a Kashtira monster you control to suummon a Kashtira monster with a different Attribute directly from the Deck in Defense Position, but you can only summon Xyz Monsters from the Extra Deck for the rest of the turn. Again, the restriction doesn't feel like much of a restriction when you're focusing on an Xyz-centric strategy anyways. The ability to get any Kashtira from Deck is pretty nice, especially when you consider how accessible this card is by searching it off Kashtira Unicorn. Overall for the Main Deck you got Fenrir and Scareclaw Kashtira for your EARTH options, Ogre and Tearlaments Kashtira for your WATER options, Unicorn for WIND, and Riseheart for FIRE, so it should be fairly easy to be able to summon something from the Deck, mainly to likely help get Unicorn and Fenrir on field and Riseheart in hand somehow. The second effect triggers when banished, which the archetype has a ton of ways to banish this, letting you add a Kashtira card that's banished to your hand besides Kashtiratheosis. It's solid recovery considering how much banishing you'll likely do with your own cards after the support from this set. Getting monsters back to the hand for later plays is always nice. Hard once per turn again on each effect, which is a fair balance on something this powerful. Kashtiratheosis helps enable your main Kashtira combos, so you'd hope to either see this or Kashtira Unicorn in hand to get to it, which Unicorn can also be searched off the archetypal Field Spell. Another 3-of for the Deck to make it as consistent as possible.
Advanced Rating: 4/5
Art: 2.5/5 I'm sure something important to the lore is happening here, it just really looks like a complete mess.
---


Mighty
Vee
No longer a "papaya" in this region, Kashtiratheosis is a Normal Spell, and another key card responsible for Kashtira's rise to the meta. Kashtiratheosis has two hard once per turn effects; the first is activated like normal, letting you target a Kashtira monster you control and Special Summon another one from your deck in defense position with a different attribute, locking you into Xyz Summoning from the Extra Deck for the rest of the turn. This card single-handedly solves Kashtira's swarming issues, as prior to Kashtiratheosis, they had to rely on Kashtira Birth to summon their Xyz monster. Now, Kashtira Unicorn can search Kashtiratheosis and immediately summon Kashtira Fenrir, which in turn can search Kashtira Riseheart and kick off your combos. Kashtiratheosis's other effect triggers if it's banished (say, by Riseheart), letting you recycle a banished Kashtira card back to the hand except Kashtiratheosis itself. While it's not the main draw of the card, it is a nice option to have in case you need to recover a banished Fenrir or Unicorn. Kashtiratheosis's effects are simple, but very powerful, and it's a keystone card of Kashtira combos, operating as a combo enabler and extender. You'll want to run three as insurance for if Unicorn gets bopped by a hand trap.
Advanced: 3.75/5
Art: 3/5 "This hand of mine is burning…blue?"
---
Visit the Card of the Day Archive!  Click here to read over 5,000 more Yu-Gi-Oh! Cards of the Day!
We would love more volunteers to help us with our YuGiOh Card of the Day reviews.  If you want to share your ideas on cards with other fans, feel free to drop us an email.  We would be happy to link back to your blog / YouTube Channel / etc.   😉